Electronic Arts has unveiled the three candidates for the role of POTM (Player of the Month) of the French Ligue 1. Let's find out together!
In the last few hours, Electronic Arts has unveiled the list of the three players who will be competing for the role of POTM of Ligue 1. The FIFA 21 database will therefore be enriched with new players, characterized by the splendid POTM card (i.e. Player of the Month), that is the one dedicated to the players of the month.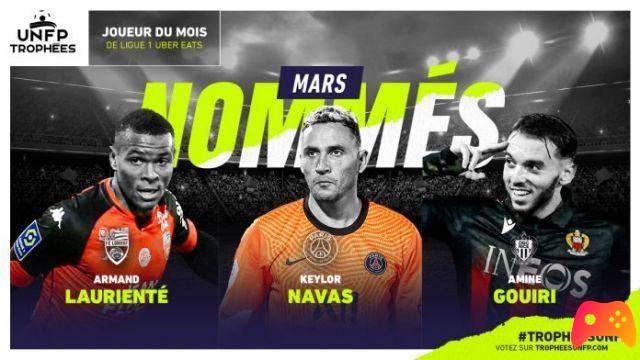 In this case, they are the most "unknown"
Armand Laurient, Rannes midfield winger and Nice striker Amine Gouiri, flanked by the more famous and experienced Keylor Navas
, extreme defender of the Costa Rican national team and Paris Saint-Germain. The winner will be announced next week, and shortly thereafter the card and the SBC connected to it will also be revealed.
? @NavasKeylor, @aminegouiri et @ArmandLauriente sont les names pour le Trophées @UNFP du joueur du mois de mars en @ Ligue1UberEats?!
Votez dès maintenant ▶ https://t.co/UKi4zvETQc #TropheesUNFP | # FUT20 | #POTM pic.twitter.com/EDgTfSqZ4f
- EA FIFA France (@EA_FIFA_France) April 12, 2021
We remind you that the vote is made considering many factors, and above all it is the players themselves (together with the managers and coaches) who vote for the winner of the coveted trophy that goes beyond the "simple" prize within the game.
What do you think of it? Who do you think will win? Let us know in the comments!
► FIFA 21 is a Sport-type game developed by Electronic Arts and published by EA Sports for Xbox One, PlayStation 5, Xbox Series X, PlayStation 4 and PC, the video game was released on 09/10/2020
Version for PlayStation 5 from 03/12/2020
Version for Xbox Series X from 03/12/2020
FIFA 21 is a beautiful game that cannot be missing from your collection: we have decided to evaluate it with a 80%, if you are interested in learning more you can read the FIFA 21 Review