One of the reasons for his success is its gameplay, since the its ways how to save the world and real and creative combat are very amazing. Another feature of this game is to be able to chat with other people and even activate the microphone to speak directly.
This is very useful, as in this way you can coordinate with your friends in a simple way, however, there are people who do not know how to activate this option. So, if you are reading this article, it is because you are one of those people and you want to know how to talk to your friends in Fortnite. If you still don't know very well how to play or what the goal of the game is, we recommend that you read it.
Don't worry because we will help you with this guide that will show you how to activate easily the microphone in Fortnite. You will only have to follow the steps that we will show you below and you will have no problem activating this feature of the game.
What is Fortnite?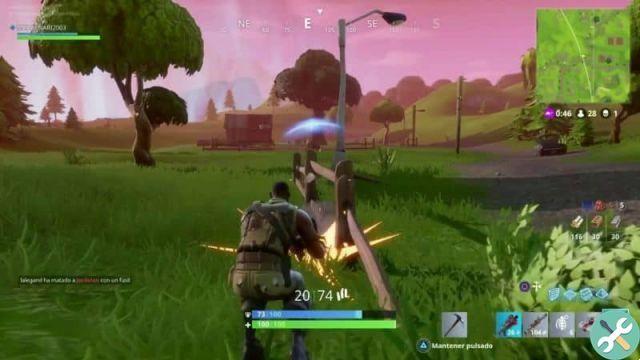 First of all, let's talk a little about this popular game so that if for some reason you don't know it, you will discover one of the most popular games today. This will also help you to learn more about this game and its features to better understand the explanation we will provide here.
Fortnite is a game developed in 2017 by the company Epic Game for PC and consoles like Ps4, Xbox One e Nintendo Switch. This title has several game modes, as mentioned above, but the most popular is the Batlte Royal.
This game mode consists of placing up to 100 players in an arena that will shrink more and more where they will have to fight against each other until one remains standing. This game mode is very addicting, so if you haven't tried it, you are waiting to play this fantastic title on your favorite console.
When you play it you will see how useful it is to play with your friends using the headset and talk to all of them and we will tell you how to set it up.
How to activate the microphone in Fortnite?
The steps to follow are very simple, you just need to have the game installed on your pc or console, if you don't have this game don't worry just go to its official website and download it completely for free.
Da Nintendo Switch
To activate this feature on your Nintendo Switch, all you have to do is look at the microphone configuration which is activated since this game comes with this option already integrated and activated at the factory.
From your PC or desktop console
If you are playing from your PC or from a console such as Xbox One or Ps4, the procedure to activate this function as soon as you connect the headphones is very simple. You just have to go up "Game options", then «Settings» and then «Audio» and deactivate the call option "Push to talk" And that's it.
From your Android device
This is definitely the most complicated so to speak, as they don't come with this feature built into the game natively. To use the voice chat feature, you need to download an external application which will be the Xbox app that you can find in the Play Store. If you have no problem downloading Provided from the store, you can download Fortnite on Android without using the Play Store
Create an account in this App and activate the chat function pressing the icon in the top bar that looks like 3 people lined up. Then select the friends you want to play with to add them to chat and play, these friends also need to have this application to just work.