The official EA Sports press release arrives: from Monday Fifa 21 will host Icon Swaps 3!
The official press release from EA Sports arrives: from Monday in FIFA 21 Ultinate Team the Icon Swaps will return.
For the uninitiated, the tokens obtained by completing the predetermined objectives within the FUT allow you to get Icon cards for free, without having to buy them or find them in the packs. From Monday 10 May it will be possible to obtain 18 tokens, divided into two groups of nine. The first half of objectives will be available until 18nd June while the second up to 30 July. We remind you that the previous Icon Swaps have been hosted within Fifa 21 from 11 December 2020 and from 19 February 2021.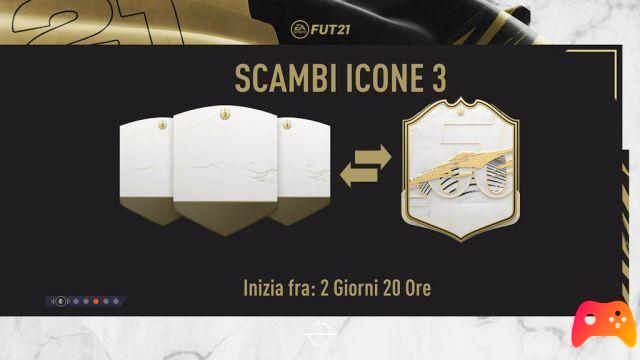 What will you do? Will you try to get some tokens? Let's talk about it together, as always, in the comments!
Recall that FIFA 21 is available on PlayStation 4, PS5, Xbox One, Xbox Series X / S, PC, Nintendo Switch and Google Stadia.
► FIFA 21 is a Sport-type game developed by Electronic Arts and published by EA Sports for Xbox One, PlayStation 5, Xbox Series X, PlayStation 4 and PC, the video game was released on 09/10/2020
Version for PlayStation 5 from 03/12/2020
Version for Xbox Series X from 03/12/2020
FIFA 21 is a beautiful game that cannot be missing from your collection: we have decided to evaluate it with a 80%, if you are interested in learning more you can read the FIFA 21 Review