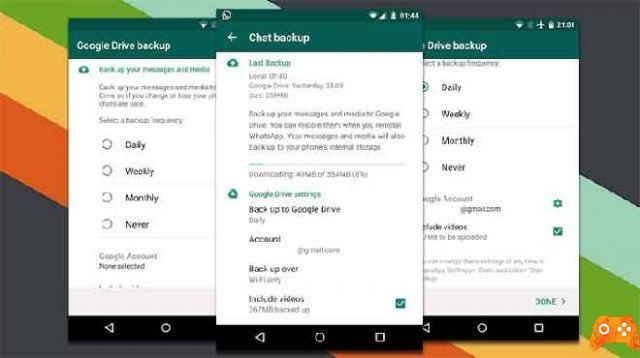 WhatsApp is the largest Instant Messaging (IM) platform in the world with over 2 billion users and still does not offer cross-platform synchronization. You still can't transfer WhatsApp backups from Android to iPhone and vice versa. But the company provides the backup function on Android and iOS via Google Drive and iCloud respectively. It comes in handy when you change your device but stay in the same ecosystem. Due to the size of WhatsApp backup and other settings, you may have problems with WhatsApp backup stuck on iPhone and Android.
Many users report that the WhatsApp backup has stalled at a certain percentage and is not completing successfully. There can be various reasons behind it. Some of these could be a slow network connection, insufficient iCloud storage, large videos in WhatsApp chats, a buggy WhatsApp build, and more. In this post, we will tackle the problem of why Whatsapp crashes while backing up on iPhone and Android.
1. Update Whatsapp
WhatsApp frequently distributes updates for its app on iOS and Android. WhatsApp backup failure could be due to the recent buggy build installed on your device.
Open the App Store or Google Play Store on your device. Go to the updates section and download the latest build on your device.
2. Exit the Whatsapp beta program
If you are part of the WhatsApp Beta program and have a backup problem with the build installed on your device, it might be wise to leave the beta program and opt for the stable build from the App Store or Google Play Store.
On iPhone, open the TestFlight app> WhatsApp> and select Exit Beta Program from the following menu.
On Android, open the Play Store and go to WhatsApp. There, you will see the option to leave the beta program.
3. Use a strong network connection
WhatsApp backups are usually GB in size, as photos and videos are also included. This requires a stable network connection for a successful process. Make sure you are connected to the strong network and that your phone displays enough bars for the strength of the cellular network.
For those who own a dual-band router, check if your phone supports the 5GHz Wi-Fi band. And if it does, connect your phone to the 5GHz band of your Wi-Fi network.
4. Reset network settings (iPhone)
Sometimes, users overwrite network settings by mistake which results in blocking WhatsApp backup on iPhone. You can fix it by resetting the network settings on the iPhone.
Open the Settings app on iPhone and go to General> Reset> Reset network settings.
5. Check iCloud (iPhone)
WhatsApp on iPhone uses Apple's iCloud to store backup data. As you may know, iCloud comes with only 5GB of free storage for Apple account users. You may be running out of iCloud storage space to back up your WhatsApp data.
Open the iPhone Settings app> Profile> iCloud and take a look at the remaining iCloud storage. If it's less than the backup size suggested by WhatsApp, consider purchasing the 50GB entry-level iCloud plan from Apple. Alternatively, you can remove previous iCloud backups (solution # 8) or media from the WhatsApp backup (solution # 7).
If you don't want to go this route, you can backup your WhatsApp data using iTunes on your PC. But the problem is that it will back up your device completely and not exclusively WhatsApp.
6. Check if the iCloud or Google Drive servers are down
WhatsApp backup stuck on iCloud or Google Drive could be due to server-side problems from Apple and Google. You can visit the Apple System Status page and make sure iCloud is working properly on their side.
Per Google Drive, visita Google Cloud Status e cerca Google Cloud storage.
7. Exclude videos from backup
If you are part of several groups on WhatsApp and you regularly receive a lot of videos, these increase the backup size by a lot. Thankfully, WhatsApp allows you to exclude videos when backing up your data.
You can open WhatsApp on your Android or iPhone, go to Settings> Chat> Backup> and enable the option to exclude videos from WhatsApp backup.
8. Delete existing iCloud backup (iPhone)
You can delete existing iCloud backup on iPhone and try to backup WhatsApp data from scratch.
Open the Settings app on iPhone and go to Profile> iCloud> iCloud Backup> Delete Existing iCloud Backup. Now go back to WhatsApp> Settings> Chat> and start the backup process.
9. Clear the Whatsapp cache (Android)
You can clear the WhatsApp cache from the Android device and then try the backup process. You can long tap on the WhatsApp icon and open the app information. Now go to Storage and Cache and select Clear Cache.
10. Update Google Play Service (Android)
Google Play Services plays a vital role on Android to keep various services running smoothly in the background. You can go to the Google Play Store and update the playback services on your phone. Try making a WhatsApp backup again and check if it works.
11. Restart the device
Restarting your iPhone or Android often fixes some unknown bugs or problems. You can restart your iPhone by pressing the volume up / down and power button at the same time. On Android, keep pressing the power button and select Restart from the slideout menu.
Further Reading:
7 solutions for when WhatsApp call doesn't ring when iPhone is locked
What to do if voice messages don't work on WhatsApp
How to transfer WhatsApp from Android to iPhone
How to recover deleted WhatsApp messages and photos from iPhone
WhatsApp notifications do not arrive, how to fix