In recent years, the JRPG genre has experienced a whole new life. Thanks to titles like Persona 5, the latest chapters of the Yakuza series and Dragon Quest XI, the genre is more alive than ever. Among the games to be mentioned, of course, Bravely Default II cannot be excluded. Today, we continue the boss guide of this title with Glenn.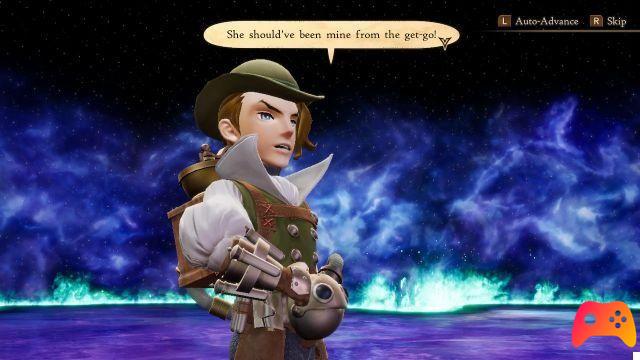 First, it must be said that Glenn is an absolutely optional boss. However, you will need to defeat him if you want to get the Alchemist's Asterisk.
The recommended level is 40+. To have an easier fight, you just need to know that Glenn is vulnerable to attacks from dagger, spear, and lightning. At the same time, it is very resistant to attacks based on water, air and darkness.
Try to stay on the defensive by accumulating Brave points, in order to then launch multiple consecutive attacks by exploiting its vulnerabilities.
This was our guide on how to defeat Glenn in Bravely Default II.
And did you manage to defeat him? As always, we invite you to tell us in the comments.
► Bravely Default II is an RPG type game developed by Claytechworks Co. Ltd. Team Asano and published by Nintendo for Nintendo Switch, the video game was released on 31/12/2020
Bravely Default II is a beautiful game that cannot be missing from your collection: we have decided to evaluate it with a 87%, if you are interested in learning more you can read the Bravely Default II Review by Paolo Tinè.