Review for Foreclosed. Game for PC, PlayStation 4, Xbox One, Nintendo Switch, PlayStation 5, Xbox Series X and Google Stadia, the video game was released on 12/08/2021
FORECLOSED, by Antab Studio and Merge Games, is the result of the effort of two game developers, Lara Gianotti and Andrea Tabacco, and we at EpicTrick, always happy to give space to gaming realities, were able to test it to bring you this review.
But, as always, let's start from the beginning.
The creative starting point of FORECLOSED is the desire to take the standard ingredients of a graphic novel and localize them in the cyberpunk narrative parenthesis that has been giving us real jewels lately, and it is precisely this identity that most finds itself chasing and embracing the title of Antab. Sure, there will be action, suspense and cybernetic grafts, but much, if not all, in FORECLOSED, is at the service of the narrative pretext and context.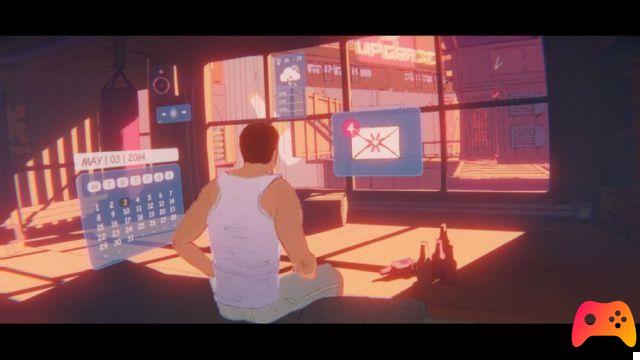 As soon as the game starts we will find ourselves in media res, and we will immediately take on the role of Evan Kapnos, who, once awakened, will have to face a reality as absurd as it is titanic in its consequences: his identity has been confiscated, he has lost work and access to practically all the services of the city, and all that remains is to escape, before its facilities and everything "is" are sold at auction.
The initial visual impact is very positive and unexpected; if titles such as The Ascent and Cloudpunk have in fact accustomed us to what Blade Runner had already stated in part, on a visual level, namely that the "real" cyberpunk must be forcibly made up of mammoth skyscrapers, neon and rain, FORECLOSED bypasses this standard and it gives us warm and pastel colors, excellent contrast to the still digital brutality of what happens.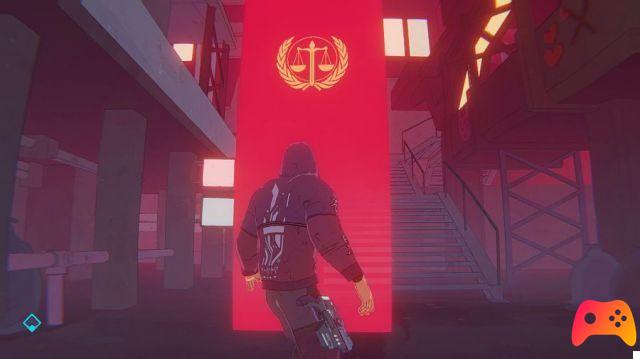 The desire to combine the video game with the elegance of the comic is immediately noticeable and returns very strong mental references to XIII, a 2003 game by Ubisoft and Feral Interactive. A second sense of medium intensity flashback starts at the first double shots, with directorial cuts that cannot fail to recall Republique (2013, by Camouflaj) and the fixed cameras of some old survival horror: we seem almost sadistic voyeurs of Evan's escape, abandoned to that Schadenfreude which is so deeply rooted in us that it doesn't even have to be justified anymore.
This very short introductory free-roaming section provides us with the first real stumbling block of the title: as we have already said in FORECLOSED everything is at the service of the comic experience, a dogma that already at its birth ideally clashes with the idea of ​​free navigation, but which, for example, sees perfect use in the decision to make every face, apart from that of the main character, unreadable and unrecognizable, but which in the exploratory context brings to a modest unpleasantness after the excessive area that is brutally precluded by the red digital barriers that appear before us, if "we don't go where history wants us to go". We perfectly understand the idea behind it, unfortunately the realization makes us dampen, albeit slightly, the enthusiasm.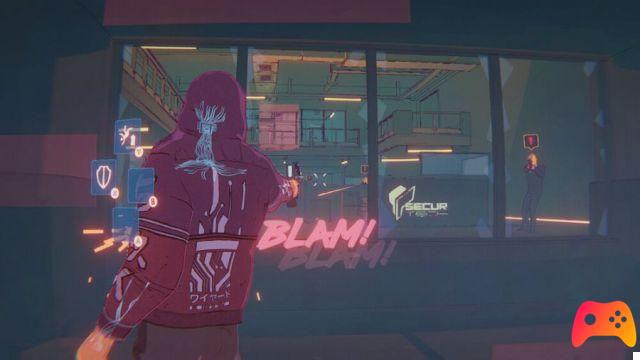 After the first moments of disorientation and escape, we will finally approach the first hacking skills which, with very short keystrokes, will give us the opportunity to interact with hatches, doors and other devices. These series of commands, sort of simplified combos, are a right meeting point between immediacy and credibility, never being unpleasant. Upon unlocking our first offensive ability, we will also be able to face enemies from which until recently we could only hide: the range of this basic cyber attack seemed a bit shorter than we hoped for, but still acceptable.
It is when our pistol is found, however, that FORECLOSED unexpectedly changes gear, with all the consequences of the case: the shooting sections, although a pleasant change of tone compared to what was experienced and played until recently, prove to be inaccurate in the commands but not very permissive in what is required of the player; even after activating a few buffs (exclusive shots and grapeshot bursts are just two examples) for Evan and the weapon, the enemies seem to absorb far too many bullets, and the almost non-existent cover system certainly doesn't help overcome. the many sections from TPS. The opportunities to liquidate those who shoot at us without shooting them in turn are few, a real shame given how much fun it is when it is offered to us.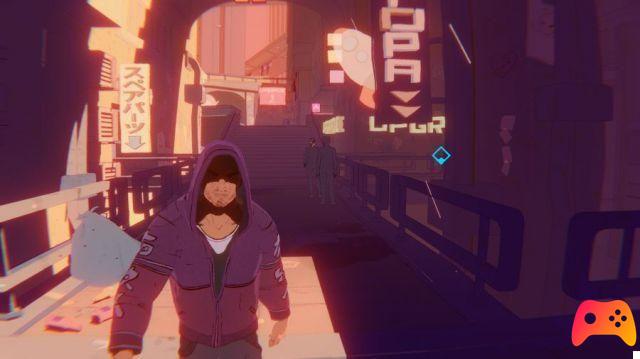 With the release of the FORECLOSED telekinesis you find some balance, since we will be able to throw not only objects at the enemies, but also the enemies themselves, but the impression remains that it is still too tending to TPS, coupled with the clear feeling that most of these firefights, too frequent and too full of enemies, could easily be transformed into QTEs, much scorned but perhaps a calculated risk in the graphic novel context that FORECLOSED promises and promises itself.
The durability of FORECLOSED is certainly a positive element, given that in about 3-4 hours you will be able to see how Evan's events end, the epilogue of a handful of missions that, not without interesting flashes, slightly shuffle the cards on the table, even if only from an aesthetic point of view. The overall perception is that of a title that could press the accelerator on the narrative much more, eliminating the few instances of "free-roaming" and perhaps leaving more space for that narrative plot which, although initially interesting, does not find full justice in the resources dedicated to it.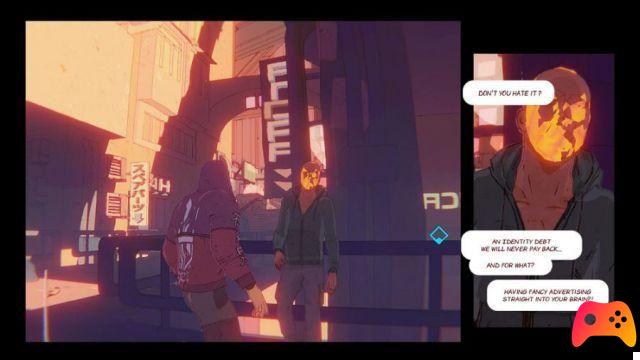 Let's start from one thing that must be said: FORECLOSED absolutely deserves the purchase, even if only for the effort, by Antab Studio, to combine the stylistic features of comics with a more predominantly videogame structure. The aesthetic style is original, like the narrative incipit; the sections of TPS unfortunately dampen a little the value, between too imprecise commands and too many enemies. In full, the efforts of Antab Studio must be rewarded because, even if in the context of a product that is not entirely successful, one cannot fail to recognize the fact that the team's goal has always been clear and we are sure that the next title will make even more justice to their talent.
► Foreclosed is a Shooter-RPG-Adventure-indie type game developed by Merge Games Antab Studio and published by Merge Games for PC, PlayStation 4, Xbox One, Nintendo Switch, PlayStation 5, Xbox Series X and Google Stadia, the video game is released on 12/08/2021