Here's how to complete "Get a score of 3 or more on different dartboards"
One of the new Challenges of Week Four of Season Six of Fortnite asks you to get a "score of three or more on different dartboards". Here's how to do it:
First, to complete this challenge you will need to complete a check shooting mini-game at least three times and in different areas.
Below is the map with the location of all the dartboards present in Fortnite.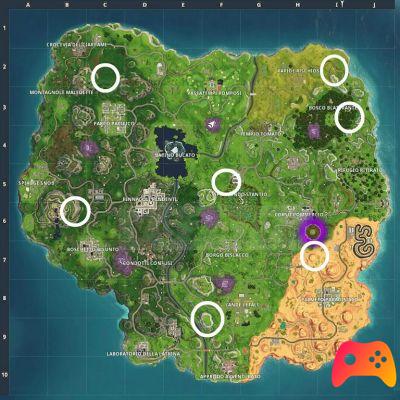 Once you have located a dartboard you will have to get on the platform with some footprints painted on it to start the mini-game. Now all you have to do is quickly shoot the targets that appear.
We recommend that you bring a rapid-fire weapon with a decent range.
Check the orientation of the footprints to understand where the targets will emerge from. Once you hit at least three targets, you will have successfully completed the minigame.
► Fortnite is an FPS-Battle Royale type game developed by Epic Games People Can Fly and published by Epic Games for PC, Mac, Android, iOS, PlayStation Network, PlayStation 4, Xbox One and Nintendo Switch, the video game was released on 25/07/2017 The version for Nintendo Switch came out on 12/06/2018
Fortnite is a nice game that we recommend: we decided to evaluate it with a 63%, if you are interested in learning more you can read the Fortnite Review
The best guides on Fortnite
Where to find the cameras to dance on Fortnite

Find the secret star of week 1 in Fortnite

Finding the Tomato Town treasure in Fortnite
Find the place between Oasis, Stone Arch and Dinosaurs in Fortnite
Fortnite - Where to find sheet music and pianos
Fortnite - Pirate Camp Location
Find the cursed Montagnole treasure on Fortnite
How to download Fortnite on Android
Fortnite - The location of the Snobby Beaches map
Fortnite - How to Find Deadpool's Letter
Fortnite - Find Deadpool's chimichanga
Fortnite - Where to find the Gnomes
How to win the new Fortnite Nightmare challenges - part 1
Fortnite - Deadpool's Milk Carton