Review for Olympics Games Tokyo 2020 – The Official Video Game. Game for PC, PlayStation 4, Xbox One, Nintendo Switch, Xbox Series X and Google Stadia, the video game was released on 24/07/2019 The version for PC came out on 21/06/2021 The version for Nintendo Switch came out on 21/06/2021 The version for Xbox One came out on 22/06/2021
Version for Xbox Series X from 22/06/2021
Version for Google Stadia from 22/06/2021
I Tokyo Olympic Games are coming, and it is for this reason that Sega has decided to publish a decidedly arcade game that will allow you to have fun in all the disciplines that await us from 23 July 2021. The thing that makes it even more fun is the fact that it does not aim to be realistic, but it is very reminiscent of the arcade halls we experienced during the 90s or early 2000s. In addition, the title is available on all platforms: PlayStation 4, Xbox One, Nintendo Switch, Google Stadia and PC.
Personalization and fun
The official video game of the Olympics Games Tokyo 2020 comes with an interesting cutscene that gives a first taste of what the Olympic Games are. In fact, they are real images, which then turn into a video game showing us all the potential of the title published by SEGA.
Once completed we can create our avatar. Yes, we will not use the famous athletes of the huge Olympic pantheon, but we ourselves can become part of the history of the Tokyo 2020 Olympic Games. Personalization is it varies and does not aim at realisticity. We can use glasses, use astronaut costumes or dress up as Sonic. And this will not prevent us from participating in any competition. Which makes the title decidedly fun without going into the heart. You can customize the voice, the hair, add accessories, change the voice. And you will also have three different body types, in addition to the choice of genre.
After creating the character we will have two opportunities: to train or compete online (or locally) against friends. Obviously we advise you to train before joining the fray, for the simple fact that every single discipline it will be a series of quick time events and you will need to know which keys to press and how. By doing so you will be able more easily defeat other players in matchmaking.
The competitions are well 21:
4 x 100m relay
100m obstacles
Soccer
Basketball
Individual mixed 200m
Boxing
Beach Volleyball
Table tennis
Tennis (single and double)
Sport climbing
100cm
100m freestyle
Hammer throw
Baseball
Seven-a-side rugby
Judo
Long jump
BMX
Baseball
And each of these disciplines takes advantage of some quick time events that make each challenge different from the others, although sometimes they tend to be the same old story but in a different sauce. It also becomes a challenge of skill between you and the other players. When will you start a game you will be explained the rules of the discipline and how to win. So don't worry if you want to throw yourself into something you don't fully know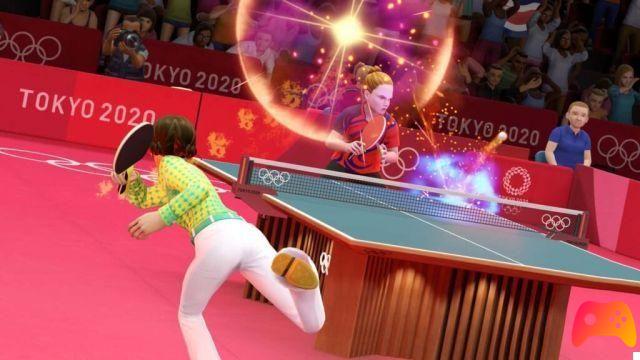 Cartoon graphics
Just as the Tokyo Olympic Games gameplay isn't realistic, neither are its graphics. In fact you will have in front of you in a decidedly cartoon aesthetic, as well as the animations, which are very fluid and pleasant to see. During our test we didn't experience any kind of bugs or glitches. Music conveys the idea of ​​competition, e manages to accompany when needed. An example, before the long jump there is the chaos made by the audience and the soundtrack, but before leaving we will have total silence.
These are small details that make the gaming experience really fun, even if it is clear that the title absolutely does not want to take itself seriously.
We have arrived at the part of the review that interests our wallet more than us: is it worth buying the Tokyo Olympic Games? Our answer is yes, even if you don't like sports. The only prerogative is to love the arcade style of play. In fact it almost seems like a return to the past. Yes, we are talking about the arcade game rooms of the 90's or the beginning of the new century. The game is fun and can be played, both alone and in company. So we can not help but have fun all together while we wait for the start of the Olympics, since we have had a wait of one year. Ready for July 23?
► Olympics Games Tokyo 2020 - The Official Video Game is a Sport-type game developed and published by Sega for PC, PlayStation 4, Xbox One, Nintendo Switch, Xbox Series X and Google Stadia, the video game was released on 24/07/2019 The version for PC came out on 21/06/2021 The version for Nintendo Switch came out on 21/06/2021 The version for Xbox One came out on 22/06/2021
Version for Xbox Series X from 22/06/2021
Version for Google Stadia from 22/06/2021