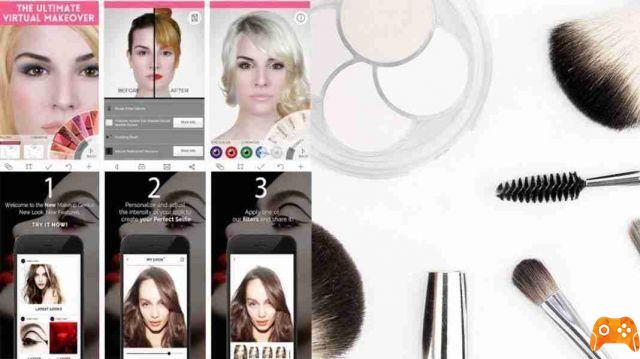 App to make up photos. Create your perfect makeup with these apps by taking a photo of yourself from an Android or iPhone smartphone.
Thanks to these photo make up app you can have fun trying makeup new ones every day by taking a selfie and editing it with all kinds of tricks.
So if your passion is makeup and you want to try out new looks first before moving on to your face these apps for make up photos they will be useful to you.
App to make up photos
Here are the best photo makeup apps for Android and iOS.
MakeupPlus – Makeup Camera
MakeupPlus is the perfect app to touch up your selfies like never before. With MakeupPlus, you can finally revolutionize your look: lipstick, eye contour, lashes, brows, hair color, fake freckles and glitter. All with the camera of your mobile phone!
ANNOUNCEMENTS! BENCH: TRY IMMEDIATELY and BUY real lipsticks from all brands of your choice, including Charlotte Tilbury, Lime Crime, GLAMGLOW, Stila, Clarins and many more! Thanks to this MakeupPlus feature, you will no longer be groping in the dark when shopping for products online because you will be able to see exactly what effect the coolest lipsticks and blushes have on you BEFORE you actually buy them!
Download now for Android, iOS
YouCam Makeup - Selfie and Magic Cosmetic Looks
Skin radiant with health, thanks to the new YouCam Makeup skin analysis function! After analyzing wrinkles, blemishes, acne, and bags under the eyes, get instant advice on the best treatments. Your Daily Skin Diary helps you keep a record of your skin's health, needs, and improvement over time.
YouCam Makeup offers you winter cosmetic looks, perfect for the season, to give your best!
And try the YouCam Makeup looks perfect for the holidays and for your holidays.
Download now for Android or iOS
makeup
Makeup is an application that takes virtual makeovers to a whole new level of state-of-the-art, makeup simulation and makeover effects. You can try literally thousands of cosmetics and shades in seconds! But that is not all! You can also try over 40 different hairstyles and add accessories like sunglasses, earrings, jewelry and more!
Take a photo or choose a photo from the gallery. So, choose your favorite beauty products from the huge database. Once you've found the perfect color combination, save it to your gallery and share with your friends!
Download now for Android or iOS
Makeup Genius
L'Oréal Paris creates a virtual make-up simulator in augmented reality. Your face will no longer be static and the recreated make-up will perfectly simulate the real one. Try all the L'Oréal Paris products in different shades, look at the looks created by the make-up artists on you, combine the make-up with your outfit ... MAKEUP GENIUS will be the App you won't be able to do without ! Turn your smartphone into a mirror and discover the right make-up for you!
Download now for Android and iOS