The March Player Of The Month card for Ligue 1 is coming within Fifa Ultimate Team: let's talk about PSG goalkeeper Kelyor Navas!
Here comes the announcement of EA Sports of the Player Of The Month of March 2021 for the Ligue 1 di Fifa Ultimate Team. Let's talk about Keylor Navas, goalkeeper of the PSG, whose card POTM will be redeemable in FIFA 21's beloved online mode by completing the Rose Creation Challenge inserted in this regard.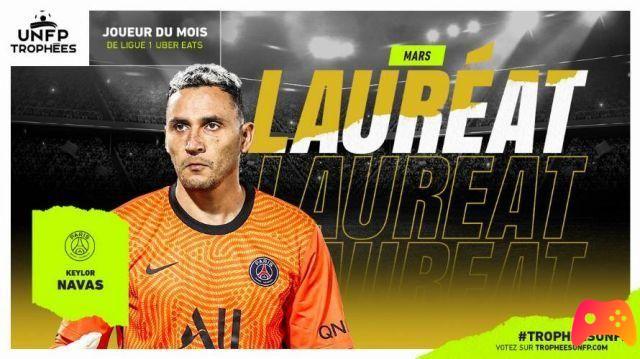 The requirements to complete the
SBC
for Keylor Navas POTM card within FIFA 21 Fut mode are as follows:
Paris Saint-Germain
-Minimum 1 player (s) from: PSG
-Minimum team rating: 83
-Minimum team chemistry: 80
Ligue 1
-Minimum 1 player (s) from: Ligue 1 Uber Eats
-Minimum team rating: 84
-Minimum team chemistry: 75
What will you do? Will you try to complete the SBC to take Navas? Let us know, as always, in the comments!
Recall that FIFA 21 came out last 9 October and is available for PlayStation 4, ps5, Xbox One, Xbox Series X / S, PC, Nintendo Switch and Google Stadia.
► FIFA 21 is a Sport-type game developed by Electronic Arts and published by EA Sports for Xbox One, PlayStation 5, Xbox Series X, PlayStation 4 and PC, the video game was released on 09/10/2020
Version for PlayStation 5 from 03/12/2020
Version for Xbox Series X from 03/12/2020
FIFA 21 is a beautiful game that cannot be missing from your collection: we have decided to evaluate it with a 80%, if you are interested in learning more you can read the FIFA 21 Review