As we had anticipated today, Electronic Arts has officially unveiled the players of team 1 of the Summer Stars. Let's find out together!
The event Summer Stars of FIFA 21 has officially begun. Electronic Arts has selected the first players for this new, spectacular team, which as usual will be followed by another group of players. In Team 1 there are several top players both from reality and from FIFA 21, among which they certainly stand out Leo Messi, Cristiano Ronaldo e Kevin de Bruyne, three of the strongest and most famous players in world football.
Summer Stars Team 1 includes Leonardo Spinazzola and Manuel Locatelli, so far great protagonists with the jersey of the Italian national team at the European Championships currently underway.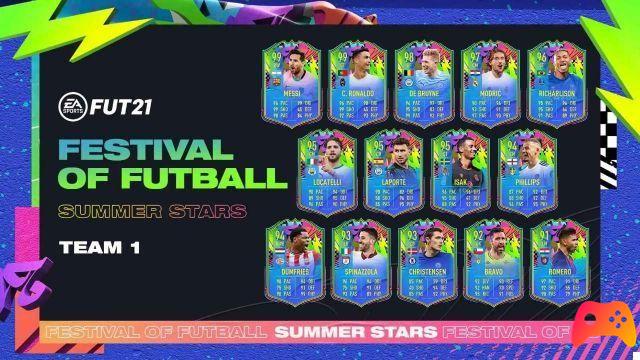 Here is the complete list:
Lionel Messi (99)
Cristiano Ronaldo (99)
Kevin de Bruyne (98)
Luka Modric (97)
Richarlison (96)
Manuel Locatelli (95)
Aymeric Laporte (95)
Alexander Isak (95)
Kalvin Phillips (94)
Denzel Dumfries (94)
Leonardo Spinazzola (93)
Aiden Christiansen (93)
Carlos Bravo (92)
Romero (91)
To these are also added Xerdan Shaqiri (93) available through SBC and another "Italian" the German Robin Gosens (93), for years with Gasperini's Atalanta Calcio.
What do you think of this Team 1? Let us know in the space reserved for comments!
► FIFA 21 is a Sport-type game developed by Electronic Arts and published by EA Sports for Xbox One, PlayStation 5, Xbox Series X, PlayStation 4 and PC, the video game was released on 09/10/2020
Version for PlayStation 5 from 03/12/2020
Version for Xbox Series X from 03/12/2020
FIFA 21 is a beautiful game that cannot be missing from your collection: we have decided to evaluate it with a 80%, if you are interested in learning more you can read the FIFA 21 Review