Elecotronic Arts has officially announced what will be the new FIFA 21 Team of the Week (TOTW). Let's find out together!
Punctual as a Swiss watch (in this case Canadian) Electronic Arts has unveiled the new Team of the Week (TOTW) for its FIFA 21.
The mode FIFA Ultimate Team it is therefore enriched with the usual new special cards, which to be honest they have a little surprised by the users, because they don't include several players who seemed unsure of the "place". In fact, several big players are missing from the appeal such as Mbappè, Ben Yedder and Alphonso Davis, in a definitely subdued weekly team, as has happened a little in recent periods.
Certainly stands out on the list of new players Courtois of Real Madrid, at the second call of the season in the TOTW, but also Mason Greenwood, certainly very interesting in this "boosted" version of his basic card. There is no shortage of representatives of the Serie A Tim: in fact they appear in the list Ciro Immobile of Lazio (which we had expected) e Domenico Berardi of Sassuolo, as well as Christian Eriksen of Inter and the Danish central Milan Simon Kjaer. Speaking of Milan: the list also appears Lucas Paqueta, former AC Milan footballer.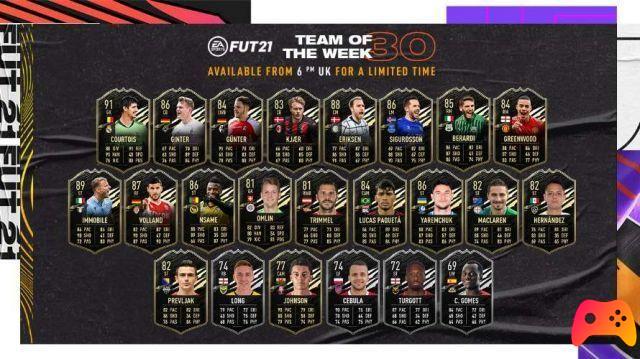 Here is the complete list:
Courteous 91
Ginter 86
Günter 84
Kjær 83
Eriksen 88
Sigurðsson 86
Berardi 85
Greenwood 84
Property 89
Volland 87
Nsame 86
Omlin 81
Trimmel 81
Lucas Paquetá 84
Yaremchuk 86
MacLaren 82
Hernández 82
Prevljak 82
Long 74
Johnson 77
Cebula 74
Turgott 72
C. Gomes 69
This team, we recall, will be available in packages until 18:59 pm next Wednesday, that is Wednesday 28 April.
► FIFA 21 is a Sport-type game developed by Electronic Arts and published by EA Sports for Xbox One, PlayStation 5, Xbox Series X, PlayStation 4 and PC, the video game was released on 09/10/2020
Version for PlayStation 5 from 03/12/2020
Version for Xbox Series X from 03/12/2020
FIFA 21 is a beautiful game that cannot be missing from your collection: we have decided to evaluate it with a 80%, if you are interested in learning more you can read the FIFA 21 Review