Electronic Arts has shown the first official trailer of FIFA 22, which will be based on the HyperMotion engine on next-gen. FIFA 22 will debut on October 1st on all current and old generation consoles.
An important day for all fans of virtual football and in particular for fans of FIFA. Electronic Arts, as widely announced in recent days, showed the first trailer of FIFA 22 to the public, complete with an official release date.
The new episode of the EA football saga will debut on 1 ° October on PlayStation 4, PlayStation 5, Xbox One, Xbox Series X / S, PC and Google Stadia, with many very interesting news. The most important is certainly the change of the graphic engine. At least as far as the next-gen and Stadia versions are concerned, the game will be based on technology HyperMotion that will give the game a new power, both from a technical and artistic point of view and from that of gameplay. Mainly benefiting from the new features of the machine learning algorithm will be mainly the animations of the players, which will thus be expanded considerably, thanks also to a complete scanning system of the movements of the most famous and important athletes in the world.
Another big news concerns one of the most delicate aspects of recent years: i goalkeepers. Electronic Arts has announced that the movement system and the artificial intelligence of the latter will be completely recreated, to give players a more realistic and credible experience. Furthermore, the press release underlines how the news coming will be really many and will concern not only the gameplay but also the game modes. Many new improvements will be introduced to the Career, the Pro Club, the Volta Footbal mode and, inevitably, the Ultimate Team mode.
PSG star Kylian Mbappè returns to the cover of the game again this year, assisted by a new group of ambassadors: David Alaba, Heung-min Son and Phil Foden.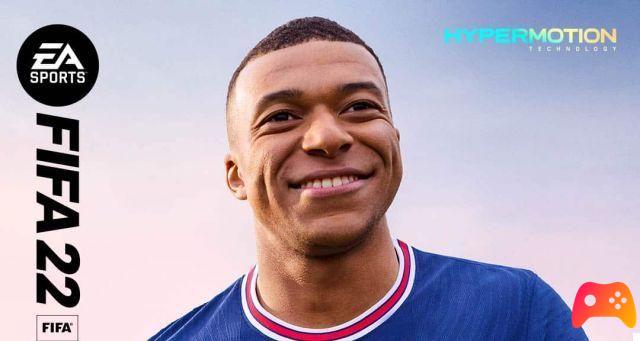 Players who pre-order by August 11 will be entitled to several special content within Ultimate Team and not only that, while all those who book the Ultimate Edition will also have the Dual Entitlemente available, that is the possibility to update the game for free to the corresponding next-gen version.
FIFA 22 is bookable from now on. Waiting to know more details about it we leave you to the official trailer.
► FIFA 21 is a Sport-type game developed by Electronic Arts and published by EA Sports for Xbox One, PlayStation 5, Xbox Series X, PlayStation 4 and PC, the video game was released on 09/10/2020
Version for PlayStation 5 from 03/12/2020
Version for Xbox Series X from 03/12/2020
FIFA 21 is a beautiful game that cannot be missing from your collection: we have decided to evaluate it with a 80%, if you are interested in learning more you can read the FIFA 21 Review