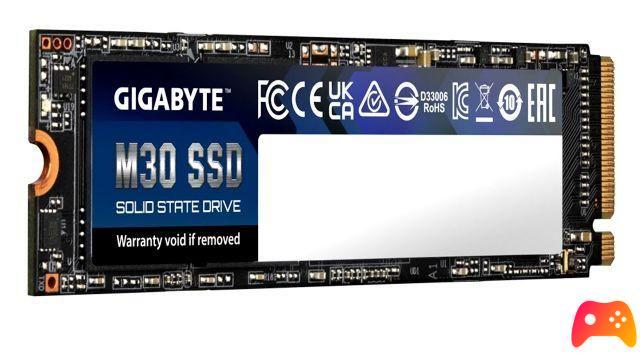 The Taipei company showed off the new PCIe 3.0 x4 SSD
Who does not know GIGABYTE, one of the major exponents of the tech sector? In the last few hours, the Taiwanese company showed the new NVMe M.2 SSD with PCIe 3.0 x4 interface in two denominations: one from 1 TB and the other from 512 GB. This is a well-dissipated product, thanks to the new introduction of the 2x copper PCB, now a fundamental feature in the series M30, such as Ultra Durable technology. The aforementioned range dissipates heat in order to lower the temperature by as much as 15 ° C compared to a generic SSD.

In combination with the excellent dissipation we find high stability and excellent performance: we are talking about a reading speed of 3500 MB / s, all this dictated by the interface NVMe PCIe 3.0 x4, with 2 type M.2280 socket. The NVMe architecture is in fact able to offer a reading and writing speed 6 times higher than the classic SATA SSD.
Jackson Hsu, the Director of GIGABYTE Channel Solutions Product Development said:
Compared to SSDs with a 2,5-inch SATA interface, PCle 3.0 x4 M.2 products have the advantage of being small in size and high in performance. The competitive price also makes them a better option for those who prefer higher storage performance than the PCle 4.0 models, having a limited budget available. For years, GIGABYTE's SSD products have earned a solid reputation for their excellent performance and superior quality. The GIGABYTE M30 series SSD is designed based on that reputation, and innovatively adopts the renowned 2x copper PCB from the motherboard line ups to provide optimized performance and stability. Enhanced by GIGABYTE's commitment to delivering ever higher quality, this SSD with two capacity options of 1TB and 512GB perfectly meets user needs for high performance, low heat, ultra-durability and stability from part of the users.
In addition, the GIGABYTE M30 series SSDs allow for a clean installation, with no need for external wiring, to better manage the airflow in the case. The set of all the aforementioned improvements make the new SSDs a truly inevitable product within our computers.