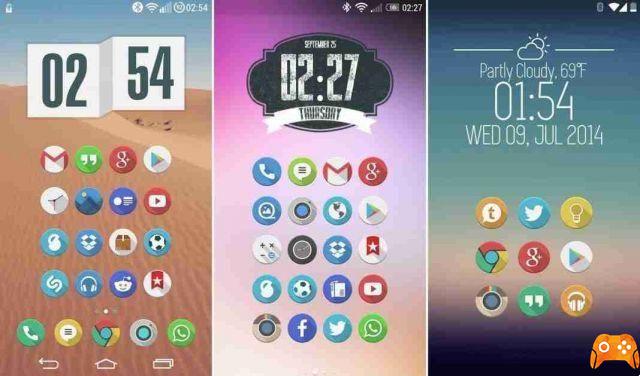 Icon pack for Android: the best to download. If you are tired of the interface of your smartphone, tablet, or Android TV Box, maybe it's time for a change! You know that Android is the mobile platform that allows the highest degree of customization, let's see how to use it to make the interface of our system really aesthetically pleasing.
The best icon packs and themes are the ones they offer a large number of icons, so that no app on your system remains without the new icon in order to obtain a much more pleasant and uniform result.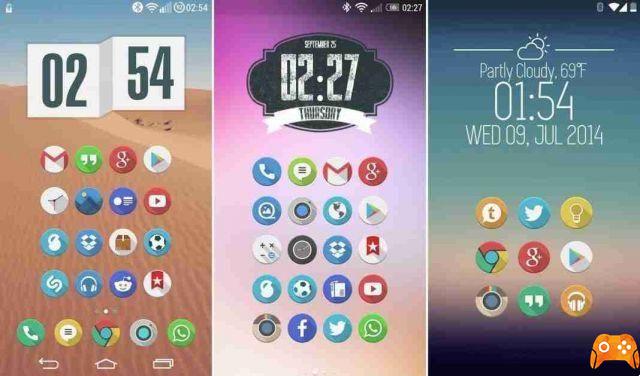 The best icon packs for Android
beautiful UI
it has long been one of the most popular for the large number of icons available. Excellent style and inspired by the latest version of Symbian OS called Belle.
DOWNLOAD | beautiful UI
FLAT
For those who love the Flat style this is a good alternative, with very detailed and immediately recognizable icons. A good fusion of classic style and new Material Design style.
DOWNLOAD | FLAT
Numix Circle
Very famous and always very popular icons. Circular shapes and minimal style accompany this very versatile icon pack, able to give a touch of class even to old Android.
DOWNLOAD | Numix Circle
GEL – Icon Pack
Gel could be the icon pack that's right for you, offering high definition circular icons inspired by those on Android at the time of kitkat. A good theme updated weekly and free.
DOWNLOAD | GEL – Icon Pack
SILHOUETTE Icon Pack
A free and impactful simple icon pack. Few icons, only 820, but all of good quality and with the possibility of applying a masking to the missing ones to have a good uniformity. As usual it supports all modern launchers, you can find SILHOUETTE for free on the Play Store.
DOWNLOAD | SILHOUETTE
RETRORIKA ICON PACK
Indeed, the icons of RETRORIKA are characterized by the use of a particularly captivating vintage palette. This package of icons for about one euro offers 3600 icons in high definition (192 × 192 px) and 126 wallpapers in high definition, moreover, like the other paid themes presented, it allows you to request new icons.
DOWNLOAD | RETRORIKA
Black – Black Icon Pack
Beautiful minimal and effective icons. If you want to create a beautiful linear interface but with an impact, you have found the pack that's right for you. More than 4000 icons in high definition offered for free, pack in continuous and constant updating. A free icon pack capable of competing with paid ones, a pity only for the absence of a mask for the icons not yet inserted.
DOWNLOAD | Black – Black Icon Pack
Umbra – IconPack
Speaking of round icons, if you are looking for something more original and with character, the Umbra icons could be for you. They have a truly unique style, thanks to the shape, color palette and design. The pack offers more than 4000 icons, and also allows you to mask the missing icons through a filter so that the interface of your system is perfectly homogeneous. Umbra - Icon Pack is considered by many to be one of the must-haves of the category, it is currently on offer and costs € 0,80.
DOWNLOAD | Umbra – Icon Pack
Pixel IconPack
Do you like round icons? Can't resist the clean and consistent interface of the new Google Pixels? Bring it easily even on your devices thanks to one of the best themes available on Android. Pixel Icon Pack at a cost of about 70 cents offers a lot, 2700 icons in high definition, mask for the missing icons so that you will not have to see applications that have the round icon and others do not, possibility to send requests, also supported by Muzei Live Wallpapers .
DOWNLOAD | Pixel Icon Pack
Moonshine
This good developer wanted to create a complete package following Google's guidelines. The result is a perfect package if you want detailed icons that are perfectly consistent with the material design. It is free and offers around 900 icons in high definition, it is also updated often and supports the Muzei wallpaper app
DOWNLOAD | Moonshine
Glim – Free Flat IconPack
A splendid free pack that is constantly updated, inspired by material design, offers icons in high definition. With 2500 icons and the ability to request more. The free version is also available with a variant in dark tones. A paid version is also available which offers many alternative icons at a cost of € 1,29.
DOWNLOAD | Glim – Free Flat Icon Pack
DOWNLOAD | Glim Dark - Free Icon Pack
ICON PACK MATERIALISTICS
One of the best icon packs of this collection is really very beautiful and suggestive, it integrates perfectly with Android Nougat and it is updated often. 3700 vector icons made in a meticulous way and all support 4k screens being in XXXHDPI format (192 x 192 px). This pack is correctly ssupported by any recent launcher. In addition, the developer adds new icons on request and there are 126 wallpapers in very high resolution. This icon pack is paid, it costs € 1, a figure in our opinion fully deserved given all it offers.
DOWNLOAD | MATERIALISTIC
Adastra
A splendid free icon pack, full of colorful icons (there are more than 1300) in high definition XXXHDPI (192 x 192 px). The icons have a square shape with rounded corners and allow for a good homogeneity as well as a pleasant glance. You can try this theme for free and it is compatible with all popular launchers.
DOWNLOAD | Adastra