Back in the role of the Ranger.
The original Quake is back in a big way to the delight of all FPS fans, available on all current platforms with several additions and improvements that you can read in our review.
For all those players who want to dissect this milestone of the genre, here is the complete list of trophies of the game.
BRONZE TROPHIES
Sink the electric horror: Complete Quake Episode 1, Dimension of the Condemned, in single player mode
At the bottom of the well: Complete Quake Episode 2, Kingdom of Black Magic, in single player mode
Beyond the blue hallways: Complete Quake Episode 3, The Infernal World, in single player mode
The last unexplored way: Complete Quake Episode 4, The Ancient World, in single player mode
Indigestion: Defeat Shub-Niggurath in single player mode
Passenger of the gate: Complete Scourge of Armagon Episode 1, Fortress of the Dead, in single player mode
Dominated domain: Complete Scourge of Armagon Episode 2, Domain of Darkness, in single player mode
Armanon: Complete Scourge of Armagon Episode 3, The Rift, in single player mode
Lowest Lord: Complete Dissolution of Eternity Episode 1, Fortress of the Underworld (Single Player)
Dragon Slayer: Complete Dissolution of Eternity Episode 2, The Corridors of Time (Single Player)
Year zero: Complete Dimension of the Past in single player mode
Revenge denied: Complete Dimension of the Machine in single player mode
Vertical revenge: Find the secret exit in Quake Episode 1 Dimension of the Condemned
Never again: Find the secret exit in Quake Episode 2, Kingdom of Black Magic
The warm winding way: Find the secret exit in Quake episode 3, The Underworld
Into Sandy's City: Find the secret exit in Quake Episode 4, The Ancient World
Military complex: Find the secret exit in Scourge of Armagon Episode 1, Fortress of the Dead
The domain of the gremlin: Find the secret exit in Scourge of Armagon Episode 2, Domain of Darkness
A long journey: Find the secret exit in Scourge of Armagon episode 3, The Rift
The house of fate: Find the secret exit in Dimension of the Past
Sandy's room: Find the secret exit in Dimension of the Machine
A nose for secrets: Find a secret area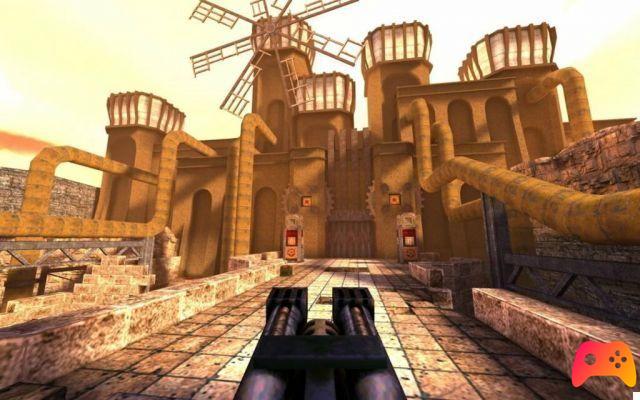 SILVER TROPHIES

The Well of Wishes: Find the Wishing Well in Crypt of Decay
You shouldn't be here !: Find the secret message in Tur Torment
Friendly fire: Kill a monster using another monster's attack
Download: In Deathmatch mode, electrocute an enemy in the water without dying
The shambler dance: Kill a shambler before it attacks you with lightning
For a hair: Kill a shambler with an ax
The painless labyrinth: Complete E4M6: The Pain Maze on Nightmare difficulty without taking damage
Empty Portal Pacifist: Complete E1M1: The Slipgate Complex on Nightmare without firing a shot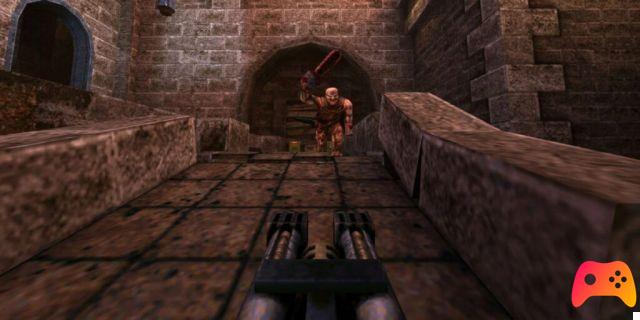 GOLD TROPHIES

Shub's Friends: Complete Quake in single player mode on Nightmare level
A scourged scourge: Complete Scourge of Armagon in single player mode on Nightmare level
Ranger in great shape: Complete Dissolution of Eternity in single player mode on Nightmare level
The other world: Complete Dimension of the Past in single player on Nightmare difficulty
Mechanical Insight: Complete Dimension of the Machine in single player mode on Nightmare level
PLATINUM TROPHIES

The Ancient One: You have conquered all the realms of the Ancient Gods. Well done