The Pixelator is the pre-order weapon of Ratchet & Clank: Rift Apart, however it is also obtainable in-game. We explain where to find it.
If you are one of the lucky ones to have pre-ordered Ratchet & Clank: Rift Apart, you will know that the weapon that serves as a pre-purchase bonus is the Pixelator. This shotgun transforms every enemy into a large pixel two-dimensional sprite, in the style of an 8-bit console game. However, fortunately, it is not an exclusive locked behind buying the game before launch, but it is also obtainable during the adventure. In this short guide we will see how to get the Pixelator in Ratchet & Clank: Rift Apart.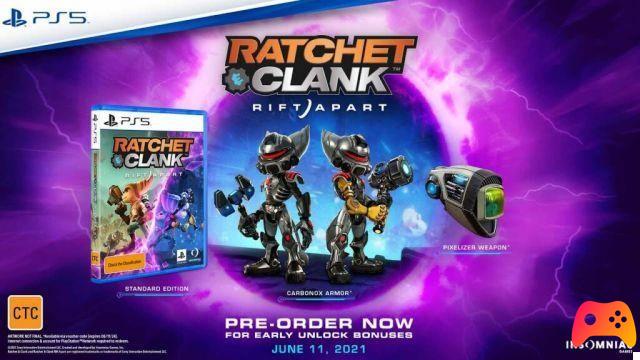 The Pixelator will be the last "classic" weapon that you can unlock, if you haven't pre-ordered the title. To find it, you must first complete the adventure, defeating the final boss. Once this is done, a message will appear notifying you that the "Challenge Mode is now available". This is a New Game + with enhanced enemies and all the previous weapons available right away. So start a new game and get to the first available shop, you can't miss it as the game will force you to interact with it during the prologue. Here you will see the Pixelatore, purchasable for zero Bolt! With the latter weapon you can also get the trophy for completing the arsenal of Ratchet and Clank: Rift Apart, as long as you have already unlocked the Rhyno and bought all the previous weapons available!
► Ratchet & Clank: Rift Apart is an Adventure-Platform game developed by Insomniac Games and published by Sony Interactive Entertainment for PlayStation 5, the video game was released on 11/06/2021
Ratchet & Clank: Rift Apart is a game to own at all costs: we decided to evaluate it with a 95%, if you are interested in learning more you can read the Review of Ratchet & Clank: Rift Apart