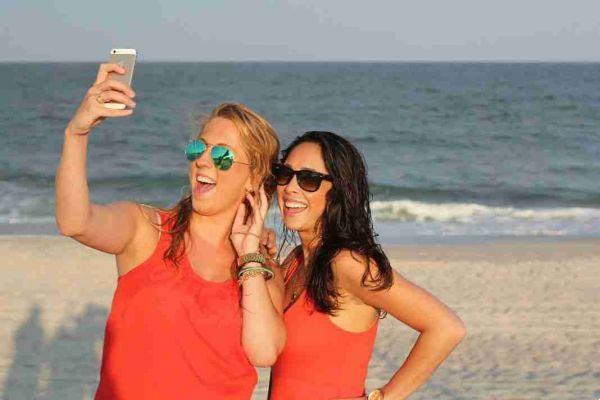 The best selfie apps for Android and iPhone. You love taking selfies then you have to try these free apps for iPhone and Android.
Some will improve the quality of the shots taken with your smartphone, while others have been made for pure fun and allow you to unleash your imagination with filters and adjustments to make your selfies unique.
Ok now we are going to list the best apps to take selfies for your Android or iOS device.
App per fare selfie
Sweet Selfie – selfie camera,beauty cam,photo edit
One of the best apps you can try right now for taking selfies is Sweet selfie. Available on both Android and iOS, this application allows you to take really interesting selfies thanks to the addition of some filters that also eliminate any defects that are present on your face.
Retrica – Discover Yourself
Express yourself with fascinating filters. Share with your friends or the whole world. Discover new interesting people and their lives.
With Retrica you can do:
• Perfect Filters for Any Occasion: Take a selfie with real-time filters. Focus on your beauty and spend less time making changes!
• Videos and GIFs: A video says so much more than a photo! Long press to take a live video. You can also turn your collages or videos into GIFs.
• Fun Instant Collages: The more the better! Take several selfies and convert them into a beautiful collage in the blink of an eye! You can turn your phone into a photo booth with just one tap.
• Fun Stickers: Retrica offers over 100 types of stickers to decorate and edit your selfies and videos. Make your selfie stand out on social media!
• Drawings & Texts: Insert your personal message in your selfie. Turn your selfie into a message!
• Stamp ™: Decorate your selfies and videos with Retrica's original Stamp ™.
• Share: Upload your beautiful selfies to social networks like Facebook, Twitter, Instagram and more.
Download now for Android and iOS.
Candy Camera – selfie, photo editor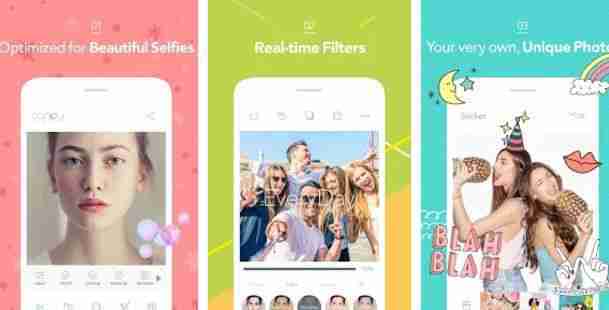 Real-time filter that does not need post-correction. 30 unique and gorgeous filters in Filter for gorgeous skin perfect for the most narcissistic
Easy and convenient editing. Adjustment of brightness, contrast, saturation, resolution, crop, rotate, mosaic, lomo, focus
Beauty function just one touch away. Whitening effect, stain removal, make-up: eyeline, eyeslash, blush function and smile effect. The natural effect of pixels
Decorate the images of my story. Add sensitivity to your photos with light effects and 100 kinds of frames to make your photo trendy!
Download now for Android or iOS
YouCam Perfect - Selfie and Photo Retouching App
Make every holiday photo and selfie perfect with the best beauty photo app. Show off the best of your face, and create video selfies using cool filters!
Retouch photos and adjust skin tones, add filters, remove wrinkles and blemishes, revive tired eyes and reshape your face with just a few taps. Give yourself the only selfie and photo editing app you need, with hundreds of collages, frames, stickers and fun scenarios!
The portable photo studio to make all your festive photos even better! Try Christmas-themed frames and collages. Add stickers and text, retouch photos quickly, and use the many special effects.
Download now for Android or iOS
MSQRD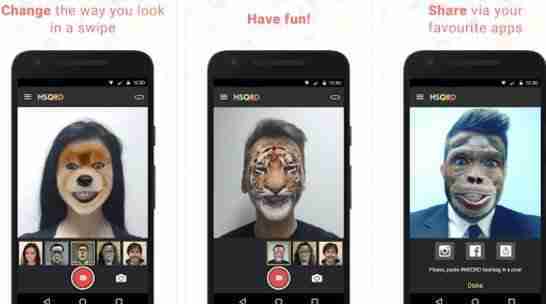 Have fun changing your face with this free app with a great variety of masks that you can put on your face.
Download now for Android and iOS