Along with the release date for Tales of Arise, the pre-order bonuses and especially the special edition were also revealed
Collector editions are now commonplace for every major triple A release. Although the JRPG genre is not the most expanded commercially, it is very common to see luxury limited for these titles. Tales of Arise will not be outdone, as shortly after announcing a release date for the game, Bandai also shared pre-order and Special Edition content.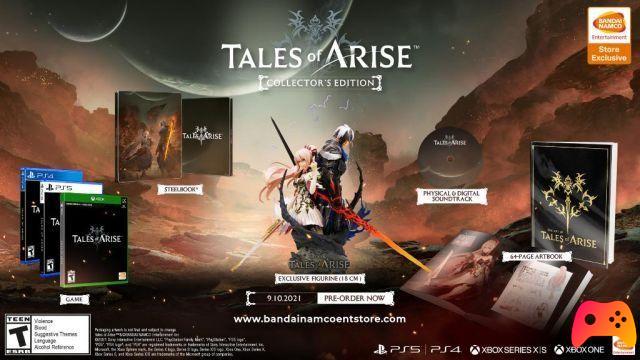 In the collector we will find a collectible figure, a 64-page artbook, the soundtrack in double physical and digital copy and finally the classic steelbook. The flagship of the special edition of Tales of Arise is certainly the figurine, however for the 190 euros that this edition requires, it seems of rather low quality.
The pre-orders instead will include the usual cosmetics now typically offered as a bonus in the tales of series and recipes to be able to craft exclusive in-game food. To get the special edition it will be necessary to order it from the official Bandai Namco website, while the pre-order bonuses will be offered to anyone who books the game from the various platforms.
► Tales of Arise is an Adventure-RPG-type game developed and published by Bandai Namco for PC, PlayStation 4 and Xbox One, the video game was released on 31/12/2020