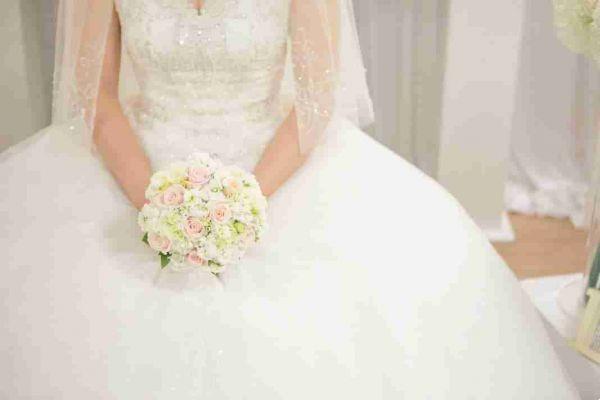 Wedding app. Try these free apps that will help you organize your wedding available for Android and iOS.
Are you about to get married and would you like to have useful advice, supplier numbers, advice and much more to create your fairytale wedding?
Then try installing these app per marriage Free your Android smartphone and tablet or iPhone and iPad.
App per marriage
In our opinion, here are the best wedding apps to better organize yours wedding for Android and iOS.
GUIDASPOSI AROUND ME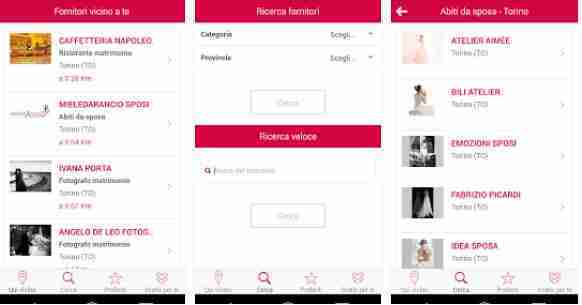 GuidaSposi is the first application in Spain designed to better organize weddings through a comfortable and versatile tool. It allows you to access in real time thousands of cards of operators in the sector, with lots of updated and analytically presented news, visible through search tools that will facilitate the finding of the operators themselves.
THE OPERATORS NEAR YOU
Have you paid a visit and still have free time? To find out which other operators are near you, you can access the NEAR HERE function.
They will be shown, divided by category, in order of distance: in a moment you can plan your new appointments without wasting precious time.
RESEARCH
The search for operators takes place through two specific channels:
BY CATEGORY AND PROVINCE, if you intend to find an operator through a precise logical and geographical criterion, even at a distance;
BY SPECIFIC NAME: don't you remember the name of a particular operator? With the SEARCH function you can restrict your attention to the desired operator by typing just a part of his name, to find his card as quickly as possible.
CLOSE HERE, if you want to select operators who are nearby, to plan "on the fly" your day as future spouses
COMPLETE LISTS OF OPERATORS
If the search is made by PROVINCE AND CATEGORY, the list of operators reviewed appears. Based on your preferences, or the municipality in which they are located, you can deepen their knowledge and view the individual cards. It is a simple and intuitive method that can help you decide in advance on which operators to focus your research.
THOUSANDS OF CARDS AND PHOTOGRAPHS
Once the search has been carried out, you can access the data of the cards. Easy-to-read analytical descriptions will allow you to get to know the specialists in the sector. In real time, with a simple click, you can directly make a phone call or request a quote from the operator you are interested in via an e-mail. Furthermore, you can browse all the photographs in his Photogallery as in an album and view his videos.
INTERACTIVE MAPS AND ROUTES
You have chosen your operator and decide to visit it: through the interactive map, accessible directly from the card, you can view its position and obtain the most convenient route to reach it from where you are.
PROMOTIONS
Do not overlook the opportunity to find, in this specific section, special offers, discounts, promotions and gifts reserved exclusively for GUIDASPOSI users. Just show up at the operator with your SmartPhone and you will be able to access numerous advantages, while also saving money.
YOUR FAVORITE DATA, ALWAYS AT HAND
The application becomes like an address book and allows you to annotate the FAVORITE operators, which can be easily recalled from the specific archive, without carrying out a new search.
In this way, you can keep all the data you need at your fingertips, perhaps, to plan weekend visits, or phone calls to make when you are out and about, maximizing your time.
Download now for Android and iOS
Wedding.com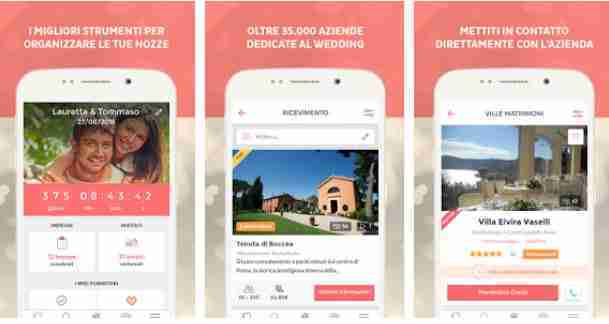 Are you planning your wedding and don't know where to start? With this free application you will always have all the organizational details of the big day at your fingertips, so it will be easier and more fun.
Matrimonio.com is the leading portal in Spain and in the world, specialized in the bridal sector, which can provide you with everything you need for your wedding.
· Directory: Contact over 44.000 wedding companies.
Community: Stingi friendship with brides who are experiencing the same things as you within the largest community of brides and grooms in the country.
Ideas: Articles that will guide and inspire you throughout the organization.
Real Weddings and Recommendations: Thousands of wedding reports from other couples who, once married, told us about their experiences and left supplier recommendations.
Advantages: Very useful tools that will help you during the organization (an agenda of commitments, a manager of guests ...)
Catalog: More than 12.000 wedding dresses and bridegroom suits from the best wedding designers in the world.
And much more: A contest of € 5.000 every month, your free Wedding Site, etc ...
And do you know what's the best? Always have everything at your fingertips because everything you do via mobile is automatically updated in your Matrimonio.com account, without the slightest effort!
Download it now and organize the wedding of your dreams with the utmost simplicity!
Download now for Android and iOS
Wedding planner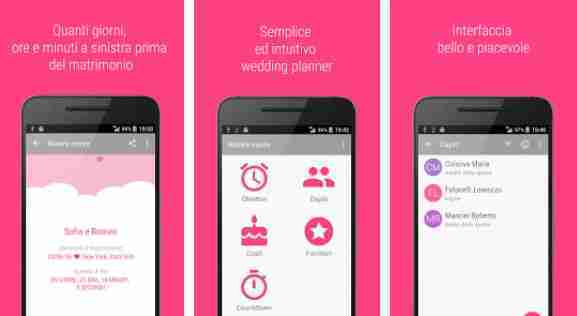 They have collected everything in one application, which can be useful for preparing and planning the wedding.
The wedding preparation and planning application includes very useful mini applications.
Targets. The most frequent goals are already included in the application.
Guests. Making the guest list is now easy and simple.
Costs. An easy way to billing your expenses.
Providers. Your suppliers will always be close at hand.
The goal of the application is to reduce the stress during the preparation of the wedding.
Download now on Android