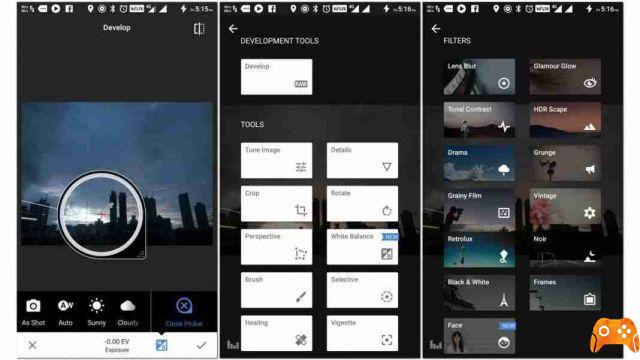 Best photo enhancement app for Android and iOS. Fix or refine your photos with these free photo enhancement apps.
Have you taken a photo but it has blur errors or would you like to embellish it with effects that will improve its appearance?
So now we will offer you the apps to improve the photos so as to make even a shot that seems bad or not very relevant to you.
App to enhance photos
Snapseed
SnapSeed, a free app created by Google that offers the possibility of using various tools thanks to which it is possible to hide the defects in your shots.
The program is so easy to use that the only thing you have to do is select (from the toolbar on the left) the type of effect you want to apply; after that, once you are in the editor of the specific effect, it will be sufficient to act on the adjustments until you are satisfied. Best of all, the changes set on the image will be displayed in real time.
Black and White, Sepia, different graphic effects, brightness, saturation, different types of edges, sharpness, blur effects. The program will put at your disposal dozens of possibilities that will allow you to modify the image giving it a special touch.
Download now for Android or iOS
Photo editor – Photo Editor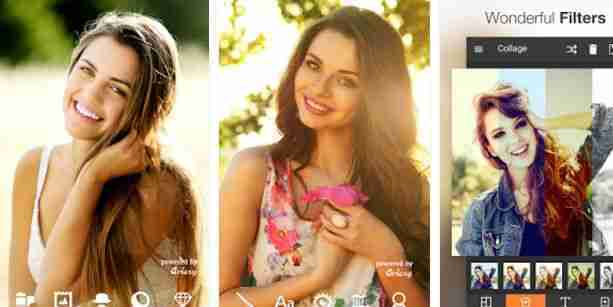 Advanced Photo Editor - Photo Editor Pro is a powerful editor with many amazing effects!
A complete photo editor and pretty much everything you could ever want to do on your phone!
There are so many effects, stickers and features to apply to your photos!
Only available for Android
Adobe Photoshop Express : Editor Foto Facile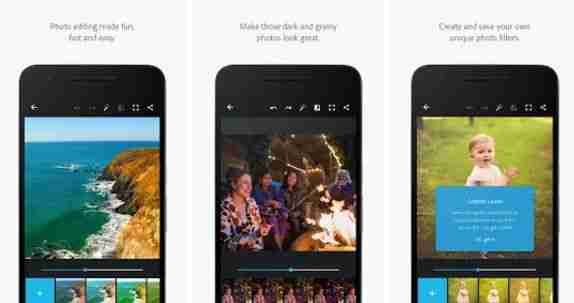 Shoot. Edit. Share. You smile. A magic touch for your photos at your fingertips.
Photo editing has never been so fast and fun. With just one tap, your photos will look better thanks to automatic retouching and filters.
Download now for Android, iOS or Windows
VSCO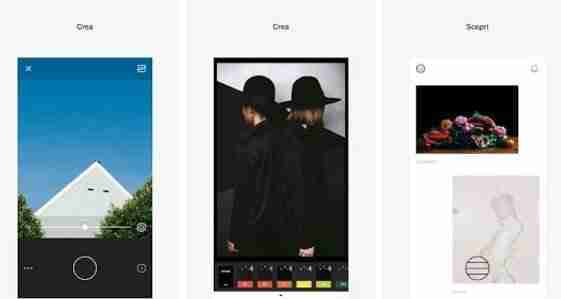 VSCO Cam is a photo editing tool that gives photos taken with your Android device a much more elegant touch.
You can take photos from the VSCO Cam app itself, where they are saved in a folder with previews enabled. This makes it easy to choose which images you want to work with at any given time.
Once you have selected a photo you will have access to dozens of options for editing. Just select a filter to add or an operation to perform (regular color, contrast, brightness, etc.) and adjust the corresponding parameters.
Download now for Android or iOS
Prisma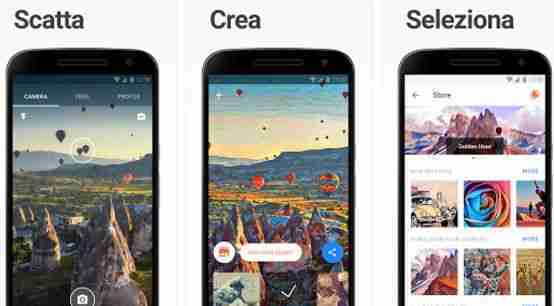 Prisma transforms your photos into artwork following the style of famous artists: Munk, Picasso and world famous decorations and motifs. A unique combination of neural networks and artificial intelligence allows you to convert your memorable moments into timeless pieces of art.
Download now for Android or iOS