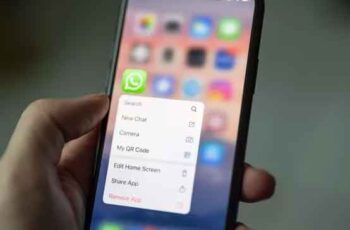 Even with Apple's strong push to iMessage, WhatsApp remains unrivaled on the iPhone. It's the favorite way for millions of people to stay connected with friends and family. Although the Facebook-owned service works well most of the time, you may have trouble opening the app. If Whatsapp isn't working or connecting on your iPhone, let's see how to fix this annoying problem.
1. Enable and disable airplane mode
Maybe you are facing several network problems on your iPhone. In this case, you will have trouble connecting WhatsApp on iPhone. This trick worked wonders with network-related problems. Those using iPhones with Face ID can swipe down from the top right corner and enable Airplane Mode on iPhone. After some time, disable it from the same menu.
If you're using iPhone with a physical Home button, you can swipe up from the bottom and reveal Control Center to enable and disable Airplane Mode. Alternatively, you can go to Settings and use the Airplane mode switch.
2. Enable mobile data for Whatsapp
Have you disabled mobile data? iOS allows you to enable / disable mobile data for apps installed on your phone. If you have disabled mobile data for WhatsApp, you will continue to experience a connection error on your phone. Follow the steps below to enable mobile data for WhatsApp.
Open the Settings app on the iPhone.
Scroll down to the WhatsApp app.
Tap it and enable the Mobile Data switch for iPhone.
3. Check the Whatsapp servers
If the WhatsApp servers are down, you will not be able to connect to the service. In such case, you will not be able to download WhatsApp media or PDF files on iPhone.
WhatsApp is no stranger to such problems. The app just a few days ago crashed, as well as Facebook. You can go to Downdetector and search for WhatsApp. If you notice strong spikes in reporting problems, then there is nothing you can do about it, it's a WhatsApp problem. You have to wait for WhatsApp to fix the problems. In some cases it can take minutes or hours.
4. Reset settings
Incorrectly changing settings in the iPhone settings may cause connection problems on the iPhone. You need to reset the settings from the General menu. Follow the steps below.
Open the Settings app on the iPhone.
Go to the General menu.
Select Restore iPhone.
Select Reset Settings and you are good to go.
5. Reset Network Settings
Are you having frequent network problems with your iPhone? You can use the airplane mode trick, and if that doesn't work, you need to reset the network settings on the iPhone. That's how.
Go to the Settings app on the iPhone.
Open the General menu.
Select Reset below and Reset Network Settings from the following menu.
6. Disable low data mode
Enabling low data mode for mobile networks may cause WhatsApp connection problems on iPhone. Open the Settings app and go to Mobile Data. Select your current carrier and disable low data mode on iPhone.
7. Update Whatsapp
If you're using an old build of WhatsApp on iPhone, it's time to upgrade to the latest version. WhatsApp updates the app regularly to add new features and improve reliability. Open the App Store on iPhone and go to your account. Update WhatsApp to the latest version. Open WhatsApp and you should no longer see the connection error on your iPhone.
How to send high quality videos via WhatsApp on Android and iPhone
How to find out if someone is spying on us on WhatsApp
How to export WhatsApp chat as PDF
How to make a video call with WhatsApp
8. Sign up for the Whatsapp beta using Testflight
If Whatsapp still doesn't work or connect on iPhone, the company may release an update for the app. Before releasing the new version to the public, the company will test with beta testers. You can visit this link and sign up for WhatsApp TestFlight on your iPhone. Whenever a new version of WhatsApp is available on iPhone, you will receive a notification from the TestFlight app.
Start using Whatsapp on iPhone
When WhatsApp doesn't connect on iPhone it might force you to look for alternatives. It is unproductive and takes a long time. The above tricks should help you regain control of WhatsApp on your iPhone.
Further Reading:
FaceTime Won't Connect on iPhone, 8 Solutions
How to transfer WhatsApp from Android to iPhone
How to speed up Whatsapp audio messages on PC and phone
How to stop automatic updating of iPhone and iPad apps
How to make WhatsApp calls using the Google Assistant