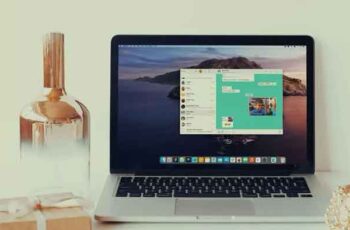 The transition of WhatsApp from mobile to desktop was not without problems. The service requires a constant, active internet connection on your current phone and seems slow compared to rivals like Telegram.
WhatsApp does not open on Mac
Sometimes, the desktop version of WhatsApp won't open on PC and Mac. If you're having the same problem, read what to do if WhatsApp Web or Whatsapp Desktop doesn't work on MAC.
1. Restart the MAC
Many users turn off their PC from time to time, even us. We use the Sleep function to wake up the Mac instantly. That said, you should often shut down and restart your Mac to perform a soft reset. You can click on the little Apple icon in the menu bar and select Restart. Restart your Mac, enter your password and try to open WhatsApp again.
2. Close Whatsapp completely
WhatsApp keeps running in the background on startup? This way, you may have trouble launching the app on your Mac. You need to shut down WhatsApp completely using Activity Monitor on Mac. Here's how.
Press command + space and open Spotlight Search.
Type Activity Monitor and open the app.
Find WhatsApp from the list and click on it.
Click the x sign at the top and close the app completely.
Close Activity Monitor and try to log in to WhatsApp on Mac again.
3. Make sure your mobile and Whatsapp are on the same Wi-Fi
Unlike Telegram, WhatsApp does not offer true cloud backup. You must have your phone running with an active internet connection and not the same Wi-Fi as your Mac. If your phone is connected to another Wi-Fi network, you will continue to get connection errors when opening the app.
Make sure the connected phone has a running internet connection, then try using WhatsApp on Mac. On the first try, it will ask you to scan the QR code for a successful connection.
4. Check the RAM
This method applies to anyone trying to launch WhatsApp on Mac devices with 8GB of RAM. With Google Chrome, Slack, and a couple of other apps running in the background, it's pretty easy to run out of virtual memory on the Mac.
In this case, WhatsApp will take longer to start, and in some cases, it won't even open on the Mac. You can use a third-party app called ClearMyMac and check the available memory from the menu bar.
It also shows other details like Mac temperature, CPU usage, network speed, and more. If you are dealing with double-digit free RAM, you need to close other apps and services running in the background. You can close them manually or help out from Activity Monitor. Close other apps, free up RAM and open WhatsApp on Mac.
5. Update Whatsapp
WhatsApp is readily available from the App Store for download. If you have downloaded the app from the App Store, you can easily update it to the latest version. Open the App Store on your Mac and go to the Updates menu. Update WhatsApp to the latest version.
6. Enable multi-device beta
WhatsApp is testing multi-device support for the service. With that, you can enjoy WhatsApp on up to 4 devices without keeping your phone online. It has some limitations, but the overall pros completely outweigh the cons. If you are eligible to use the WhatsApp multi-device beta, it will appear in the WhatsApp app for Android / iPhone. Here's how to enable it.
Open WhatsApp on iPhone or Android.
Go to the Settings menu.
Select the multi-device beta version.
Join the program.
Open WhatsApp on Mac, scan the QR code again, and now you don't need your phone to be connected to Mac all the time. This way, you will likely face fewer errors opening the app on Mac in the future.
7. Try Whatsapp Web
Even after following all the above steps, you still have the problem with WhatsApp not opening on Mac; you need to access WhatsApp from the web. Go to WhatsApp Web and scan the QR code to set up WhatsApp in your favorite browser.
Start using Whatsapp on MAC
If you use WhatsApp on a daily basis, there is no real alternative for you. You can't expect your friends and family to switch from WhatsApp to Telegram or Signal just because you're having trouble opening the app on your Mac. The above steps should help you fix the problem.
Further Reading:
WhatsApp Won't Open on PC, 7 Solutions
Apps Not Responding on Mac, 4 Solutions
How to hide someone's status on Whatsapp
How to find out if someone is spying on us on WhatsApp
How to hide photos and videos on Whatsapp