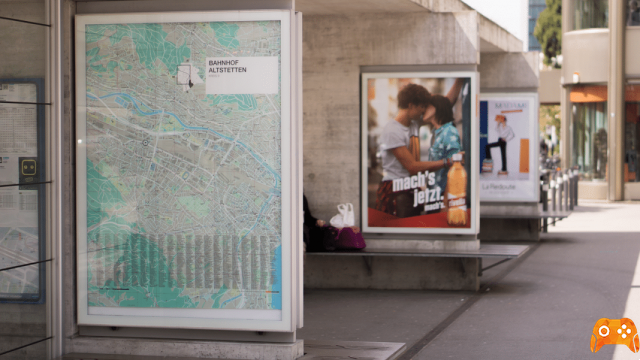 App to create posters and playbills. Thanks to these free apps you can create posters and playbills from your Android or iOS device.
Are you looking for apps that give you an idea to create posters and posters directly from your Android smartphone or tablet or even from iPhone and iPad?
Then try these free apps for creating poster graphics in a simple and intuitive way.
App to create posters and playbills
App to create posters and playbills available on PlayStore and App Store.
Creator poster, designer ads page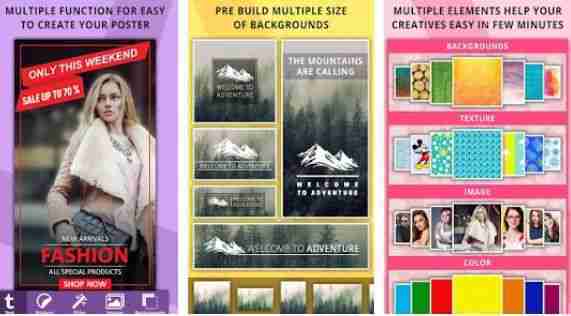 Do you want to create promotional posters, advertisements, offering ads, cover photos for your shop, restaurant, office or social sites? If yes then this is the app for you.
Create promotional posters, advertisements, offering ads, cover photos on the go with amazing backgrounds, textures, effects, fonts, sticker and get the attention you want.
Poster Maker is an easy to use app, just select the background you like in the report according to your need and add text with poster designs fonts, add wonderful stickers (especially collected for poster making), add images from gallery and create perfect poster every time.
Download now on Android
Canva Photo Editor & Design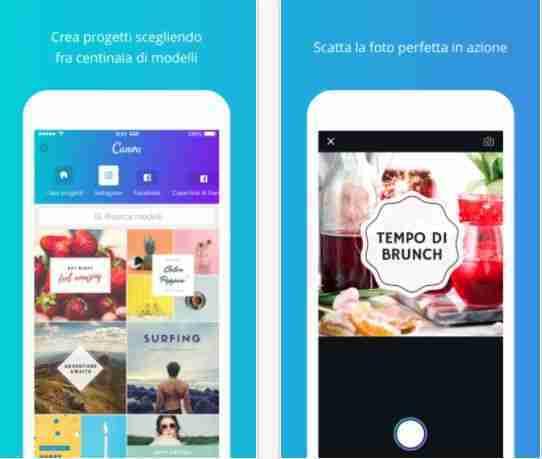 Create professional designs and graphics with Canva. Edit photos, add text, elements, stickers, borders, frames and more. Start your project in seconds with more than one hundred professional and perfect templates according to your needs.
Use your own photos or choose from over a million layouts, stock photos and illustrations. Choose the best fonts, photo filters, graphics, stickers and shapes and use Canva's simple drag-and-drop tool to create a design. Share your project directly on your favorite social networks via email or messaging app or export it to your camera roll.
BEAUTIFUL LAYOUT
Choose from hundreds of professionally designed layouts for
- Blog posts and websites: creative ideas, travel, cooking, music
- Social networks and post creation tools: Instagram, Facebook, Twitter, Pinterest
- Social network banner: Facebook cover image, Twitter background image, YouTube art content
- Cards: Birthday, Thanksgiving, Party, Wedding, Engagement, Love
- Invitations: Birthday, Party, Wedding, Engagement, Christmas, Christening
- Photo collage: birthday, love, family, music
- Poster: sales, event, club, party, creative ideas, music
- Flyers: events, discos, concerts, real estate agencies, business
- Presentations: sales, business, training
- Business cards: photographic, modern, minimalist
- Logos: events, business, team
- Album and CD covers: playlists, podcasts, compilations, singles
- Kindle and book covers: love stories, thrillers, non-fiction
And many more elements are added every week.
Download now for iPhone and iPad
Adobe Spark Post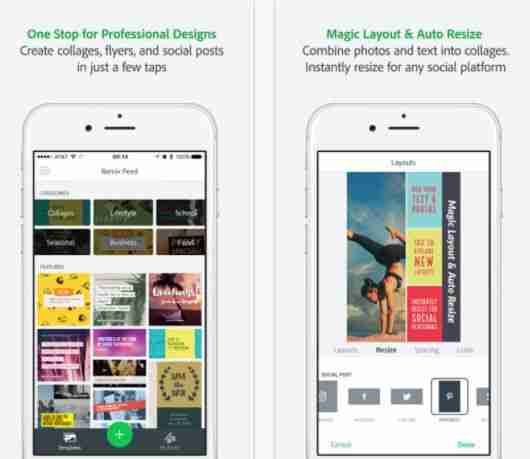 Adobe Spark Post is the fun, fast, and easy way to create stunning graphics for all occasions. Start in seconds with professionally designed templates you can edit with just a few taps. Choose your photos, add text and apply design filters to instantly create beautiful and eye-catching graphics
Download now for iPhone and iPad
PostWrap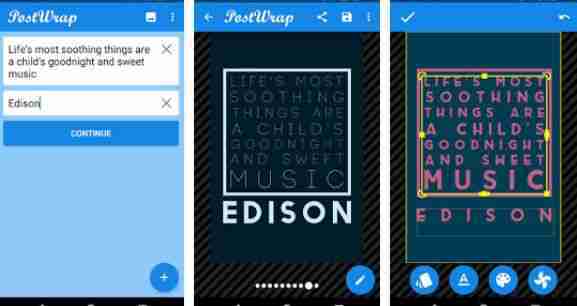 PostWrap instantly transforms plain text into a poster or playbill. Just type and swipe, and the app will automatically generate the posters. You can choose the one you like and save or share it. If you don't like the automatically generated poster you can edit it. You can use this app to put text on photo, create flyers, or use it as a proofreader.
Download now on Android