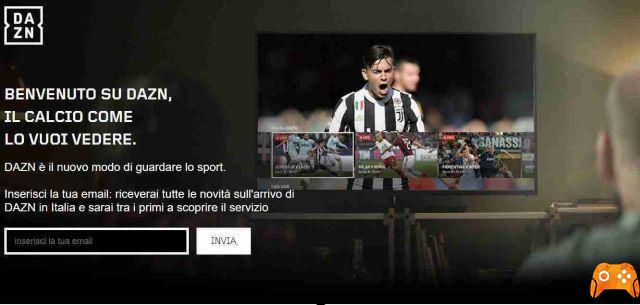 DAZN freezes during playback. This can be a problem given by your internet network to find out if the causes are on it and not a DAZN glitch. We will give you some tips on how to fix the problem.
If during a sports event or football match DAZN freezes the problem could be attributed to your internet connection, so we will analyze some solutions to solve it.
DAZN freezes during playback: how to fix
Minimum requirements for DAZN
First you need to know that the service has minimum technical connection parameters in order to work very well which we are going to tell you now.
DAZN recommends using a minimum bandwidth of 2,00 Mbps in download in order to obtain the resolution Standard (SD) on your smartphone. In order to take advantage of the quality HD on mobile, however, you need to have a minimum connection of 3,5 Mbps in download.
On your Smart TV, you will need to have a minimum connection of 6,5 Mbps in download. Quality is that HD, but the faster the connection, the higher the framerate available.
For this the next step is to make sure that your connection supports the service or has no speed drops.
How to test internet speed for DAZN
To test the speed of your internet line you can use the service of Ookla.
Connect to the Ookla site;
Click on vai;
Wait for the speedtest to complete.
Check the Download values ​​and if they are lower than those mentioned above, the cause of the DAZN playback block is attributable to this.
Contact yours directly ISP (the manager of your ADSL or Fiber line) to request technical assistance.
Restart the modem
Restarting the modem could solve your connection problems and therefore restore the correct speed values ​​of your internet line which can cause slow playback of DAZN direct streams.
Restarting a modem (which is different from resetting) is a process that requires precise steps and times to know how to do it properly read our article below.
After restarting the modem, check again if the service continues to have playback problems.
Connect the device directly to the modem
If possible connect directly the device with which you watch DAZN obviously computer, smart TV, android tv or console to your modem with a LAN cable so as to remove all doubts that the possible problem is the slowness of your wi-fi network.
If the problem goes away then the problem is the wireless connection (wi-fi) that must be enhanced with a modem that transfers more bandwidth or it could be a weak signal problem that must be implemented or brought the modem closer to the device.