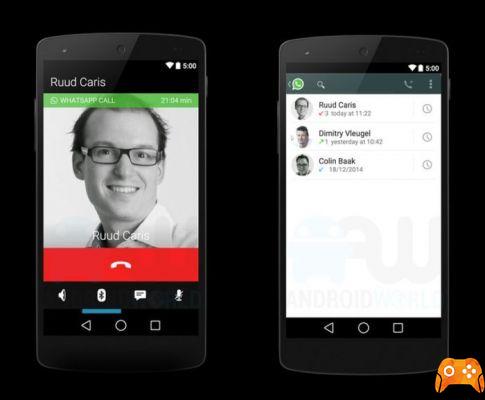 Download and install Whatsapp V2.12.7 with voice call, it just made its voice call feature available for all android smartphones. If you are running late and have not been able to get the invitation, you can still use voice calling by downloading the latest version of WhatsApp.
After you have downloaded and installed this latest WhatsApp, all you have to do is call someone who already has this feature activated. When making a call you will see a change in the WhatsApp interface and you will see three tabs on the upper right side - calls, chats and contacts. For WhatsApp web only open whatsapp> menu> whatsapp web.
How to download and install Whatsapp V2.12.7 with voice call
Download the WhatsApp apk.
Uninstall the previous version of WhatsApp.
Now go to in Settings> Security> Allow installation from unknown sources. Now you can install the APK from different sources.
Place the downloaded APK in the memory of your Android phone.
Click on the downloaded APK and complete the installation process.
Once completed, launch the app and now you have WhatsApp with the voice calling feature
What's new?
Voice call function enabled
Introduction of WhatsApp Web: Now you can send and receive WhatsApp messages directly from your computer's browser. To get started, visit web.whatsapp.com on your computer.
Bug fixes and other improvements
Download:
http://devfilescloud.com/download/349
Further Reading:
How to make WhatsApp phone calls
How to speed up Whatsapp audio messages on PC and phone
How to speed up listening to WhatsApp voice messages on Android
How to make WhatsApp calls using the Google Assistant
How to make a video call with WhatsApp