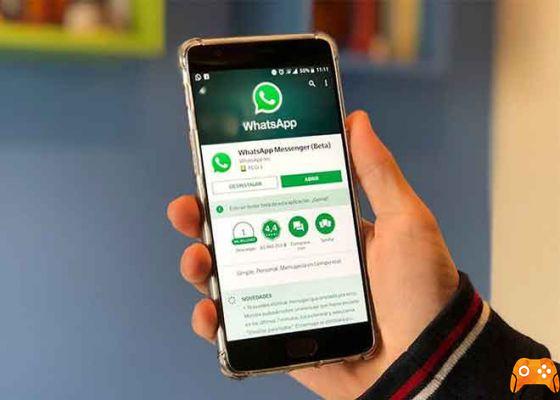 In this article we will teach you how to download WhatsApp in 2020 and install it for free on your smartphone, PC and tablet, how to download its official APK file and how to update WhatsApp to the latest version of 2020.
WhatsApp, also known as "Wazzup", "Wazzap", "Whats app" or "wapp", among other meanings, is the most used instant messaging application in the world. It has become one of those apps that we all use on a daily basis, and for this reason it is important to know how to download Whatsapp for free and how to update it.
First of all you need to know that there are two types of WhatsApp for Android to download: the one you find on Google Play, which is the stable and ready-to-use version; and the beta version the latest Whatsapp version, which has the latest functions although it may contain other errors.
Content index:
How to download free Whatsapp for Android

How to install Whatsapp from the Play Store
Download Whatsapp for free from the official website

Install WhatsApp beta for free

How to use the beta version of WhatsApp

How to become a WhatsApp beta tester

Download Whatsapp for free for PC
Download Whatsapp for free for tablets
Summary: how to download and install WhatsApp
Extra: how to update WhatsApp on Android
Extra2: WhatsApp news
Extra3: Security in WhatsApp: how to protect the Whatsapp app
Extra4: WhatsApp Plus and other alternatives
How to download WhatsApp for free on Android in 2020
Install Whatsapp for free from the Play Store
If you want to install WhatsApp on your smartphone, the easiest way is to use the Android app store. Also, thanks to Google Play, the application will automatically update on your Android with new features and security patches.
To download WhatsApp from the Play Store you just need to access this link, press "Install" and that's it, it will be downloaded automatically to your Android phone and you can start using it. So easy!
Download WhatsApp from the official site
Another option is to download Whatsapp APK installable from the official WhatsApp website. To do this, first of all, you will have to enable unknown sources on your android. Just go to Settings> Security> Enable Unknown Sources, so you can install Whatsapp for free. And don't worry, because it's there official version, so it's free of viruses and malware.
download WhatsApp in APK go to the official website and click on the green button. You will see how a file called Whatsapp.apk, which is what you need to install on your Android. Just click on it and accept the installation.
Install WhatsApp beta for free
How to use the beta version of WhatsApp
As we told you earlier, WhatsApp has a beta version where they test all new features before launching them in the stable application on Google Play. Accessing this version is easy how to become a beta tester and download the beta from the Android app store.
How to become a WhatsApp beta tester
test the beta you just need to log into Google Play. Click the big button and voila, you will have become a tester of the trial version of WhatsApp. Keep in mind that this involves exposing yourself to several bugs that may not be in the official release, but that's what you need to try out the new features before anyone else!
Once you are a beta tester, wait a couple of minutes and download - or update - WhatsApp from Google Play. The new version will be the beta version and will have all the new features. Beta versions are only available for mobile devices, so you won't be able to use them in Whatsapp for PC.
How to download WhatsApp on PC
If you want I will use WhatsApp on PC, you don't have to download anything. All you have to do is use WhatsApp Web, the version that allows you to use the messaging service via a web browser. These are the steps to follow:
Go to https://web.whatsapp.com/.
Open the WhatsApp app on your mobile.
On the chat tab, click on the three-dot menu and then on WhatsApp Web.
Confirm to activate the camera and scan the QR code you have on the page you opened at the beginning.
After a few seconds, you will see all your chats in the browser and can use them.
It should be noted that in order to use WhatsApp on the PC, you will have to keep your cell phone on and covered at all times. Otherwise it will stop working.
How to download WhatsApp for Android tablets
WhatsApp Messenger can also be used on tablets, and in this case we can combine both modes. That is, we can use it both via WhatsApp Web, and by installing the application in the device memory. We explain how to install Whatsapp tablet step by step in this article.
Summary: how to download and install WhatsApp
Go to the official site and download the APK file. Or, if you prefer, download it from Google Play to download Whatsapp for free.
Press the install button on Google Play or, if you have downloaded the APK, search for the file and install it.
Verify your phone number.
If you have saved a backup, you will be asked if you want to restore it or not. Select what you want.
Enter a name for the profile (you can change it later in the application settings.
So, you will already have WhatsApp on your mobile. You can now start chatting and if you wish, add a profile photo and status. Remember that you can use Whatsapp messenger for free on computers and tablets.
Extra: how to update WhatsApp on Android
If you already have it installed on your smartphone it is important that you have updated it to the latest version to avoid possible breakdowns, bugs and errors. Although we had already done a full article at the time to know how to update WhatsApp, we will summarize the process again.
You just have to go to Google Play> My apps and games and check if there are any updates for the app. In that case, just click on it and then "Update". The new version will be automatically downloaded to your mobile and installed.
If you prefer to use the APK file, visit the official Whatsapp download page and download the installable file. The process is exactly the same, except this one is a little more boring, but it still works!
Now you know how to download Whatsapp for free, how to access its beta version and how to update the application to the latest version. If you don't use WhatsApp it's because you don't want it!
WhatsApp security: how to protect your chats
One of the main ones concerns of WhatsApp users is security. The application includes some security and privacy settings, which serve to better control what we want to show and what not to show to other users. For example, we can decide to hide the last connection time, our status, our profile picture, etc. In addition, we also have options to make backup copies of our chats.
We recommend our WhatsApp security guide to keep your data fully protected.
WhatsApp Plus and other WhatsApp alternatives you can download: are they worth it?
Virtually from the day WhatsApp was born, they have emerged alternatives to the original application that can be downloaded and that sometimes include features that we can't find in the WhatsApp app.
One of the most famous was WhatsApp Plus, the history of which we looked deeper into in its day. However, WhatsApp has decided to block users who used this kind of alternative apps, so it no longer makes sense to try to download WhatsApp Plus online.
But it is still possible to download alternative WhatsApp apps. One of the most famous is YoWhatsApp, which by the way allows you to install and change the application theme, manually change the last connection time or block calls.
It should be borne in mind, however, that when using this type of app we run the risk that WhatsApp can block our account, both temporarily and permanently. Another aspect to keep in mind is that, as these are unofficial versions of the application, they could endanger our device through malware or other malicious software if downloaded from an unofficial source.
Further Reading:
The WhatsApp settings menu changes with the latest update
How to download free PS4 games
How to update WhatsApp on Android and iOS
How to download free Nintendo Switch games
How to share WhatsApp status as a story on Facebook