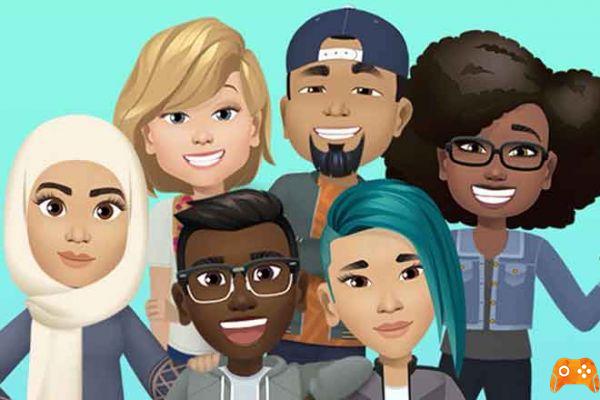 Gone are the days of users using emojis, gifs, and stickers to express feelings. People today use Apple's Memoji and Snapchat Bitmoji for chats and conversations. You can make your own version of these avatars using tons of customization options, clothing styles, hairstyles, and more.
Facebook also got on the train with the launch of Avatars. And the good news is that you can easily use Facebook avatars with WhatsApp chats and even insert that avatar as your profile picture on WhatsApp.
Facebook avatars are much more beautiful than their rivals. First, it quickly reached over a billion users, and second, the company has left no stone unturned when it comes to customization options. In my experience, the customization options are even better than what Apple and Snapchat offer users.
After creating Facebook Avatars from scratch, the company offers a list of ready-to-use avatars with different expressions and styles. Understandably, there is no direct way to save them in the phone gallery. But Facebook offers a neat way to share them using other social networks like Instagram, Snapchat, WhatsApp, Messenger, and others.
We have already written a detailed guide on creating Facebook avatars. In this post we will talk about how to use Facebook avatars in WhatsApp and Messenger. Let's begin.
How to Create Facebook Avatar
We already have a detailed guide on how to create a Facebook avatar from scratch. We won't go into all the details for its customization but we will quickly cover the process in the steps below.
Step 1: open the Facebook app on your iPhone or Android.
Step 2: go to the Facebook menu in the lower right corner on the iPhone. If you are using Facebook on Android, the option will be in the top right corner.
Step 3: select the Avatar option.
Step 4: the avatar creation menu will open with lots of customization options.
Step 5: now it's time to add more elements to your avatar. You can select tons of hairstyles, face shapes, glasses, facial hair and even customize the outfits to suit your look and style.
Step 6: in any time, you can go back to the menu and change any detail. After completion, hit the Done button in the top right corner.
Avatar is now ready for use on Facebook. Tap the stickers menu at the top and see ready-to-use stickers based on your avatar.
How to use Facebook Avatar on Whatsapp
Facebook's perfect implementation of Avatars allows you to use them in the comments section of Facebook, Facebook Messenger and set it as your profile picture. But the process is not that simple when you try to use it on WhatsApp. Follow the steps below to use Facebook avatars on WhatsApp.
Step 1: during WhatsApp conversations, you may get the feeling that you are using a Facebook avatar in chat. For this, open the Facebook app on your device.
Step 2: go to the Facebook menu and upload your current avatar.
Step 3: tap the Stickers menu in the top right corner and load all the default stickers based on your avatar.
Step 4: tap on the sticker you want to use in WhatsApp and you will be prompted to share using the native Share menu.
Step 5: select More options and tap WhatsApp. Select the conversation you want to share the sticker in and WhatsApp will share it as an image.
The problem with this method is that each time you will have to go to the Avatar menu in the Facebook app to share your Avatar sticker on WhatsApp. The best solution is to save these Facebook avatars as a picture in the phone gallery and use the image picker in WhatsApp to send avatars.
Save Facebook Avatar to your phone
Once you've shared your Facebook avatar on WhatsApp, it's quite easy to save them to your phone. Let me explain in detail. First, you need to share the Facebook avatar on WhatsApp using the above trick. Now follow the detailed instructions below to save Facebook avatars to phone gallery.
Step 1: open the WhatsApp conversation where you shared Facebook avatars.
Step 2: tap the avatar photo you want to save.
Step 3: tap the Share button in the lower left corner.
Step 4: select Save and it will save the Facebook avatar photo in the device gallery.
From now on, you can easily send Facebook avatar in conversation using WhatsApp default image picker.
When you use the share button in WhatsApp to save the image, it also offers to set the avatar as a profile picture on WhatsApp. Crop the image in a circular fashion and you are ready to set it as your profile picture on WhatsApp.
How to edit your Avatar
Have you styled your hair or have you started wearing glasses recently? You may want to update your Facebook avatar based on your new look. To edit your avatar, go to the Avatar menu and tap the Edit button. Make the necessary changes via the avatar creation menu and press the Done button at the top.
Read also: How to create Facebook avatars
Further Reading:
Complete guide to creating and using Facebook avatar
How to share WhatsApp status as a story on Facebook
How to share a video from Facebook to WhatsApp easily
Memoji on WhatsApp, how to use them on all devices
Facebook Pay is a new payment system for WhatsApp, Instagram and Facebook