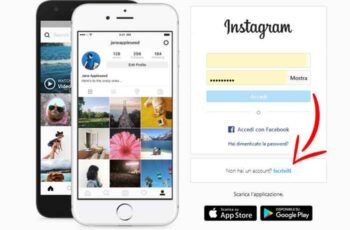 Since Facebook bought Instagram, the two social networks have slowly come closer and offer greater integration. If you're a social media marketer, small business owner, or just enjoy sharing content through social media, connecting Instagram and Facebook is a breeze. You can share content on both and make the most of the power of visual content. You can even log into Instagram via Facebook and save precious seconds.
Usually, I like to keep the two social networks separate and not share too much data between them. When it comes to marketing, that changes. It's about efficiency and getting the widest reach with the least amount of effort. Linking Instagram with Facebook helps achieve this. You can share on both platforms with a single click, so it makes sense to use this feature.
Collega Instagram a Facebook
If you have a Facebook page and an Instagram account, linking the two is easy. So you can seamlessly share content between the two networks without losing formatting or visual impact.
Open Instagram on your phone
Sign in, select your profile, then select the Settings menu.
Select Account, then tap "Sharing with other apps"
Select Facebook and log in with your Facebook account details if you are not logged in on your phone. Grant permissions to the app when prompted.
You will then be asked to set up your Account Center. Choose your Facebook account or tap "Isn't that you?" to switch accounts, then select Continue.
Select where to share on Facebook. Tap Continue to complete the Account Center setup.
Select "Start sharing on Facebook".
Go back to the Account Center. Make sure the "Share with Facebook" option for Stories and posts and "Login with account" are both enabled.
If you find this not working for you, all you need to do is go back to the Account Center menu on Instagram. Select Facebook and select Remove from Account Center.
Log in to Instagram via Facebook
Logging into Instagram with your Facebook credentials is easy:
apri Instagram on your phone.
Select "Log in with Facebook".
If you are already logged into Facebook, you will be logged in automatically. If not, add your Facebook login when prompted and select the blue Login button.
If you are setting up a new Instagram account, you can do the same thing. Install Instagram and select Login with Facebook as above. It will then create an account and link it to your Facebook. The only problem with this is that it will give you a random username and password unless you change them.
To change the default Instagram login details, do the following:
Log in to Instagram using your Facebook login.
Select your profile icon at the bottom right and select Edit Profile.
Select your username and change it to something more personal.
Go back to your profile screen, tap the hamburger icon in the top right, then select Settings.
Tap Account, then select Personal Info. Check the email address to make sure it is correct. Tap it to edit.
Go back to the settings menu and select Security.
Select Password from the list to reset.
You should see a notification that says something like "We have sent an email to ADDRESS with a link to reset your password". That email address will be the one you have in your account.
If you prefer, you can make these changes on the web. Use this link to edit your Instagram profile and this link to request a password reset. The principle is the same, as is the final result.
You can still log into Instagram via Facebook, but you have now set up your account to log in independently as well. Now you can change your profile picture, add a bio and edit your Instagram account as you like and it won't affect that login.
How to unlink your Instagram account from Facebook
So, you've linked your two accounts, which means you can cross-post your content. But what can you do when you no longer want to have the two connected?
Whether you are deactivating your Facebook account or you just want to separate the two services, it is possible to do so without losing all your posts. All you need to do is follow the same steps as above, then follow these steps: or
Open your account.
Select "Remove from Account Center" under the Accounts & Profiles option. 0
Your Facebook profile will still keep your Instagram information until you remove it and you need to delete all your Instagram posts from Facebook.
How to sell on Facebook Marketplace
FAQ
If I link my account and one is hacked, will the other get hacked too?
Even after linking your two accounts, they still have separate login (yes, you can login using the Facebook option on Instagram but they are still separate). If your Instagram account is compromised or vice versa, it doesn't necessarily mean that your Facebook account is also threatened. You should update your login information on both of them to ensure optimal security, but generally just because someone logs into one account doesn't mean they have access to both.
Can I link multiple Instagram accounts to Facebook?
One of the nice things about both platforms is that you can have multiple accounts or pages with the same login. This means that you can easily switch between your professional and personal profile. You can link multiple Instagram accounts to the same Facebook page. All you need to do is follow the same steps above for each Instagram account.
Sharing is caring
Linking Instagram to Facebook saves time and makes social media marketing more efficient, but you need to use it carefully. Make sure you keep your personal and business accounts separate and post only relevant content. While there is a lot of crossover between the Instagram audience and the Facebook audience, there are also times when there isn't. Knowing when cross-posting is possible and when it works is a key skill of a marketer.
Overall, linking the two is a good thing and will not only save you time, but increase your marketing efforts as well!
Further Reading:
Facebook Pay is a new payment system for WhatsApp, Instagram and Facebook
Your private Instagram posts and stories may not be that private
How to share Instagram photos on Facebook
How to delete your Instagram account
How to schedule Instagram posts