App to sing. Are you ready to have fun singing your songs in the shower or together with your friends here are the best apps to sing.
Do you love to sing and would you like an app to help you do it alone or in company through your Android smartphone or tablet or with iPhone and iPad?
Then discover the best in this list app to sing available for Android and iOS.
App to sing
Sing! Karaoke by Smule
Join the global karaoke party! Sing your favorite hits with sound effects and video recording option. Take advantage of the social features to share the moment and get lots of fans.
Nominated by Google Play as Best New App.
Features
- Voice enhancement to be like a real star!
- Self-recording option with video **
- Try the new video filters: selfie, fight club, vintage, black & white, sepia **
- Duets and groups to increase the fun!
- Global audience platform: share, comment and love!
Download now for
download for free from the Play Store on Android
download for free from the App Store on iOS
Red Karaoke Sing & Record, Sing and record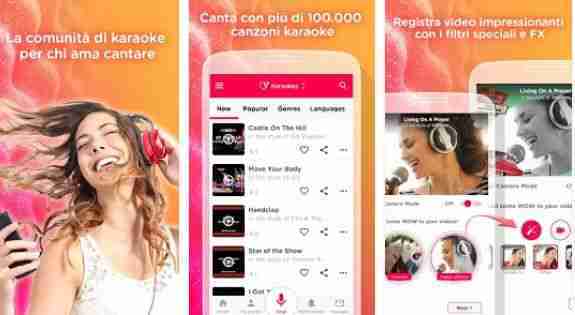 The free karaoke app for singing and recording in audio or video. Start singing now with the lyrics on the screen!
Choose from over 100.000 songs in karaoke and "accompanied singing" modes, record while you sing, share your videos while you sing and earn fans. More than 10 million subscribers are waiting to hear your voice!
You can also sing and record duets, add sound effects to enhance vocals, balance music with vocals, add Themes and Effects to your videos, and much more.
Download now for
download for free from the Play Store on Android
download for free from the App Store on iOS