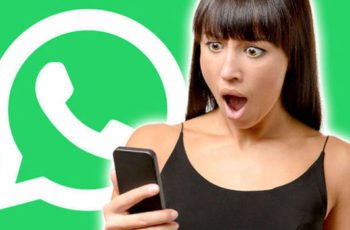 WhatsApp is updated frequently, taking advantage of the beta channel to test the latest features to be implemented before activating them for the millions of users who use this messaging application. WhatsApp has just been updated to version 2.17.427, which includes a lot of the news we have collected these days in previous betas: like the option to free up space, new emojis and other things. In total six new features, let's see what they are.
WhatsApp these six new features are now available to everyone
What to do if the WhatsApp messages do not arrive until the application is opened
Delete photos, videos and GIFs directly on Whatsapp
Over time, WhatsApp chats can take up a lot of space, especially if we are talking about groups where a lot of photos and videos are sent. Now you can free up space by selectively deleting images, animated GIFs, videos or messages from any chat.
This new tool is available in the WhatsApp settings: data and storage: use of storage space. Here you will see a list of your chats sorted by the size they occupy on mobile. Touch one of the chats to view all saved items and press Manage messages to choose what you want to delete.
New emojis on Whatsapp
WhatsApp recently "divorced" iOS emojis, including their projects (which are very similar anyway). Version 2.17.427 adds Unicode emoji 10.0,56.
So now you can send a zombie, a genius, a mermaid, broccoli, pretzel, dumplings, a man with a monocle, a puking face, a brain, scarves, gloves, a hat, a T-Rex, a grasshopper, a coconut, a UFO and more.
How to change the number on WhatsApp and keep groups and conversations
More stickers
WhatsApp Stories also get a small addition in the form of dynamic stickers. Specifically, these are two stickers of two watches: one analog and one digital. By including them in a photo that marks the current time, how could it be otherwise.
By tapping on the sticker once added to the image you can change its style. There isn't much variety, actually, with a light and dark design for both watches. In total, then, you have four watch models to add to your WhatsApp stories.
How to Download WhatsApp on iPad without Jailbreak
New giant heart
Older people in the app - or those who send many hearts on WhatsApp - will remember that sending a single normal heart creates a giant, animated heart that beats with a life of its own. Well, even though WhatsApp recently revamped their emojis, it still had the old design until now.
The new giant heart of WhatsApp is in line with the renewal of the emoji of WhatsApp and the shiny effect that has long been out of fashion has been eliminated. It's probably not the most important improvement of all time, but at least it's consistent.
How to know if I have been blocked on Whatsapp
How to reach us
WhatsApp recently introduced the ability to share your location in real time with a person or group. A small change introduced in this version is that now, in the map view, you can touch a person and their location to get directions on how to get there.
A new How to arrive button is included in the profile information with options related to a contact (send message, call, information). Click on it and it will open Google Maps so you can calculate the route from your current location to where your WhatsApp contact is.
Five reasons why WhatsApp could block your account forever
Copy photo comments
We end with the main news article with a small change that is very useful in specific cases. Now you can copy the comment of a photo, video or animated GIF using the context menu - Copy comment.
These functions are now available in the official version of WhatsApp available on Google Play or from the official WhatsApp website. If you've signed up for the WhatsApp beta, chances are you'll be the first to try them.
If you are not yet, and you want to become a Whatsapp tester click here!
How to change the background of a conversation on WhatsApp
Further Reading:
WhatsApp: how not to send photos to the wrong people
Facebook starts hiding likes
How to activate dark mode on WhatsApp Web
Because sometimes Whatsapp doesn't send photos
How to make WhatsApp calls using the Google Assistant