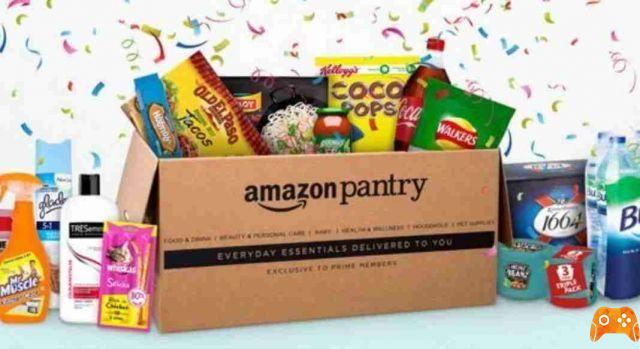 Amazon Pantry shopping directly to your home. Thanks to this Amazon service, shopping for the products of your home and everyday use is easy.
The Amazon Pantry service is all you need to carry out your daily shopping comfortably from home while going to the supermarket avoiding queues and miles and receiving everything at a ridiculously low shipping price.
Now we are going to explain how it works.
What is Amazon Pantry?
Amazon Pantry is a store where Prime members can purchase food and household products in packs for everyday use. You can fill the Pantry Box with products from the Pantry shop and have them delivered to your home, at a shipping cost of 3,99 euros.
What are the benefits of Amazon Pantry?
Amazon Pantry is affordable. You can buy food and household products and have them delivered to your home. In addition to the wide range of products available, Amazon Pantry offers very advantageous prices and offers.
I am a Prime member. Do I still have to pay the 3,99 Euro for shipping?
Amazon Pantry allows Prime members to purchase food and household products in packs for everyday use, which cannot be shipped at no additional cost. Thanks to Pantry, Amazon can now add hundreds of new products to its catalog.
Do I have to fill my Pantry Box 100% before I can complete my order?
You can fill your Pantry Box as many as you like before completing your order. The percentage of used space will gradually increase as you place products. This way, you can always add other products as needed. You can complete your order at any time, regardless of how full the package is. Your order will be delivered to you in a package proportionate to the size of your items.
How is the Pantry Box fill percentage calculated on Amazon Pantry?
The percentage is based on the maximum size and weight of each item. For example, 4 bottles of ketchup and 9 packs of toilet paper will take up about the same percentage of space. Even though ketchup is heavier, toilet paper is bulkier.
If I don't fill the Pantry Box 100%, will I get a large package with my products inside?
Amazon Pantry Pantry Boxes vary in size and can hold products up to a maximum of 20kg. Your order will be delivered inside the Pantry Box of the appropriate size, based on the size and weight of the products: it can be as small as a shoe box or as large as a box.
Can the items in my Amazon.com shopping cart be shipped with my Pantry order?
If they are not from the Pantry store, the products in your cart on Amazon.com will be shipped separately. All products in your Pantry order will be grouped and shipped together in an appropriately sized Pantry Box.
Find out more by going to the official site created by Amazon
Find out how Amazon Prime works