If you've activated a 30-day free trial for Amazon Music Unlimited but aren't sure what to do next, don't worry. Amazon Music's interface is far from intuitive, and the best features of Music Unlimited can be hard to find.
To help you get more out of your Amazon Music Unlimited subscription, there are a number of tips and tricks you should start using right away ...
If you haven't done it yet, try it for free for 30 days by clicking here
Amazon Music Unlimited
Download Songs for Offline Play
Like all the best music streaming services, Amazon Music Unlimited lets you download songs for offline playback, but only when using the Android or iOS apps. This means that offline playback is not available in Windows, Mac, or web apps.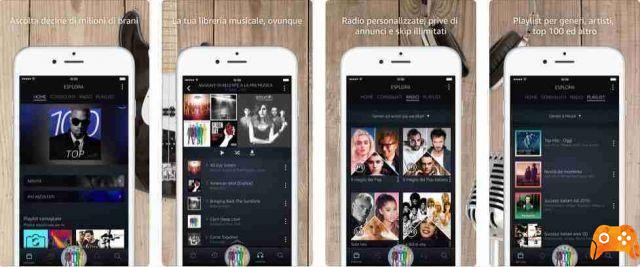 There is no limit to the number of songs you can download this way. However, the downloaded songs are protected and can only be played through Amazon Music, which means they cannot be exported to external storage or transferred to other devices.
To download for offline playback, go to any song, album or playlist and open the "More options" menu (the three dots), then select Download .
To see all your downloaded music, go to Music> Offline Music your Android or yours Settings> Offline Music Mode on iOS. On both platforms, you can too enter a Recent> Downloads to view only recently downloaded songs.
Changing the bitrate to reduce data usage
Regardless of the platform you use to play music from Amazon, you can change the quality of the stream and reduce the amount of data the service uses. This is a key tip to know when you're listening on 4G LTE, or if your ISP has a monthly data limit.
In the web player, click your account name in the bottom left, then click Streaming audio quality . By default it is set to Auto, but it is recommended to set it to Low when you need to keep data and High when you don't.
In the desktop app, click your account name in the top right, then click Preferences> Advanced> Audio Quality . In mobile apps, tap the gear icon in the top left, then select Streaming quality . Again, choose between High or Low depending on whether you need to keep the data or not.
Discover the new music
The search box will be the most used feature in Amazon Music Unlimited, but searches can be limiting when it comes to discovering new music because you can't exactly search for something you don't know about, right?
Fortunately, Music Unlimited can help you:
More like this: on the web player, go to any album, click the button Other , then select i too artists listened to to get recommendations for similar music to others. You can also go to any artist page and scroll down for Related artists , which works on any platform, not just the web player.
New releases: Go to Browse> Home> New Releases . Here you will find all the newly released songs, albums and playlists, which you can filter by genre. Check this once a day to never miss new cool music.
Top Charts: go to Browse> Home> Top Charts . Here you will find the most popular songs, albums and playlists played on Amazon Music, which you can filter by genre.
Recommended: go to Browse> Recommended . Based entirely on your recent listening patterns, Amazon Music will suggest songs, albums, playlists, and stations you might like.
Radio and playlist: le stations and playlists are the best music discovery tools, which you can access by going to Browse> Radio e Browse> Playlists . Scroll to the bottom to explore by genre. Or you can start an artist-based station by going to any artist page, clicking the More button, then selecting Start [artist name] .
Which Amazon Music Unlimited subscription is right for me?
You can listen to Amazon Music Unlimited on all your devices (smartphone, tablet, PC / Mac and Fire) for € 9,99 per month. Amazon Prime customers can also take advantage of the annual subscription for € 99 (saving 2 months). Families can save even more with the Family subscription (6 accounts), enjoying all the benefits of a single account, including personalized recommendations and recommended playlists, for just € 14,99 per month, or € 149 per year for Amazon Prime customers (saving 2 months).
Who can sign up for the Family subscription?
Any family member 13 years of age or older is eligible for the Amazon Music Unlimited Family membership.
Migrate your music between countries
If you move to another country and need to start using the local version of Amazon (eg Amazon.de), you may run into a hitch: all the music you have saved is stored in your Amazon.com account.
Here's how to re-associate your account and migrate your music:
Open the web player for Amazon Music.
In the left sidebar, click your account name at the bottom, then select Amazon Music settings .
In the new page that opens, scroll all the way down to the "Your Country Settings" section and click Displays the country settings of the music library .
It will tell you in which country your account is currently associated and allow you to change it by clicking Change .
Currently, transfers are only supported in the UK, Austria, Germany, Switzerland, France, Spain and Spain.
Share links to songs, albums, playlists
With a single click, Amazon will generate URLs that you can use to share links to specific songs, albums or playlists that you want to bring to someone else's attention.
In web and desktop players, click the icon Share , then click Copy link . In mobile apps, tap the button Other at the top right, then tap Share song , Share album , Share playlists (depending on the context), then Copy to clipboard .
You can also select Embed to embed a special Amazon Music player on your website, allowing others to listen to a sample of the songs you have embedded.