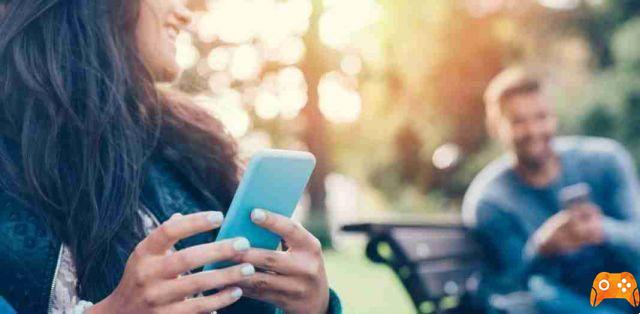 App to meet people near you. You would like to meet new people around you with a simple app on your smartphone or tablet.
Are you looking for new friends or a soul mate and would like to know who around you has the same desire?
So now we will show you the best apps to meet people near you for Android and iPhone or iPad.
App to meet people near you
tinder

With 20 billion matches found to date, Tinder is the most used app for dating. Imagine us as a real certainty: wherever you go, we are by your side. If you are here to meet new people, broaden your network of friends, meet local people when you travel or just to live in the moment, you are in the right place. There is a reason they called us "the hottest app of the moment": we put together over 26 million matches a day. How many dating apps are able to do what we do?
Scroll. Find. Chat. Meet. Tinder is easy and fun: swipe right if you like someone, or swipe left if you want to ignore them. If the interest is mutual, here's a compatibility! We were the ones who put the idea of ​​"double consent" into practice, so that compatibility only materializes if the interest is mutual. Goodbye stress. Goodbye waste. So scroll, find and chat online with your matches, then put your phone away and meet new in the real world to start something special.
Download now for Android / iOS
HAPPN
https://youtu.be/4DsjVCsWcIU
HAPPN is the app to find people you've met, who have caught your attention and would like to meet again! HAPPN gives you a second chance!
How does HAPPN work?
1. When you meet someone in real life, their profile appears in your timeline!
2. You can browse the profiles in your timeline at any time and see how many times you met a particular person, as well as the place and time you last met.
3. Is there a person you like? Give her a secret "Like": she won't know who sent it to her ... unless the interest is mutual! If you prefer, you can also choose to get noticed by sending her a "Hi". Say "Hi" for 1 credit.
4. And if you both like each other's profile, you have a Crush that will allow you to start a conversation.
Download now for Android and iPhone
Once
Have you had enough of looking at thousands of profiles without ever finding the right person? Trust our matchmakers to find THE ideal partner. Once brings the magic back to online dating, where quantity has reigned over quality so far. How? Every day at noon you will receive one and only one match chosen especially for you by our matchmakers and you will have 24 hours to take the first step - 24 hours of complete attention, that's right.
Once is a free dating app: what are you waiting for? Try it!
Download now for Android and iOS
LOVOO - Chat Dating
https://youtu.be/P3AR114Bsdw
With LOVOO you get to know people in your area very easily and meet people with the same interests as you. Chat with them, exchange photos or make an appointment. You may even find great love.
LOVOO works like this:
• Check the radar to see who is near you
• Play Match and find people to chat or fall in love with
• Discover new people and new photos
• Upload your photos and show more of yourself
Download now for Android and iOS