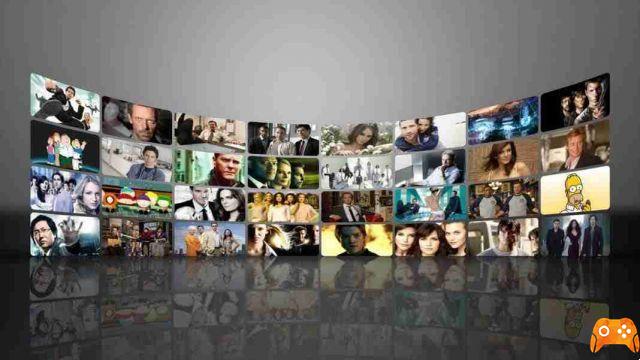 App to watch TV series. Here is the list of the best apps to watch TV series and Fils on your Android or iOS smartphone.
Are you a fan of TV series and movies and would like to watch them comfortably on your smartphone or tablet Android or on iPhone and iPad?
Now we will list the best service apps that offer TV Series and Movies on mobile devices.
App for watching TV series and movies
Here are the best App to watch TV series that you can install and use on your Android or iOS smartphone or tablet. These services are currently the best and require a subscription or cost to view their catalogs, they do not have excessive costs and you will have a service with HD and 4K views on some.
Netflix
Netflix is the world leader in subscription streaming of TV episodes and movies to your mobile. The Netflix mobile application offers the best experience anywhere, anytime.
Download the free app included with your Netflix subscription and instantly watch thousands of TV episodes and movies on your mobile.
If you don't already have a subscription, sign up for Netflix and start using the service on your mobile immediately thanks to the free trial month.
How does Netflix work?
• With a Netflix membership, you get unlimited access to TV shows and movies at a low monthly cost.
• Thanks to the Netflix app, you can watch all the TV episodes and movies you want online, as often as you like and at any time.
• You can choose from an ever-growing selection of thousands of titles, with new episodes added regularly.
• Search for titles that interest you and watch them instantly on your mobile or on more and more supported devices.
• Rate your favorite shows and movies and indicate your preferences so Netflix can suggest titles tailored to you.
• Start watching on one device and resume watching on another. Visit netflix.com for a list of Netflix compatible devices: TVs, game consoles, tablets, mobile phones, Blu-ray players and set-top boxes.
Find out how to subscribe to Netflix on a 30-day trial by clicking here
Download now on Android and iOS
Infinity
Infinity is the first video streaming on demand service in Spain that offers a very rich catalog of films, cartoons, the complete seasons of TV series, television programs and fiction, to be watched wherever and whenever you want through a growing number of enabled devices connected to the internet , without advertising breaks.
• more than 6000 contents available, updated daily, also usable in the original language and with subtitles
• you can watch your favorite movie even without network coverage thanks to the innovative Download & Go function, active on mobile and web devices
• connect up to 5 devices to your account
• also watch two contents simultaneously from two different devices
• start viewing on one device and resume on another without interruption
• also watch on your home TV (Smart TV, decoder, games console and Chromecast)
Download the free app and try Infinity at no cost for 30 days without any restrictions: just click to decide whether to stay or not.
Find out more about infinity click here
Download now on Android and iOS
NOW TV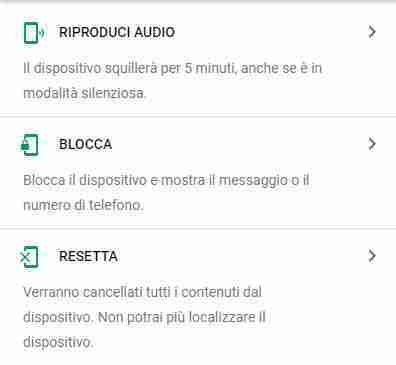 NOW TV is Sky's internet TV, without a contract, which you can cancel whenever you want!
Watch now in streaming, on demand and on live channels:
• the TV series of the moment, simultaneously with the USA and also in the original language
• the Movies you missed at the Cinema
• the major sporting events of Sky live
• the great shows such as X factor and Masterchef, children's programs and the best documentaries.
How does it work?
You can watch NOW TV on Smartphone, Tablet, PC, Samsung Smart TV, Game Console, TV Box and Chromecast.
Start watching on one device and resume on another without interruption by going to the Initiates section.
You can save the contents you like most in your Favorites to see them whenever you want!
What are you waiting for? Download the NOW TV app now!
If you haven't already created an account, sign up for NOW TV and start using the service immediately on your Smartphone thanks to the 14-day free trial.
Discover also the NOW TV Mobile offer at an incredible price, dedicated to true lovers of streaming from Smartphones and Tablets!
Find out more about NOW TV click here
Download now on Android and iOS
TIMVISION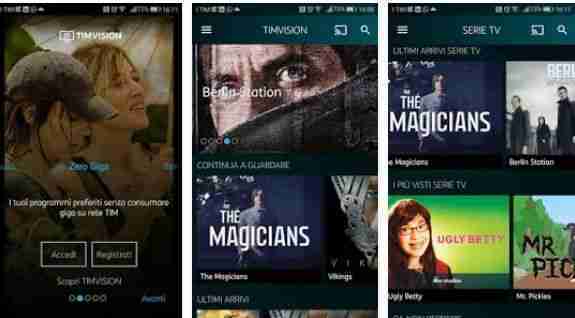 Why TIMVISION?
• 10.000 titles always on demand including TV series, cartoons and cinema available in one only
monthly subscription
• does not consume Giga on the TIM network
• no advertising banners or interruptions while viewing your content
• you can deactivate whenever you want directly from the App
• you register for the first time from your smartphone and see it on multiple devices even at the same time at no additional cost (smart TV, Web, tablet and Chromecast)
Haven't we convinced you yet?
The first month is free, then € 4,99 / month. Download the App to immediately discover our contents and to decide whether to activate the free trial.
Subscribe now from your smartphone or tablet and you will be able to see the entire TIMVISION catalog on TV and Web at no additional cost, also via Chromecast.
Watch where and when you want the most famous and exclusive TV series, cartoons and favorite series for children and teenagers, the most anticipated previews, classics, previously unreleased, action movies, thrillers and comedies throughout the world. family and in the original language. And if you have lost the programming of the last 7 days of the Rai and La7 channels, you can review them directly from the App, always without consuming Giga.
In addition, you can see, for a fee, the latest film hits with an up-to-date catalog, to rent and purchase, in the "FOR RENT" section, at any time even without a subscription.
Traffic, for viewing the contents, is included on the TIM mobile network for apn wap.tim.com and ibox.tim.com. Video playback is NOT allowed on rooted devices due to the security requirements necessary to protect the copyright of TIMVISION contents. . The App is compatible starting from the Android 4.0 version and later.
Download now on Android and iOS
Amazon Prime Video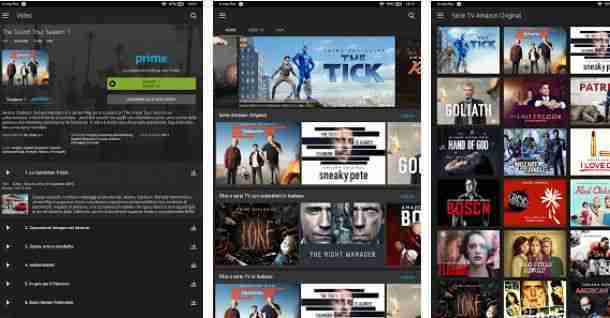 Get streaming access to blockbuster movies and TV series, as well as exclusive Amazon Original productions like The Grand Tour, The Man in the High Castle and multiple Emmy Award-winning Tumble Leaf.
Users in India have access to hundreds of Bollywood productions and other regional hits.
You can also download a selection of titles and watch them offline at no additional cost.
App features:
- Download movies and TV series via Wi-Fi or mobile internet. Watch them where and when you want
- The X-Ray function allows you to identify actors and songs, discover the biographies of the cast, read curiosities and other information taken from IMDB on part of the titles in the catalog
- Users in India have access to hundreds of Bollywood productions and regional hits like Sultan, Baar Baar Dekho, Kabali and Dhoom
- A selection of TV series allows you to watch the first episode for free, with advertisements before and after the video
- Prime customers in the US can subscribe and stream programs from paid channels such as HBO, SHOWTIME and STARZ
- Users in the US and UK can buy or rent thousands of catalog titles, including first-release movies and TV series
- Users in the US and UK can connect their Android device and play movies on Fire TV
- Add and access videos saved in Your Watchlist from any Amazon Prime Video compatible device
- Automatically start the next episode in a series with the Auto Play feature
Find out more amazon prime video click here
Download now on Android and iOS
Premium online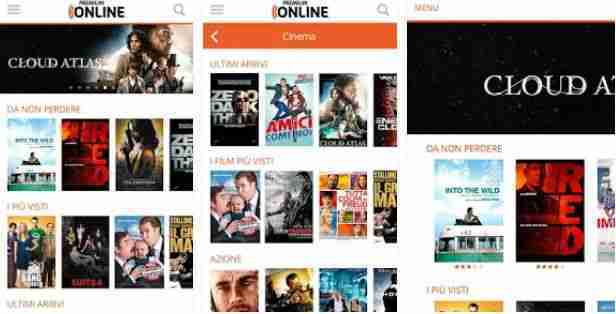 An on demand catalog with over 6000 titles also in HD, with more than 2000 films, the first Premium TVs and many previews a few months after their release in theaters and all the richness of the Infinity catalog. The first-run TV series and the most beautiful "box set" series ever, lots of cartoons episodes and the best of Mediaset fiction and entertainment.
With Premium Online you also have 20 Premium TV channels in live streaming available on connected decoders, Smart TVs, Web, Tablets and Smartphones enabled, even under 3G or 4G networks to experience all the great football live with the Serie A of Premium teams and EXCLUSIVELY all UEFA Champions League matches for seasons 2015 - 2018.
Subscribing is very easy, just go to the mediasetpremium.com site.
Premium Online is visible on TV with connected Decoder and Smart TV. And then on the Web, Tablet and Smartphone.
The catalog varies according to the Premium package subscribed. The films in the "For Rent" section are subject to a fee and some Live Events are available in Pay Per View.
Download now on Android and iOS