A very special monitor from ASUS, both in terms of features and price
ASUS announced the availability of the display in Spain ASUS ProArt PA32UCG-K. PA32UCG-K is the world's first HDR monitor with a peak brightness of 1.600 nits and a variable refresh rate (VRR) of 120Hz.
It features a 32-inch 4K mini-LED panel with 1.152 local dimming zones and contrast ratio of 1.000.000: 1. PA32UCG-K supports various formats HDR, inclusi Dolby Vision®, HDR10 e Hybrid Log-Gamma (HLG), and has the technology Quantum-dot to deliver exceptional color reproduction with true 10-bit color depth. It covers the following color ranges: 98% DCI-P3, 100% Rec. 709, 85% Ref. 2020, 99,5% Adobe RGB and 100% sRGB color space.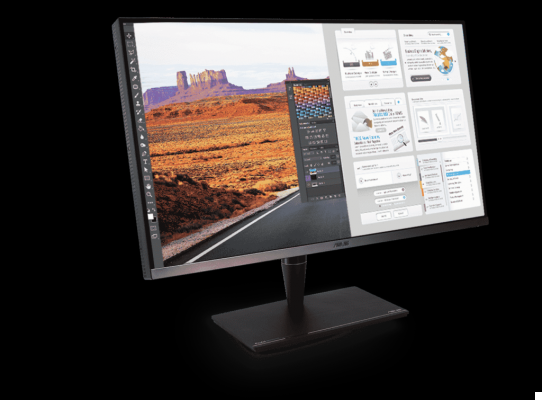 It also features an industry-leading Delta E <1 for exceptional color fidelity. Calibration can be done through proprietary software ProArt Calibration 2.0 or by using hardware calibration software Calman and Light Illusion ColourSpace CMS. PA32UCG-K is compatible with third-party hardware calibration systems from X-Rite, Datacolor e Klein Instruments.
ASUS ProArt PA32UCG-K also features multiple connectivity options via a USB hub, two Thunderbolt 3 ports, DisplayPort 1.4, two HDMI 2.0 ports, and one HDMI 2.1 port that supports 4K 120Hz images. PA32UCG-K also includes the calibration device X-Rite i1 Display Pro monitor.
Ultra realistic and vivid colors in HDR
The monitor's 4-inch backlit 32K mini-LED panel ASUS ProArt PA32UCG-K offers il local dimming a 1.152 zone to reach a contrast ratio of 1.000.000: 1. It has a maximum brightness of 1600 nits and a standard full screen brightness of 1000 nits.
PA32UCG-K supports multiple formats HDR, tra cui Dolby Vision, HDR10 e Hybrid Log-Gamma (HLG) for unmatched levels of brightness, contrast and colors. Compared to a standard image, Dolby Vision delivers images with a full range of colors, including lights up to 40 times brighter and black tones up to 10 times deeper.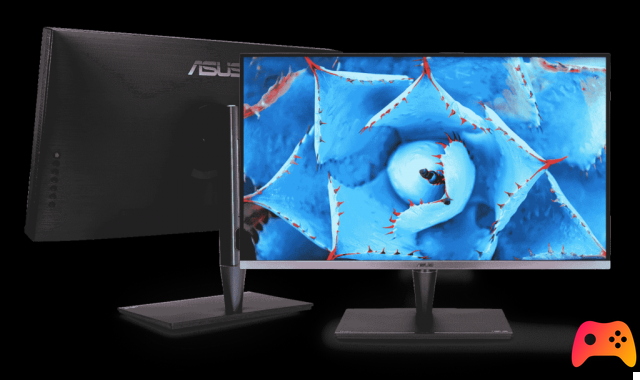 ASUS ProArt PA32UCG-K supports multiple HDR10 settings, including hard clip PQ, PQ Optimized and PQ Basic, all to meet the specific needs of content creators and ensure compatibility with existing video streaming services and the growing HDR-enabled gaming titles .
HLG support allows for use with satellite TV broadcasts, allowing users to view and create content for streaming platforms and satellite TV channels including BBC iPlayer, Japan NHK TV and DirecTV.
HDR Preview also works with video editing software, to allow creators to view their final output in order to handle a leaner editing process.
Exceptional colors
PA32UCG-K boasts the Quantum-dot technology which offers a wide color gamut of 98% DCI-P3, 99,5% Adobe RGB, 100% sRGB, 100% Rec. 709 and 85% Rec. 2020 for video editing and post-production. Along with realistic 10-bit color depth, PA32UCG-K offers content creators a broad spectrum of colors with which to develop imagination and creativity.
The factory pre-calibration process uses a new three-scale system that guarantees color fidelity that represents the industry benchmark. The display is also subjected to rigorous testing using ASUS's advanced grayscale tracking technology to ensure more consistent color gradations, improved consistency and exceptional color accuracy with a Delta E <1 value for sRGB gamuts. and Adobe RGB.
Min LED panel with wide viewing angles
Most mini LED monitors have color accuracy issues when viewing the panel from wide, off-center angles, which is a problem when collaborating with clients or colleagues on color-critical projects.
The PA32UCG-K monitor's Off-Axis Contrast Optimization (OCO) technology solves this problem with a compensation layer that controls light transmission. This technology reduces the halo effect by 80% and improves the contrast ratio of the darker parts of the screen, to ensure that the on-screen content is accurately displayed to all viewers.
Easy calibration
Technology ASUS ProArt Calibration saves all color parameter profiles on the IC chip built into the monitor, instead of on the PC. The monitor can be calibrated and the color lookup table can be rewritten, allowing users to connect the monitor to devices with different operating systems or applications without having to re-adjust settings. Signal distortion between the IC and the LCD optical spectrum is also reduced. The saved color profiles are easily accessible via the hotkey on the monitor.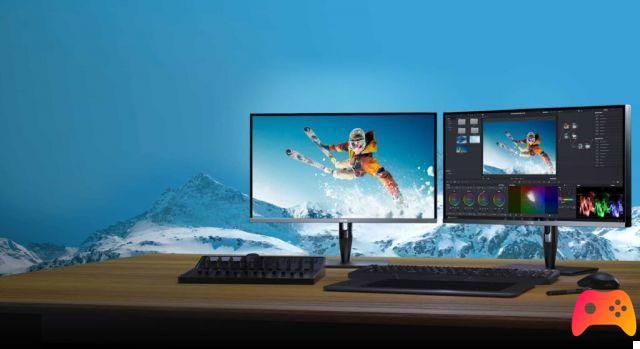 Integrated technology ASUS ProArt Calibration 2.0 allows quick and easy adjustments to maintain accuracy color of ASUS ProArt monitors. It allows SDR and HDR calibration with adjustable brightness, color gamut, color temperature and other parameters to ensure consistent and accurate colors.
ProArt displays are compatible with most major calibration systems, including those from X-Rite, Datacolor and Klein. They also work perfectly with the software Calman and Light Illusion ColourSpace CMS professional hardware calibration for quick and easy calibration.
Frame rate superveloci
PA32UCG-K also offers a variable update rate (VRR) up to 120Hz with FreeSync Premium Pro, in order to empower gaming developers to create fast-rendering games and run quality checks on a single monitor. The HDMI 2.1 port with 4K 120Hz support makes the PA32UCG-K ideal for video editors as well, allowing you to operate with detailed, high-quality images at super smooth frame rates. In addition, it offers rich connectivity options, including a USB hub, two Thunderbolt 3 ports, DisplayPort 1.4 and two HDMI 2.0 ports.
Prices and availability
ASUS PA32UCG-K is available at a recommended retail price of 5.999€ VAT included.