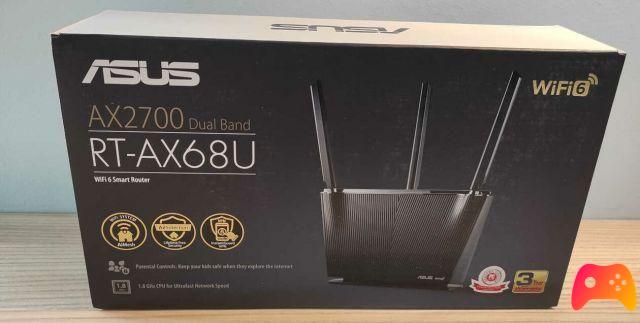 THEAsus RT-AX68U is the new router added to enrich an already very competitive range. The packaging with which it is sold is essential and well finished. Inside we find thepower pack documentation classic that accompanies this type of products, an ethernet cable and, of course, the router itself. The most important feature of this product is that supports Wi-Fi 6, which is far from obvious given that it is a router considered "entry level".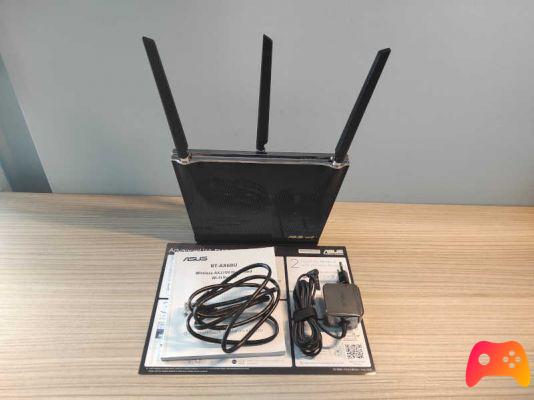 General notes
At first glance, the three adjustable but not removable antennas, which give a dynamic and aggressive aspect to the device. The thing that you notice immediately, if you are used to ASUS routers, is the lightness of this ASUS RT-AX68U. The first and perhaps only flaw found during the preliminary examination is the lack of holes for wall mounting. The need to have a piece of furniture or in any case a shelf where it can be housed, could make many turn up their noses, however we do not consider it a determining factor to the point of discouraging its purchase.
The elegant appearance and color black and chrome gray, make it perfect also as a piece of furniture. The dimensions are 25.8 x 6.75 x 18.6 cm and weight is about 630 grams.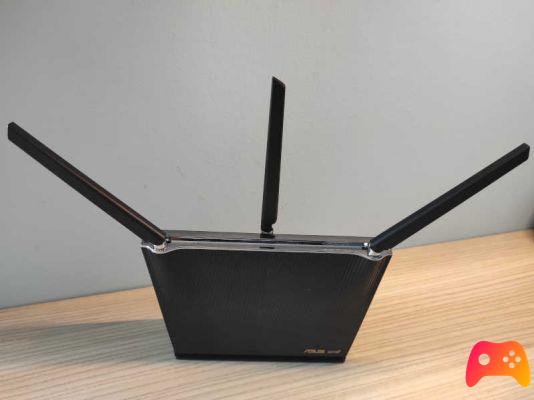 The small size of theASUS RT-AX68U however, they must not be misleading: on the back it has the WAN port and four Ethernet ports (yellow). Also, mount one USB 3.0 port and one USB 2.0. On the left we have the input for the power supply jack, the key RESET, WPS and ON / OFF switch to turn the device on and off. At the top there are 5 status LEDs (Power - 2.4 GHz / 5 GHz - WAN - LAN) which continuously inform the user about the operation of the router.
Hardware specifications
Taking an overview of the main hardware features, we can say that the ASUS RT-AX68U is powered by a dual-core Broadcom BCM4906 processor, with a frequency of 1,8 GHz, 512 MB of RAM and 256 MB of firmware memory. Being a dual-band router, the theoretical maximum bandwidth is split as follows: 861 Mbps on the band a 2,4 GHz e 1802 Mbps when using band a 5 GHz, while both use the standard Wi-Fi 6.
Software Specifications
THEASUS RT-AX68U has the AiMesh protocol, which allows you to use the device together with other ASUS components to have a better network inside apartments or very large rooms. Not having Game Boost / acceleration and WTFast, we recommend that you look at other products of the same brand, in case you want to use the RT-AX68U for Gaming. As proof of this, in addition to support for the Alexa Skills, we have a whole host of features related to network security, such as AiProtection, parental Control e Traffic Control. For more information, you can turn to the official ASUS website.
The test
Once connected, theASUS RT-AX68U it is very quick to set up. You can do it with the normal procedures via PC or with ASUS Router App. Please note:: at the beginning of the configuration wizard, you will be asked if you want to enable Wi-Fi 6. In case you only have older devices, our advice is to avoid. Outdated hardware tends to fail to recognize the protocol and generally malfunction. Even staying on older Wi-Fi protocols, the router performs really well in all situations.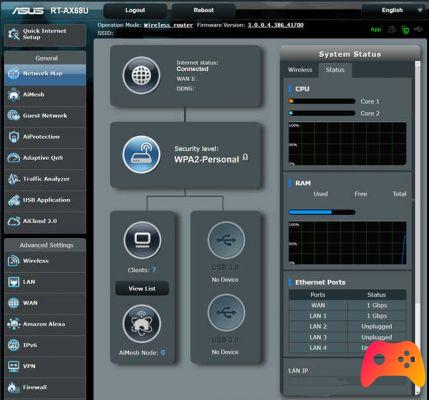 The signal is stable and clean in all situations, even if with regard to Wi-Fi, it is always necessary to make the necessary clarifications: each house is different from the other, it is sufficient to have an extra wall or that the router is positioned in an unhappy place and the yield changes from day to night. In principle, we can tell you that theASUS RT-AX68U he behaved well even when he was deliberately placed in less than ideal conditions (locked inside a piece of furniture and behind a door). If your house is on several floors or in any case you go beyond 150 square meters. surface, to have a suitable operation for navigation you must necessarily rely on AiMesh. The test was performed with seven connected devices and it was possible to complete all the activities without significant problems (normal browsing, file download, Nintendo Switch and PlayStation 5 update).
Safety
The security protocols ofASUS RT-AX68U they deserve a separate chapter, because they are many and allow you to surf without exposing yourself too much on the net. In addition to Parental Control and Traffic Control, in fact, it is sufficient to enable the Instant Guard mobile app to activate a VPN capable of obscuring your internet line, in such a way as to become practically invisible online. Activation is simple and there were no performance or management issues.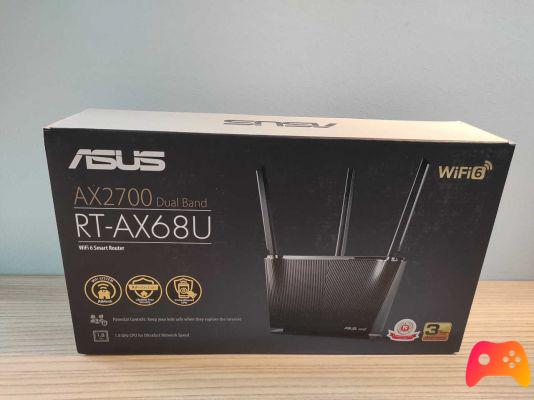 The ASUS RT-AX68U is certainly a valid product. The Wi-Fi 6 compatibility makes it ideal for an upgrade of your home line in the future, and the performance with the old Wi-Fi protocols is such that you can surf in total serenity even with older devices. The price of around 130 euros makes it a really competitive and interesting router, even if it is not expressly designed for gaming. In that case, the advice we give you is to orient yourself on'ASUS RT-AX82U, which packs a set of features perfectly designed to give you a much more satisfying online gaming experience. Thanks to the discount code ASUS10GG you can buy the device at a special price.