Hot Wheels Unleashed is a racing game developed and published by Milestone, with the aim of making us children again and reliving racing with friends with cars and colorful tracks with an unlikely name (does anyone of you remember the Park Shark? -ndr). Let's start by saying that it is a game only and solely devoted to fun. You know the Hot Wheels models reproduced in a realistic way on Forza Horizon? Here, forget them. Hot Wheels Unleashed faithfully reproduces the toy cars that you can find at the toymaker, on Amazon or in the most well-stocked shopping centers. Nothing more and nothing less. It will be available on PC, PlayStation 4, PlayStation 5, Nintendo Switch, Xbox One and Xbox Series X.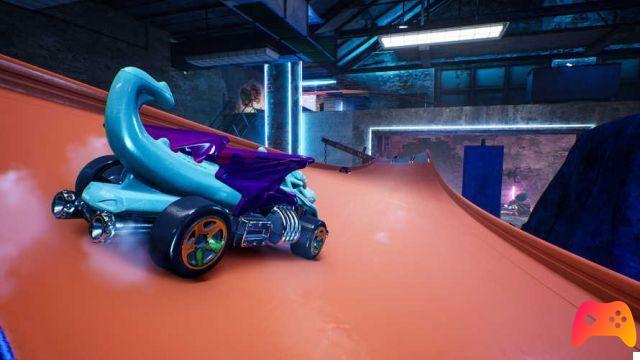 Lots of color, speed and fun
Hot Wheels Unleashed is a game that perfectly captures the spirit and atmosphere of afternoons spent playing with friends. A track set up haphazardly, perhaps combining the pieces of two different playsets (the writer is of a certain age, there was not all the range that there is today), then we moved on to the choice of the toy car: heavier to get more speed on the descentsthe lighter for better handling of curves? And trust that here there were discussions that not even among Formula 1 engineers. The most savvy and older ones sprayed a little WD-40 on the wheel pins to reduce friction and make them go faster, the little ones instead hoped to be taught art because you know… who cares is a fregone, but who doesn't care is a frescone! In any case, after all these intrigues and more or less legitimate operations, we always ended up between Twix, Fonzies and a nice can of Coca Cola.
The reason for all this amarcord is simple: Hot Wheels Unleashed perfectly reflects the typical play of those afternoons. All you have to do if you just want to have fun is to choose a car from over 60 faithfully reproduced by Milestone and select one of the over 40 tracks available. From then on, only laughter and happiness. The format is somewhat similar to that of Mario Kart, with bonuses to be collected along the track e turbo boost selectable once the appropriate bar is filled. There are no setups, headaches due to poorly calibrated physics and many other problems that, for once, we can gladly do without.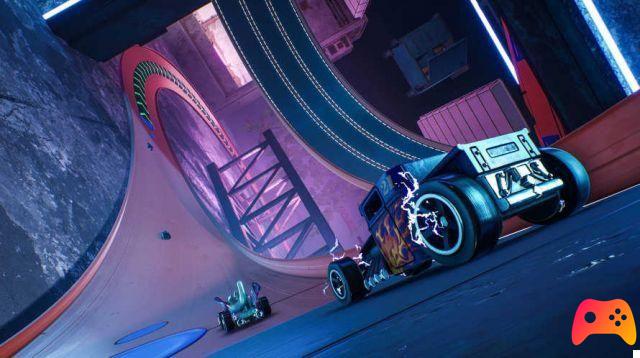 The game modes are all around five: Fast Race, Career, Time Attack, Split Screen (local multiplayer) e Online Multiplayer. Milestone has already confirmed the possibility of developing the various toy cars by converting the game currency into bonus pieces. The career mode will allow you to compete, improve vehicles, face challenges and defeat bosses in order to expand the car park.
Graphics and Audio
The aspect of Hot Wheels Unleashed that strikes the most is undoubtedly the graphics of the settings. Finding yourself running in a room from one bookcase to another, jumping on the kitchen table and passing between the legs of the chairs, is as funny as it is suggestive. A lot of times it happened to go off the track because the details of the setting distracted us to the point of not seeing the coming of a jump or a curve. The audio is well done, in between engaging sound effects and music. The models of the toy cars are excellently reproduced, and even if you are not passionate you could easily have met a good number of them during a trip to the toy department of supermarkets. Some of them, like the Twin mill, Rip Rod or Bone Shaker they are truly iconic. There is some graphic flaw, widely reported by the developers in the preview phase, but we are sure that they will be able to put a patch on it in time for the official release.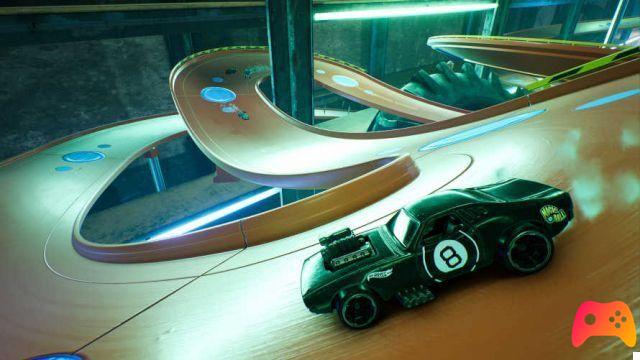 Multiplayer
The version we tested allowed us to play only in local split-screen mode, but starting from Day One you will be able to try your hand at online games that can accommodate a total of 12 players. In this regard, Milestone has already announced that there will be no in-game micro-transactions, so any bonus you will have to earn by running. It goes without saying that running with a friend locally is crazy: carefree fun and zero stress.
Hot Wheels Unleashed is an unassuming but at the same time fun and addicting game. If you like the genre do not miss it, because it will be able to give you hours and hours of laughter and joy. If you are not used to this kind of titles, however, keep it in mind as an ideal pastime to have an evening with friends: give it a chance and we are sure you will be surprised.