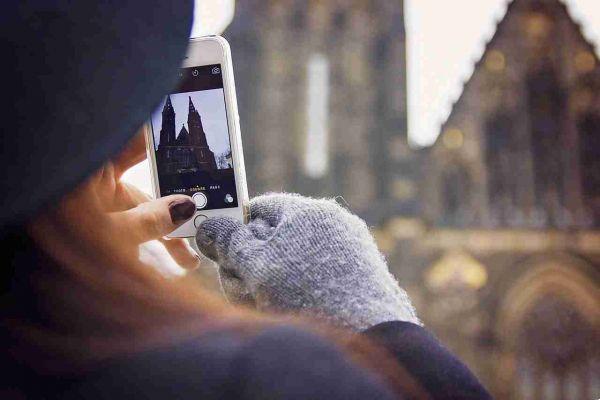 The best camera apps for Android and iOS. There are some great third-party options on Android and iOS that can bring out the best in our smartphone cameras.
In this article, we list the best camera apps.
Camera app for Android and iOS
Camera +
Camera + has been around for years, but it's still one of the best options available for native iOS camera replacements.
Whether you are an experienced photographer or someone who has never picked up a camera before. Camera + will make you love photography.
Tap for exposure and focus
Sets the exposure regardless of focus. Now you can easily control the brightness of your photos.
Shooting Mode
Use the Stabilizer to secure your iPhone and take the sharpest photos possible. There are countless uses for the Timer including the ability to take the highest quality self-portraits. Capture all the action using Continuous Shot to take a quick series of photos.
Digital zoom
6 × zoom with advanced digital processing gives you spectacular quality without competition.
Front flash
How many times have you thought about photographing yourself in the dark but couldn't do it? Now you can do it!
Skyline
Use the Horizon Line to avoid taking crooked photos.
Brilliance
Brilliance has always been one of the greatest innovations in image processing. Brilliance analyzes your photos and makes some smart adjustments, which bring out details and liven up dull photos. With Brilliance you will no longer have bad photos. It will surprise you to see what it can do with photos that you would normally consider unusable, because they have become too dark.
Scene mode
Most digital cameras have scene modes to help you take the best photos in particular situations. With Camera + you can choose between different scene modes, including Food, Sunset, Night, Portrait, Beach and many more.
Effects
Professional photographer, Lisa Bettany, has created a series of stunningly beautiful effects. Brighten your photos with "HDR"… try "Grunge"… fill your photos with emotion with "Emo". And that's just the tip of the iceberg… there are dozens of effects to apply and experiment with with a touch.
Lightbox
All the photos you take with Camera + go to the innovative Lightbox, where you can easily browse them and delete the bad photos. Save only the photos you like to keep your Camera Roll tidy.
sharing
If you want to show the results to your friends, your family or the whole world: with Camera + you can do it! Share your photos on Facebook, Twitter and Flickr. Or choose a more personal way and send photos via email or SMS from within the app itself.
iCloud Lightbox Sync
Automatically sync Camera + photos with all your devices. Take pictures with your iPhone during the day… and edit them on your iPad in the evening.
Cutouts
If you didn't frame the photo perfectly when you took it, you can do it later with Camera +. And if you want to get a little creative, we've made a number of popular formats available to you. With a single tap, you can crop photos in 4 × 6, 8 × 10, and more.
Bordi
Camera + offers you different border possibilities, from simple black or white borders to wear effects - you can add a fantastic finishing touch.
Download : Camera + Lite for iOS (free)
Download : Camera + per iOS
Camera ZOOM FX
You have to be quick to capture the perfect moment, and that's what Camera ZOOM FX offers.
Camera ZOOM FX claims to be the fastest camera on Android, and it certainly lives up to that claim. In fact, Camera ZOOM FX is great for its killer speed burst mode that shoots up to 50 frames per second, which is great for action shots. It also has an image stabilizer to make sure you don't end up with a blurry photo.
Download : ZOOM FX Camera for Android (Free)
Download : Camera Zoom FX Premium per Android
Manual – RAW custom exposure camera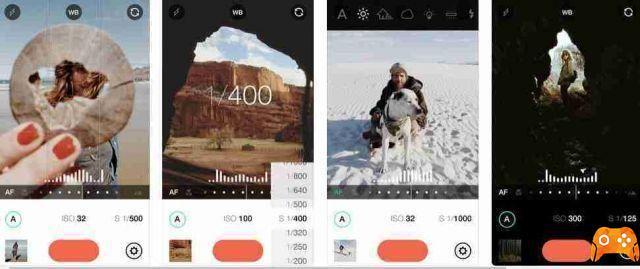 Adjust settings that are not normally accessible: shutter speed, ISO, white balance, focus and exposure. You can tweak each of these to your liking to get great results in the final image. It also means that you are in full control of the photo result.
Download : Manual for iOS
Camera FV-5
If you're looking for a pro-grade app to replace your Android camera, look no further than Camera FV-5.
With Camera FV-5, photographers have DSLR-like manual controls at their fingertips. Any photographic parameters in the FV-5 camera are adjustable, including exposure, ISO, light metering, white balance, shutter speed, and even programming mode. The viewfinder also displays useful EXIF ​​data, such as shutter speed, aperture, and f-stop.
When you want to take amazing nightlife photos, there is a long exposure mode in Camera FV-5 that makes it possible. You can even make timelapse videos. All photos taken with Camera FV-5 can be saved in JPG, true 16-bit DNG RAW or lossless PNG format.
Download : FV-5 Lite Camera for Android (Free)
Download : FV-5 camera for Android
Halide: RAW manual camera
If you are looking for power, functionality and intuitiveness then Halide is one to try. Halide was born from an idea of ​​a former Apple designer and Twitter developer, so the end result is a genius work.
Halide is a revolutionary camera app that allows you to take photos accurately and carefully. With unique tools and beautiful details, Halide is the always ready-to-use camera when you want to take a real photo rather than a quick snapshot.
Use Halide's gestures to change exposure and manual focus. Customize the controls to adapt the app to your needs. Among the professional tools of Halide you will find: focus peaking, detailed histogram, grid with adaptable level and RAW assistance.
Download : Halide per iOS
VSCO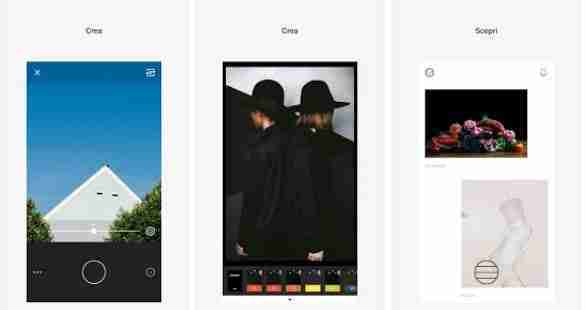 VSCO has a minimalist camera mode, but is packed with powerful features. Smartphone photographers can shoot in RAW mode with a simple switch, manually adjust the white balance, ISO, exposure, and activate the grid overlay and lever for perfectly composed photos.
Once the moment has been captured, just jump into VSCO's powerful Studio. From here, you can apply expertly crafted filters and make precise adjustments to the image for a professional and unique perspective. So be sure to upload it and share it with the rest of the VSCO community.
Crea
Snap and edit your images with our great mobile presets and advanced camera controls.
Post pictures and journals, or inspire others with your VSCO profile.
Discover
Explore the content posted by the people you follow, the thoughtful work of the community and the exclusive editorial content of VSCO Originals.
Connect
Join the VSCO community. Find and follow friends and people from all over the world.
Download : VSCO Cam for iOS | Android (free)
Pro Cam 5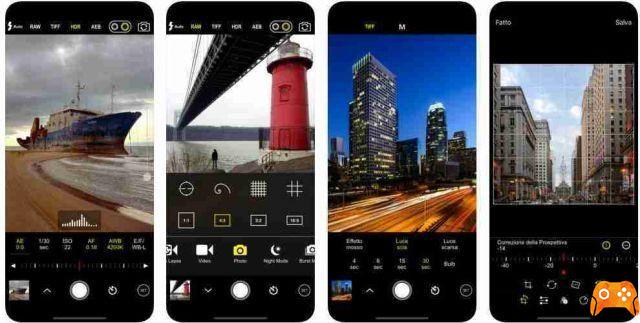 With ProCam 5, photographers can shoot high-resolution videos up to 4K Ultra HD quality and edit them directly in the app itself. It is also possible to make timelapse videos. Either way, you'll have full access to ProCam 5's manual controls, so both videos and photos will be stunning.
You don't even need a separate photo editing app with ProCam 5, as it includes a complete photo editing suite. You can achieve non-destructive edits with beautiful filters, lenses, basic and professional-grade adjustment tools, perspective correction, background music for videos, and more.
Download : ProCam 5 per iOS
Camera MX
Camera MX has a super simple and clean interface that is fast so you can focus on your photos. It is capable of both stills and video recordings and even has the ability to "take pictures", such as the ones on iOS that move when pressed.
Shoot-the-Past Burst mode lets you check out the sequential shots that took place before you even pressed the shutter button, so you never miss the moment. You can pause video recordings to apply trims in real time and preview filters and effects while shooting. Or you can capture now and make edits later with Camera MX's photo editing tools.
Download : Camera MX per Android
ProShot
ProShot turns your iPhone or Android smartphone into a DSLR. Just like a true DSLR, ProShot offers users Auto, Program, Manual and two customizable modes. Regardless of the shooting mode, you can control exposure, focus, ISO sensitivity, shutter speed, white balance, flashlight intensity and more, complete with dials that replicate the DSLR experience. ProShot captures in RAW format so all data is intact for post-processing.
Download : ProShot per iOS | Android