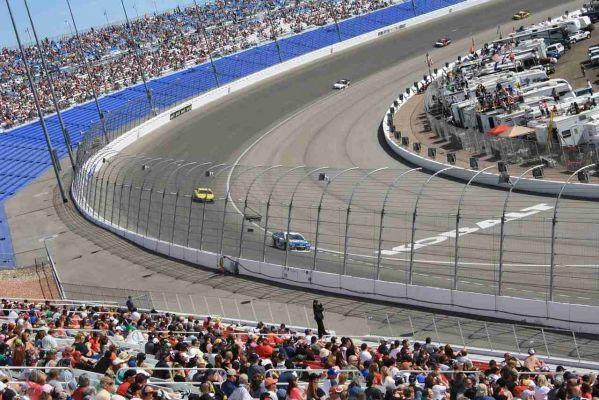 The best car racing games for Android. If your passion is racing games with cars now we will list the best ones in our opinion that you can download for free from the Play Store on your Android device.
The best car racing games for Android
Asphalt 8: Airborne
Drive the best and most performing vehicles for free, from cars to motorbikes, racing on the streets in full nitro with Asphalt 8, the best portable racing game. From the scorching Nevada desert to the tight curves of Tokyo, you'll enjoy challenges, arcade fun and thrills as you race to the top!
LUXURIOUS DREAM CARS AND MOTORCYCLES!
• Drive over 190 high-performance cars and motorbikes for road racing beyond all limits on your portable device.
• Top licensed manufacturers and models, such as Lamborghini Veneno, Bugatti 16.4 Grand Sport Vitesse, Ferrari LaFerrari, McLaren P1, Porsche 911 GT3 RS, Ducati Monster 1200 and many more, including racing bikes and GT models!
• Engine sounds faithfully reproduced for an even more realistic driving experience.
• Customize and upgrade vehicles with over 2.300 stickers to beat opponents in style!
Download now click here
Asphalt Xtreme: Rally Racing
Take on uncharted territory with Asphalt Xtreme: Rally Racing! One of the best apps on Android for those who love off-roading!
Forget everything you know about racing, here only instinct, driving skills and courage behind the wheel count. In this extreme racing experience, you will have to race through the sand dunes, drive on the most treacherous dirt roads and overtake the best drivers to get to the finish line first and be the best in off-roading!
• MORE THAN 50 MONSTER CARS: Unleash your fury with 4 × 4 monster trucks. Satisfy your thirst for speed with muscle cars. Hit the dirt with the buggies. Drive pick-ups, also recommended for terrain suitable for a tractor. Get behind the wheel of rally cars like a WRC champion. Dominate offroad racing with powerful SUVs or rule the road with trucks!
• SHOW YOUR STYLE: Thanks to the 7 types of vehicles available, which offer different driving styles and shades, the game experience will always be new and exciting, with unique gameplay. Thanks to constant updates, you will always find new free content to try.
• THE MOST PRESTIGIOUS BRANDS: you can drive Jeep, Ford, Mercedes-Benz, Predator, Dodge, Chevrolet and many more, among the best licensed racing cars.
• REAL-TIME MULTIPLAYER: Go head-to-head online with 8 players! The competition is really fierce; you'll have to push your skills to the max to climb the leaderboards!
• THE WORLD IS YOUR CIRCUIT: Compete in many exotic locations around the world, including Svalbard glaciers, Nile valley dunes, the top of the Alps, the Coachella hills, the jungle of Phuket in Thailand, steel centers in Detroit and many others.
• MODIFY YOUR BOLIDE: Do you want to take your car's power to the limit? How about changing its appearance? You will have an impressive collection of upgrades and modifications at your disposal.
• AN AUTHENTIC OFFROAD EXPERIENCE: there are always obstacles to overcome and new experiences to try. 5 game modes, more than 300 career events, more than 1.100 mastery challenges, timed events, daily missions, special projects and tons of free content with each update! The question is only one: will you be able to exploit the extreme power of these vehicles with a "handling" only for true professionals?
• AN EXTREME EXPERIENCE: None of the other racing games can offer you such spectacular graphics, the "real physics" in play or such intense nitro action! So, get ready: it's time to park your Audi or Ford GT in the driveway and bring out some cars capable of dominating any environment!
Are you ready to get behind the wheel of the best offroad cars? This is the right game to satisfy your "need for racing" or your rally ambitions! It is not a normal racing game, no grand touring tracks, just dirt and mud. The gameplay of this game breaks the mold and conventions, that's why it can't be limited by a paved road! A game for fans of 4 × 4, rally cars, extreme experiences, drifting, for those who love unleashing off-road nitro or for those looking for a "free" driving experience! Download Asphalt Xtreme: Rally Racing for FREE now!
Download now click here
Real Racing 3
Real Racing 3 features an ever-expanding roster of officially licensed tracks, with 39 circuits in 17 real-world locations, a 43-car grid and more than 140 detailed vehicles from the most prestigious manufacturers. It also offers Real-Time Multiplayer, Social Leaderboards, Time Trials, Night Races and Time Shifted Multiplayer ™ (TSM) technology to challenge anyone, anywhere, anytime.
** Due to the very high quality graphics, the game requires a large amount of resources. Make sure you have at least 1,5GB of free space on your device. **
Download now click here
Beach Buggy Racing
Beach Buggy is back with an explosive sequel! Race in a world full of surprises and full of action with chaotic off-road racing on karts. Compete against a platoon of rival pilots, each with unique personalities and special abilities. Collect a collection of crazy power-ups, like the Mad Fireball and the Oil Flow. Unlock and perfect a wide range of cars, from dune buggies to monster trucks. Test your skills in 6 different game modes on 15 imaginative 3D tracks, against a bunch of rivals who love the tropics and with a healthy dose of rage behind the wheel!
This is the official sequel to Beach Buggy Blitz ™, the free racing game with over 30 million players worldwide. Fast, furious, fun and FREE, Beach Buggy Racing ™ is an island kart racing adventure suitable for all ages.
Download now click here
Need for Speed ​​™ Most Wanted
Buckle up, put on the gas and hold on tight - this will be the trip of your life. Outrun the cops, outsmart rivals - and outdo your friends - in history's most dangerous Need for Speed. Do you dare to become Most Wanted?
Download now click here
Conclusions
Here is in our opinion the best car racing games on android have fun.