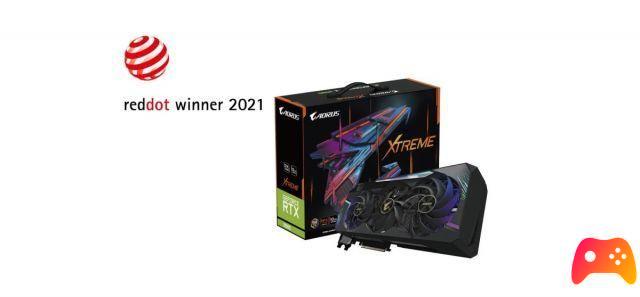 GIGABYTE is recognized as a leading brand for performance and design.
GIGABYTE is at the center of the Red Dot Design Award, born in 1955 and known as one of the best known and most important awards in the world in terms of design. The winners are 2 of the GIGABYTE cards designed for i content creator, the Z590 VISION D and the Z590 VISION G, and a purely from Gaming, the Aorus GeForce RTX 3080 XTREME 10G.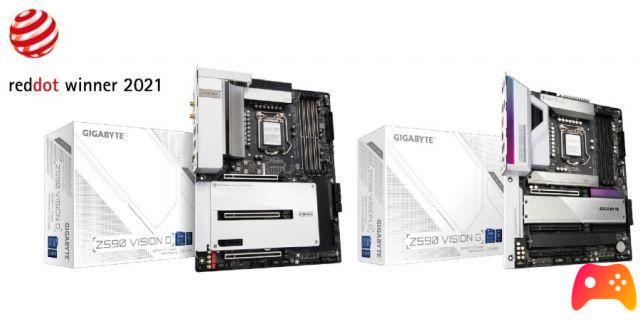 The Red Dot Design are usually divided into 3 different competitions, namely the one dedicated to Product Design, the one for Brand & Communication Design and the Design Concept one, each organized once a year, but let's talk about the winning cards of the prizes.
The GIGABYTE Z590 VISION D and Z590 VISION G motherboards are both equipped with the new VisionLINK interface, which allows connection to interactive displays with one USB-C cable, bringing order where chaotic setups are usually found due to too many transmission cables.
VisionLINK by GIGABYTE provides power up to 60W and, thanks to the USB-C connection, allows simultaneous use of power and data transmission. There is an advanced version which GIGABYTE calls VisionLINK TB, abbreviation due to the use of a connection Thunderbolt 4 which brings the bandwidth to 40 Gb / s and offers the daisy chain function for connecting up to 10 devices.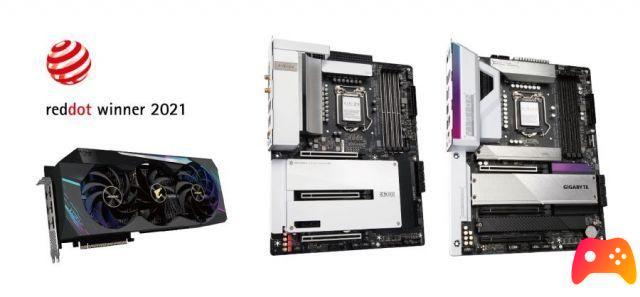 Let's see schematically the characteristics of the GIGABYTE Z590 VISION cards that attracted the attention of the commission that awards the prize.
USB 3.2 SuperSpeed ​​Gen2x2
Intel 2.5 Ethernet, which offers 2,5 times the speed of Gigabit Ethernet
high fidelity audio output expansion interface
3 PCIe 4.0 M.2 slots with high sequential read speed (over 20 Gb / s)
On the variant instead of the GIGABYTE AORUS GeForce RTX 3080 XTREME 10G, the MAX-Covered cooling, equipped with 3 exclusive alternating rotation fans, and the LCD monitor, customizable and able to provide all system information to the user, speak for themselves.
In wishing the best to GIGABYTE's upcoming efforts, we look forward to the next Red Dot Design Awards, eager to find out if and how it will change the landscape.