The leader in lifestyle gaming Razer has recently presented the new line Razer Huntsman V2, designed to offer the perfect union between maximum reactivity and high performance.
First improvement applied to the new device and directly suggested by players and users concerns Linear Optical Switch. The latter will in fact further improve the typing experience, thanks to the union of a silicone sound damper designed to reduce the sound emitted by each key and greater lubrication on the stabilizers. The infrared light beam intended to activate the switch signal will completely eliminate debounce delay, while the HyperPolling technology will allow the device to exceed the 1000 Hz polling rate of standard keyboards to reach 8000 Hz.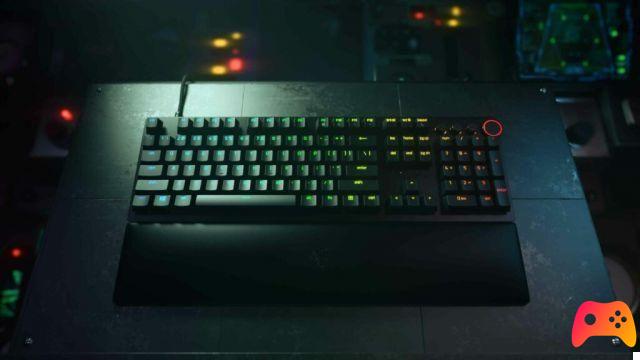 With Razer Huntsman V2 the company also wanted to meet the needs of communities and esports athletes, ensuring greater resistance and durability through PBT Doubleshot keycaps. The two-stage printing process is perfect for maintaining crisp legends and a textured finish even after hundreds of hours of use.
Worried about pressure and acoustics? Nothing to fear: the new sound damping features applied to the chassis will absorb the release of the keys, while ensuring minimal flex even under the most intense hammering will be a sturdy top plate in matte aluminum. On the other hand, an ergonomic palm rest perfectly adapted to the front of the device will guarantee maximum support even during the longest sessions.
Last, but not least, are the digital multifunction dial, the four dedicated and customizable multimedia keys and the wide range of selectable lighting effects: the latest addition offers 7 effects. Razer Chrome set, with up to 16,8 million colors.
Slimmer than the keyboard previously described is its little sister, Razer Huntsman V2 Tenkeyless. The latter incorporates many of the features of the full-size version but, in favor of portability, does not have a numeric keypad, dial and multimedia keys. Another difference is represented by the presence of a detachable USB-C cable, perfect for ensuring ease of transport for "on-the-go" players and compatible with the signature customization possibilities. Razer Synapse 3.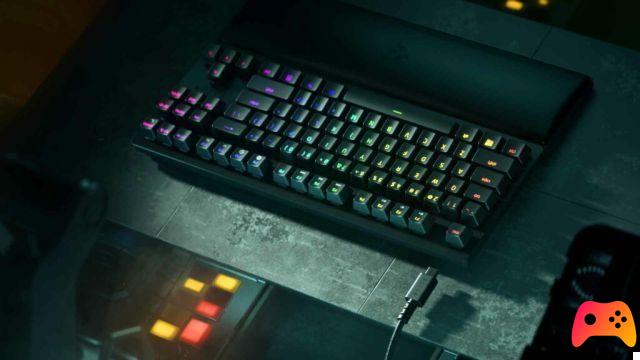 The new Razer Huntsman V2 is currently available in two versions Clicky Purple Switch and Linear Red Switch, respectively at the price of 199,99 euros and 209,99 euros. The tenkeyless version is instead available, in the same variants as the full-size version, at the price of 159,99 euro and 169,99 euro.
Would you like to complete your set with other accessories signed by the company? Here's a tip!