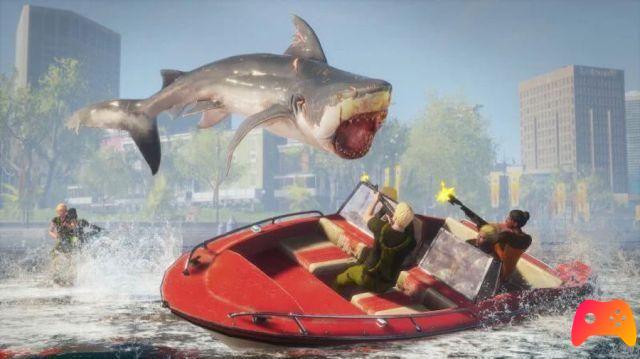 Review for Maneater. Game for PC, PlayStation 4, Xbox One and Nintendo Switch, the video game was released on 22/05/2020
Maneater is a very particular title: the main reason is the fact that we will be the executioners. How many times in the world of cinema or video games have we killed fish just because we could? Well, what if things were the other way around? What if we could play one of the most dangerous aquatic predators in the world just to generate chaos and panic for humans? This must have been one of the questions that Tripwire Interactive developers and publishers have asked themselves when they thought of Maneater: the man-eater, the name could only be perfect. Yes, because even in its Nintendo Switch version, we will do nothing but claim victims in the bloodiest but fun way possible.
We remind you that the title was also released for PlayStation 4, Xbox One, respective next-gen consoles (PlayStation 5, Xbox Series X and Xbox Series S) and PC.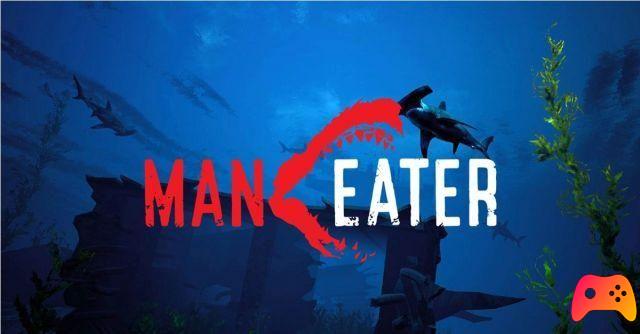 Baby shark ... but angry
In Maneater you start when you are cute little shark babies. Our mother was killed by a shark hunter, so we will be thirsty for revenge and our only desire is to take out as many humans as possible. The laughsest thing about Maneater is the fact that the whole storyline is told as if it were a Serie B docuseries. In fact, the narrator will not miss an opportunity to make fun of us or to point out how "stupid" humans who live on land are. That's all.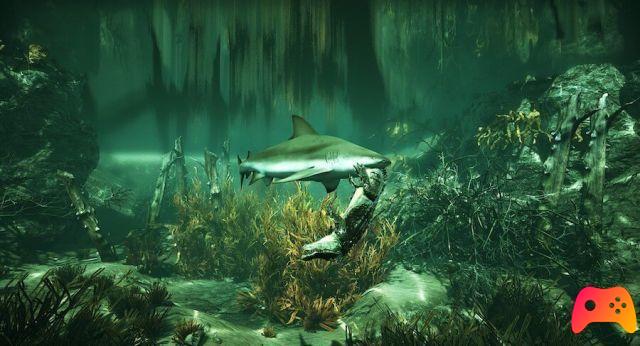 Decimating humans and sea creatures: how?
But what do you do in Maneater besides swimming and reaping human and non-human victims? We will spend most of the time completing a series of objectives that will be assigned to us in each episode and of course there will be both those needed to go "to the next level", and the optional ones. So there is something to do and if you want to complete it 100%, you will have to carry out every single checklist that the developers will present to you. Sometimes, however, to move on to the next area you will have to complete some "side-quests", level up to a certain point, or even get a certain percentage of completion of a certain area.
This part it can be quite tedious and boring, as there is often nothing more to do than swim and eat. You could answer with a simple "what did you expect?" but with the background of a trashy documentary TV series, the possibilities are truly varied. Especially when you can literally go ashore alone with the aim of generating panic in humans.
However, it is often not clear what needs to be done. Especially because the world, or in this case the sea, is ours. So it is possible to go into areas while under-leveled and be mangled by some alligators. And this time the flick of the fin or the proposed dodge I can do nothing to defend you, as they will be "statistically" stronger. Which means that the damage received will be so much that you can do nothing but perish.
Unless you manage to escape. But how are HP recovered? Well, eating other fish. Unfortunately, Maneater has this problem of generating confusion for the player: if at the beginning you feel in control of the situation and everything is within reach of your fin, very soon this feeling of power will end and you will fall into many small moments of frustration.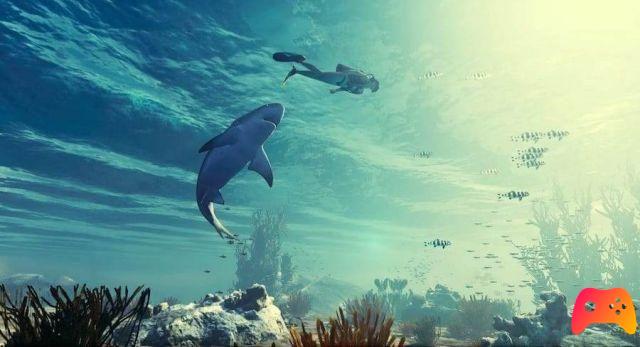 We told you about Level Up in Maneater earlier, but how does it work? Is there just this kind of level? Let's start with the basics. Yes, Maneater has a progression by levels that increases eating the other fish and you will notice it from the very first bars of the game, when the developers will show you the commands to eat the other fish and sea creatures. In fact, you may notice that the longer you stay there stocking up on meat, the more fish of higher levels will spawn.
But there is something new: the degree of Infamy. This is another type of progression dictated by your feeding on human flesh or other alligators (or sharks). In short, it is managed by your eliminating that enemy they might respond to your attacks! But what's the point of leveling in a shark game? Well, you will be able to earn items that you will need to evolve and in case you decide to use them, you will be able to benefit and buff. A simple example: you will have more health points, as well as electric teeth. In short, we could define it as the Roleplaying component made in Maneater.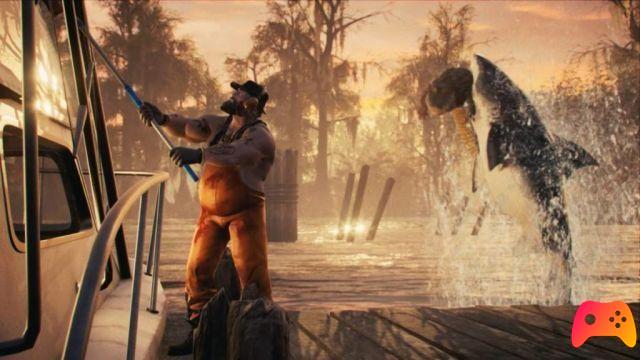 Technical sector
From a graphic point of view, despite a small downgrade compared to the other versions of Maneater, in this case we can only be happy, since luckily it manages to run really smooth even on Nintendo Switch Lite. In other words, Maneater is the perfect game for portability. It certainly loses its charm if you use the fixed station, but we will explain the reason towards the end of this review. The title graphics are all in all really pleasant, not tired and the models are really neat, despite the style used is very cartoon. Of course, the violent elements are not hidden at all, on the contrary they allow us to bring out the sadist who is in each of us. So no, we don't think it's the perfect game for kids.
Maneater's music and sound effects are definitely perfect for the title we're playing: a trashy title, which despite having an underlying message, manages to convey it in the simplest and most fun way possible. In short, we could say that the Nintendo Switch version is really nice, at least from a technical point of view.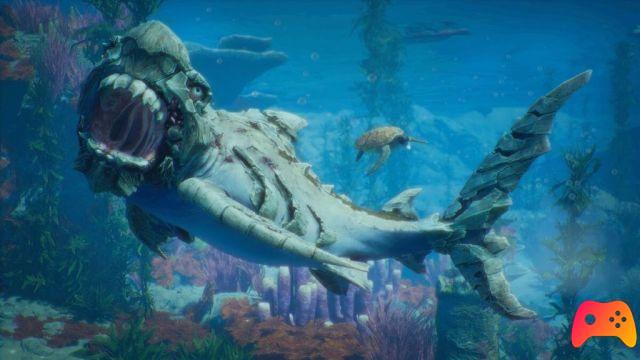 We have reached the part of the review that interests our wallet more than us: is it worth buying Maneater on Nintendo Switch? Our answer is yes, but only if you use it more in fixed portability especially because it's a great fast pastime. If you were to use it in the dock instead you will find yourself checklist on checklist on checklist: in short, really not the top. This is if we want to forget for a moment that after the initial superpower moment you will find yourself in front of a title that can be unbalanced in terms of difficulty, given that it is very "based on statistics". But if you prefer to play it while on the train or traveling, then it can only be the perfect pastime for you!
► Maneater is an Adventure-Action-Indie-RPG game developed by Blindside Interactive and published by Tripwire Interactive for PC, PlayStation 4, Xbox One and Nintendo Switch, the video game was released on 22/05/2020