New tools for Youtubers and content creators.
Today Sony announces two new entries in its arsenal of microphones, ready to satisfy the desires and needs of both Youtuber and content creator: we are talking about the Sony ECM-W2BT and Sony ECM-LV1 models.

Let's start by talking about the Sony ECM-W2BT, an excellent tool for recording low-noise digital audio in connection with the receiver of a compatible camera, therefore equipped with Multi Interface Shois. The incoming digital audio can thus be recorded directly into the camera body, without the need for cables.
The ECM-W2BT uses an omnidirectional capsule to ensure clear sounds from any direction and aims for greater stability of wireless signal between receiver and microphone, now capable of reaching a maximum of 200 meters, and for which the presence of obstacles or interference caused for example by crowded environments are not a problem.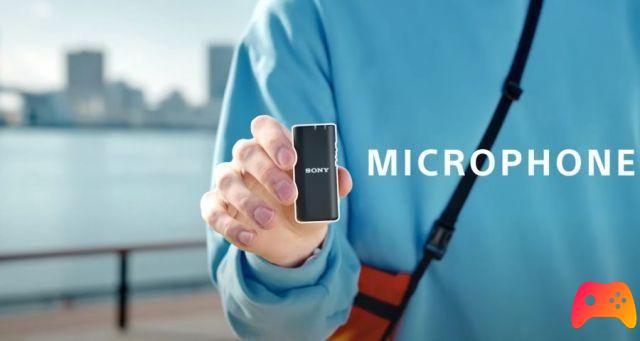 With Sony ECM-W2BT we talk about material freedom, of course, but also about creative freedom, thanks to a recently adopted codec, the Qualcomm aptX Low Latency, and 3 different modes of sound acquisition, MIC, MIX and the new RCVR, freely manageable and which allow, respectively, the recording of the audio track only of the subject, both the operator and the subject, and only the operator.
To acquire the sound in stereo, simply connect a 3,5mm stereo mini-jack, which will allow the user to use the Sony ECM-W2BT even with equipment not equipped with a Multi Interface Shoe.
ECM-W2BT does not stop even in front of the most particular needs, such as the need to record very loud sounds but at a reduced volume or, vice versa, to want to amplify very low sounds at best: using the actuator we could choose between 3 different levels of attenuation, depending on the volume of the sound source.

ECM-W2BT also includes
windproof cover great for outdoor recordings
function of battery assistance which allows you to use the microphone for up to 9 hours
LINK light that indicates to the operator the status of the wireless connection between microphone and receiver
POWER indicator
protective case for the connector of the Multi Interface Shoe, which can also be used as a stabilizer when recording while stationary

ECM-LV1 on the other hand, it is a compact microphone, capable, like its "big brother", of excellent sound acquisition, but with the added convenience of high portability: the swivel clip allows the user to hook it both horizontally and vertically.
All 2 microphones will be available from April 2021, which can be purchased from Sony authorized dealers.