Review by Super Monkey Ball: Banana Mania. Game for PC, PlayStation 4, Xbox One, Nintendo Switch, PlayStation 5 and Xbox Series X, the video game was released on 05/10/2021
Once a great protagonist of the arcades of the whole boot, with its unforgettable banana-shaped joypad, and an unmissable appointment - at least on Nintendo platforms - in the first moments of life of a new hardware, Super Monkey Ball remains a series in the hearts of so many of us. SEGA also knows this, which to celebrate the twentieth anniversary of the debut of AiAi brings this Super Monkey Ball Banana Mania to all existing consoles, a collection with some juicy extras which aims to become the ultimate SMB and bring new and old players closer to a truly fun series.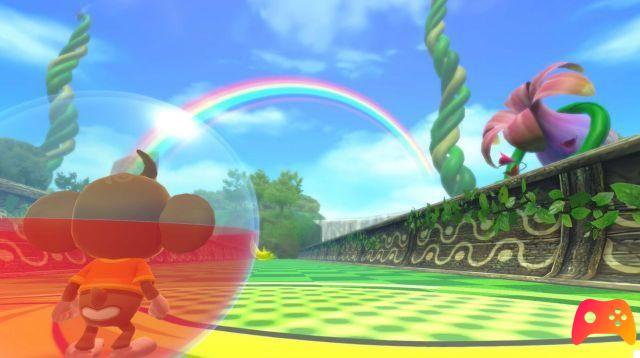 So 20 years of Super Monkey Ball which bizarrely corresponds to 20 different editions of the game, including remaster, deluxe and mobile port, which have popped up pretty much everywhere, including N-Gage, PlayStation Vita, and Windows Phone. After a stoppage of almost 7 years between the chapter for Vita and the HD remaster of that Banana Blitz seen at the launch of Wii, only two years later we return to roll the ball and collect bananas in this classic puzzle platformer, but with some new protagonists. unexpected.
Who will be in the ball?
If in fact the gameplay of Super Monkey Ball will not change at all in Banana Mania - the formula remains the simple one of navigate a ball through levels full of obstacles, holes and platforms while collecting bananas bonus on the way to the finish - who will change will be the characters inside the spheres. Because of course you can expect to find all of the protagonist's wacky little monkeys designed over the years, but this time SEGA has decided to celebrate its history and has included unexpected avatars in the game such as Sonic (già visto in Banana Blitz) e Tails, Beat da Jet Set Radio e Kazuma Kiryu da Yakuza (+ others like Persona 5's Morgana and Hello Kitty available as paid DLC). At the level of the game, whatever character you use, nothing varies, apart from the bananas scattered in the stages that become rings for Sonic, revitalizing potions for Kazuma, cans for Beat, and so on. A nice addition that can give us further surprises in the future.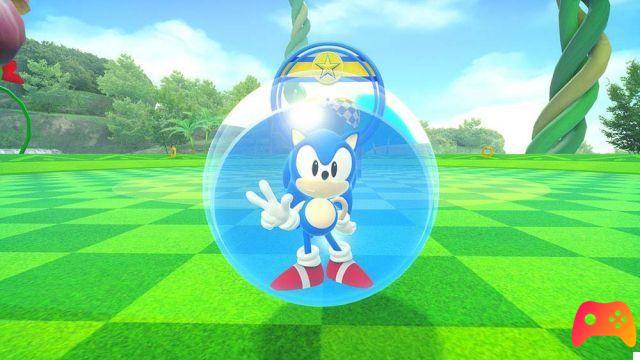 Super Monkey Ball Ultimate
Here, there will not be ALL like in the last Super Smash Bros. but Super Monkey Ball Banana Mania serves as the ultimate edition by drawing its levels from the best episodes of the series, namely the first two + the Deluxe, which in turn served as a mini-collection at the time. We are talking about 300 stages (only 100, however, included in the main story mode) refined and adapted to the different sensitivity of the control system and dressed with new graphics at 4K and 60fps on PlayStation 5 that certainly will not make you cry for a miracle (especially in the minigames ...) but that remains clean, honest and does not burden game loads.
Uploads that remain a fundamental element because you will have to prepare to restart many, many times even facing only the 10 worlds that make up the main single player mode. Getting to the end of some levels will be a titanic undertaking: beyond childish tones and aesthetics, SMB hides a sadistic soul, made of leaps into the void, rolling platforms and lots and lots of luck. You will really have to have patience and a cool head, also because bizarrely Super Monkey Ball Banana Mania presents peaks of difficulty even unexpected and badly positioned in the playlist, probably due to the remixing of the stages taken from the different games from which it draws. There is always a way to overcome the challenge that comes before us and a message - at times annoying for its insistence - reminds us that it is possible to slow down time and get help from the game to conquer the most complex passages.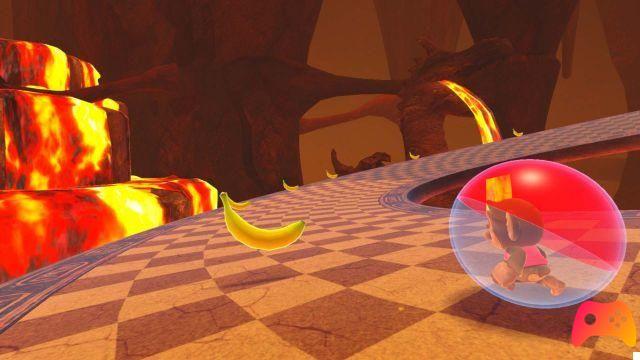 Where the difficulty increases further but the memory of the past cannot even help us is in the extra modes of Super Monkey Ball Banana Mania, the unique true unedited contents of the title. Purchasable with the points earned in the game, these are a handful of nice variations on the theme to flesh out an already full-bodied package. An example? Dark Banana Mode will ask us to avoid bananas instead of picking them: touching one will mean game over; overcoming a level of Golden Banana on the contrary will mean catching all the fruits at once, while in Reverse Mode we will go backwards, from what was the exit to the beginning. So there will be a lot of stuff to do in Banana Mania, but awe certainly would like some more additions than these fun little goodies but still limited.
Mini? I miss a lot
Finally, it could not be Monkey Ball without its mini games, a real must, something that nowadays perhaps seems anachronistic but which in the golden age of the series was an expected element at par and perhaps even more respect. to the puzzles of the main modes. You will be happy to know that in Super Monkey Ball Banana Mania you will find all 12 most popular mini games of the series, fully customizable, full of variations and tackle with 1 to 3 friends side by side (or even alone if you want).
Those familiar with the series will know them by heart, for others we can say that they are versions of rose water, or rather banana juice, of sports and recreational activities such as Canoe, Racing, Soccer, Tennis and so on.
Their gameplay is simple and effective and has its roots in the never-too-praised arcade sports titles of SEGA AM2 (Virtua Tennis and Virtua Striker, we miss you), perfect for an afternoon with friends. Too bad that - although the game offers leaderboards and basic online functionality - you cannot challenge your friends via the internet, something that would have made everything much more attractive, especially in a historical period where being able to sit on the same sofa with other people is becoming more and more complex.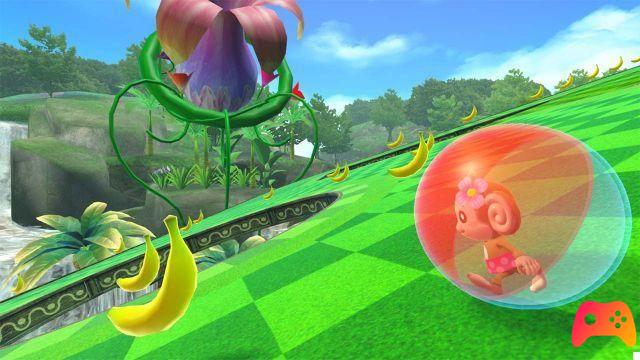 Conceived by Toshihiro Nagoshi, "only" the creator of the Yakuza series, among other things, Monkey Ball probably has its best days behind it, but we are grateful for the existence of this Super Monkey Ball Banana Mania, a modern compendium of one of the Most adorable - but also difficult - titles ever created and a beautiful way to bring a classic SEGA in front of the new generations. Then if we really wanted to find some nit, we are not in front of a candidate for the GOTY, but a nice product, well assembled and at an affordable price (€ 39.99 on consoles, € 29.99 on Steam) that we can certainly recommend both in case you were old nostalgics of Target Monkey on GameCube whether you are approaching the series right now.
► Super Monkey Ball: Banana Mania is a Puzzle-Arcade type game developed by Ryu ga Gotoku Studio and published by Sega for PC, PlayStation 4, Xbox One, Nintendo Switch, PlayStation 5 and Xbox Series X, the video game was released on 05/10/2021