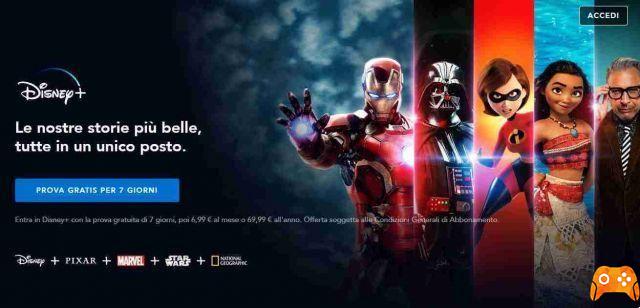 Disney + is the new streaming platform for entertainment, many films and TV series await you for the little ones but also for adults.
If you want to watch and try Disney + for free or subscribe this is the procedure to follow.
Disney +: free trial and how to subscribe
Go to the Disney + page, once on it press the button try free for 7 days.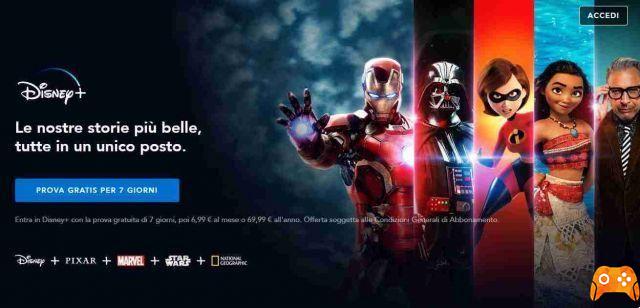 Then enter your email and if you want check the item if you want to see news and offers from Disney plus on your email box and press continue.
Now read the General Subscription Conditions and click on Accept and Continue.
Therefore enter a password to access the service, once done click on Continue.
Now on the next screen select the type of subscription you will pay at the expiry of the 7 days if you do not cancel Cancel before…. No fees will be charged before the 7-day free trial expires.
Once you have chosen between a monthly charge of € 6,99 per month or an annual charge of € 69,99, select the payment method between credit card or Paypal.
If you have chosen the credit card payment method, fill in the fields indicated with your card details and then click on Accept and Subscribe.
If you have selected your PayPal account as a payment method, press the Pay with PayPal button. If you use this payment method, 1 euro will be charged to verify the account.
In both cases, you are asked to check the box keep payment data for any other purchases in the companies of the Walt Disney group, the choice is yours whether to check it or not.
Once done you will be directed to the streaming platform and ready to see its contents. Then click on Start Watching Disney + and enjoy.
Come disdirect Disney+
If Disney + hasn't convinced you and you want to cancel it, you can do it before the seven days have expired, without paying anything, or cancel your subscription in this way:
Go to the Disney + page and log in with your credentials.
Now select your profile icon on the top right. The image enclosed in a circle.
From the menu that appears, select Account.
Now in your account data select the Billing data link under Subscription.
Now beautiful billing data you will see the information of your Disney + subscription, then click on Cancel Subscription.
In the next window, click on the Red Complete Cancellation button.
Once your Disney + subscription has been completed, it has been canceled.
Now you need to know that this has canceled your subscription, but it has not canceled your Disney account, so you can log back in with your usual credentials whenever you want, choose a subscription and payment method again, and resume watching Disney +.
If you want to permanently delete your Disney account and your Disney + profile here's what you need to do by reading this article.