Review for Quake. Game for Nintendo 64, PC, Mac, Amiga, Sega Saturn, Linux, PlayStation 4, PlayStation 5, Xbox One, Xbox One X and Nintendo Switch, the video game was released on 22/06/1996 The version for Nintendo Switch came out on 19/08/2021 The version for PlayStation 4 came out on 19/08/2021 The version for Xbox One came out on 19/08/2021
On June 22, 1996, Id Software debuted Quake, the first "authentic" three-dimensional FPS (true, Wolfenstein 3D ?, Ed.) (But not absolutely: in 1995, in fact, Descent by Parallax Software was released), which in previous years had defined the characteristics of the genre with Doom and sequel. On August 19th, within the twenty-sixth edition of QuakeCon, this enhanced version of Quake was presented, made immediately available - for free, for those who already have the game - on almost all platforms on the market, with support for the mods already existing for the PC version.
As we have anticipated, on a technical level this definitive version of the progenitor of the series - downloadable at a cost of € 9,99 and available on Xbox Game Pass - boasts numerous graphical improvements (including anti-aliasing, motion blur and dynamic shadows), which they can be activated at will, widescreen support, and the obvious increase in resolution: 1080p (with 60 fps) on Xbox One, PlayStation 4 (4K on PS4 Pro) and Nintendo Switch (720p in portable mode); Quake is also playable on next-generation consoles by virtue of backward compatibility, with a free upgrade for native support on the way. Clearly not all the new graphics options have a significant impact on the overall performance (for example, the anti-aliasing is very visible playing at the original resolution, but has little impact from 1080p upwards), but the most important, that relating to the models polygonal, is a marked improvement.
The work done is really painstaking, "philological" I would say: to convey the idea, as promptly noted by Romero (who left id Software precisely because of the development of Quake), an area has been reinserted in the E2M6 level, which it was removed in the original game due to media capacity issues.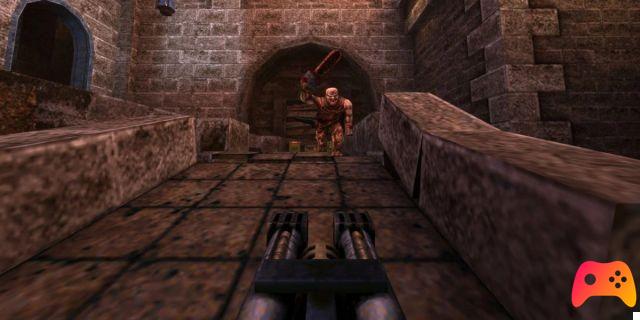 As for the content, the package includes the original campaign, those contained in the old ones expansions Scourge of the Armagon e Dissolution of Eternity, and two recent packages developed by MachineGames, the studio behind the success of the new Wolfenstein cycle: in addition to Dimension of the Past, released on the occasion of Quake's twentieth anniversary, there is also a new episode, Dimension of the Machine.
But it's not over yet: you can, in fact, download free add-ons released periodically. The one available since launch is Quake 64, which is basically a Quake downport, but has some peculiarities that can make it interesting for fans of the series, among which the alternative soundtrack by Aubrey Hodges stands out. Speaking of OST, obviously the original one made by Nine Inch Nails has also been preserved, whose frontman, Trent Reznor, is a great admirer of Doom.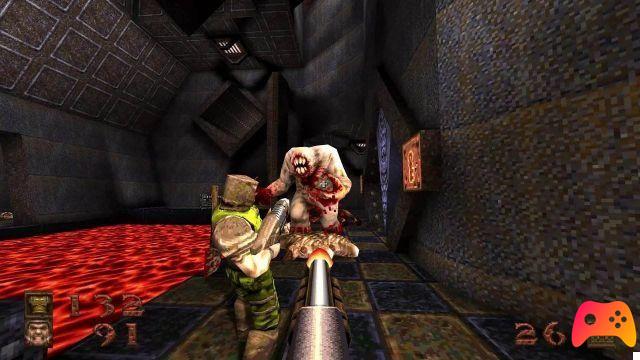 And the multiplayer? Older readers, who have lived through the 64s videogames, remember that much of Quake's luck derives from deathmatches. Nightdive Studios - creators of this enhanced version, as well as that of Doom XNUMX and many other classics - has included both the Cooperative mode, be that one competitive, with all maps, even those of the expansions. Quake is playable in multiplayer both locally via splitscreen for up to four players, and online for up to eight players, complete with cross-play support. Clearly don't expect anything else in terms of modes: we're talking about a game released in 1996.
It remains right to spend a couple of words on the game, without going too far since everyone knows it. On a playful level, Quake is essentially Doom in three dimensions, while on the artistic level it differs more from it, while maintaining a dark aura: the inspiration comes from Lovecraft (in fact the final boss is ..., Ed) and the levels are not necessarily basics spaces or infernal caverns, also including some beautiful medieval castle or similar architecture.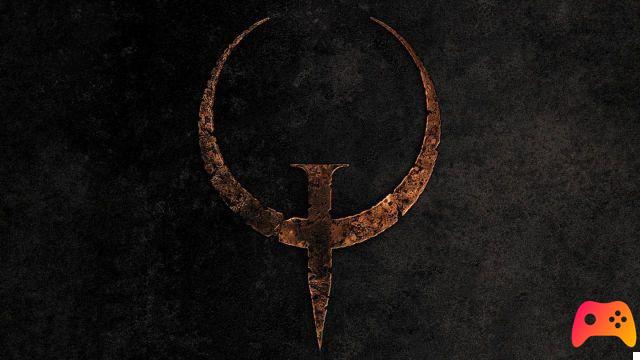 Quake is a milestone in the FPS genre; this version, moreover, is massive both technically and in terms of content, even boasting an unpublished episode. If you already own the game on Steam or the Bethesda launcher you will get this upgrade for free; otherwise, ten euros are well spent.

► Quake is an FPS-type game developed by Id Software and published by Bethesda for Nintendo 64, PC, Mac, Amiga, Sega Saturn, Linux, PlayStation 4, PlayStation 5, Xbox One, Xbox One X and Nintendo Switch, the video game is released on 22/06/1996 The version for Nintendo Switch came out on 19/08/2021 The version for PlayStation 4 came out on 19/08/2021 The version for Xbox One came out on 19/08/2021