Playing GTA on Android is possible. For some years now, Rockstar has been working for bring the best titles of his famous video game saga to mobile phones, and today a good number of them are on Google Play.
In this way, games like the famous GTA San Andreas have their own version for Android, which any user of an Android mobile or tablet can play.
But Grand Theft Auto: San Andreas isn't the only one GTA game for android. Along with it, there are other games in the saga that can be downloaded. These are all the GTAs for Android available in 2020:
GTA San Andreas per Android
Grand Theft Auto III per Android
Other games from the GTA saga for Android
GTA 5 on Android, is it possible?
The best alternatives to GTA 5 for Android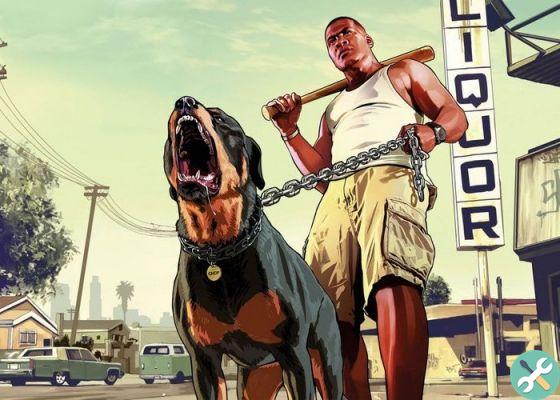 GTA San Andreas is available on Android, along with other games in the series.
GTA: San Andreas per Android
If we are to select a GTA that has revolutionized the video game market, that's San Andreas.
We will play the role of Carl Johnson –CJ– who, after five years, returns to the neighborhood where he was born to attend the funeral of his murdered mother.
He will soon be embroiled in a conflict of wars between gangs, drugs and dangerous criminals. His goal: to clean up the neighborhood, save the rest of his family and, above all, survive.
We all remember to take a car and stick together for hours and hours wandering aimlessly around San Andreas, running away from the police, stealing a plane or simply discovering the thousands of details this video game has. Security PIN.
For only 7,99 euros, we will enjoy one of those titles that made the legend on PlayStation 2. GTA San Andreas per Android is, without a doubt, one of the games that you cannot miss on your mobile.
Grand Theft Auto: San Andreas, the best GTA for Android.
Grand Theft Auto III per Android
Although GTA San Andreas was truly the title that made the saga popular, we cannot forget its third installment. It was the first in three dimensions, abandoning the previously used top view and amazed everyone who tried it thanks to its incredible graphics and explicit violence. A game wonder that deserves to be replayed over and over again.
Its price? 5,49 €. A real bargain. Also, sometimes it is possible find it even cheaper.
More GTA games for Android
They may not be as popular as GTA San Andreas for Android or GTA III, but the rest of the games that make up the collection are worth considering. all GTA for Android that exist on Google Play.
We are talking about Liberty City Stories, Vice City e Chinatown Wars, three titles no GTA fan should miss. Dream landscapes, luxury cars and above all lots of action. At the end of the day, we're talking about the Grand Theft Auto saga.
Without a doubt we are facing five games that have made history and that everyone should enjoy at least once in their life.
GTA 5 on Android, is it possible?
But what about the more modern GTAs? Due to the limitations of mobile phones, it is not yet possible to play them natively, but there are alternatives such as Remote Play on PS4 thanks to which we can play GTA 5 on Android.
The most important thing is don't be fooled from YouTube pages and videos that promise they can play GTA IV or GTA V on Android, as neither of these two games are currently available and they are most likely a scam.
The best alternatives to GTA for Android
It has been several years since Rockstar last released a version of GTA for Android phones.
This, however, does not mean that over time new options similar to the titles of the American developer have not emerged, which can serve as fantastic alternative a GTA per Android. These are some of the best games you can download:
Gangstar Rio: City of Saints
From the hand of Gameloft, one of the most experienced developers in the world of mobile games, comes one fantastic alternative to GTA.
His name is Gangstar Rio and, as the name suggests, it is a game that puts us in the shoes of a gangster in the city of Rio de Janeiro.
It is a open world game with 3D graphics and controls perfectly optimized for touch screens, although it is also possible to play using external controllers and controllers.
Gangstar vegas
Another of Gameloft's titles leads us to Las Vegas, a city full of crime where mafia gangs roam at ease.
Again, we are talking about a GTA-like mobile game, with 3D graphics, guidance, weapons and more.
Unlike the previous one, this game can also be downloaded for free.
MadOut2 BigCityOnline
Without a doubt, one of the most GTA-like games that exist on Android. MadOut 2 is a mobile game openworld which inherits several features from the Grand Theft Auto series titles, such as the ability to modify and drive vehicles.
The main difference from other similar games is the fact that it is a online multiplayer game, which allows you to bring together up to 100 players in the same game.