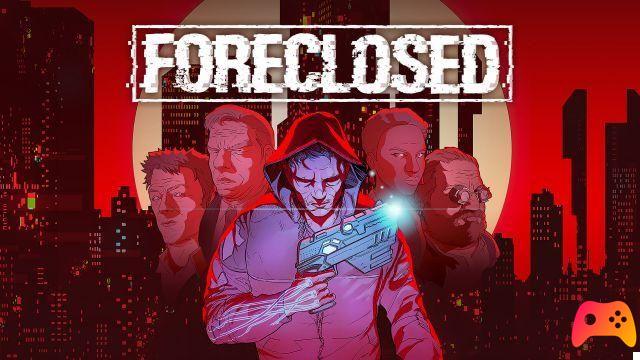 FORECLOSED, the new title of Antab Studio, comes with a rather short list of trophies, as well as with a peculiar graphic style and a well-made cyberpunk setting. But we leave all your curiosities to our review and let's focus here on the trophies.
BRONZE TROPHIES

AI training - Spend your first EXP point
Balance and Excerpt - Get the signature of all creditors for the balance and excerpt
Neuro-connector - Get the neuro-connector
A Difficult Decision - Get rid of the Expert
A False Clue - Discover Kyklos plan
A Symbiotic Weapon - Get the symbiotic gun
Telekinesis - Use telekinesis for the first time
Silent overload - Hack a mind implant for the first time
Breach - Hack your first device
SILVER TROPHIES

The hunter - Land 500 telekinetic bullets
Flatline - Get 15 silent kills
Unstoppable - Defeat 250 enemies
Mind over Matter - Throw 25 objects using telekinesis
Weightlifting - Raise 25 enemies
Sniper - Get 75 headshots
One Click Away - Make your final decision and finish the game
Spoiler - Hack all turrets in the Luxurious Club
GOLD TROPHIES

A Voice in the Dark - Unlock the secret ending by intercepting all hidden signals in a single match
Without Escape Route - Land 1000 telekinetic bullets
Brain-hacker - Get 30 silent kills
Cyborg - Defeat 350 enemies
Dominator of Gravity - Throw 50 objects using telekinesis
Zero gravity - Raise 50 enemies
Veteran sniper - Get 150 headshots
PLATINUM TROPHIES

Case Closed - You didn't leave any unfinished business
Don't be fooled by the low number of trophies. The rather homogeneous distribution between bronze, silver and gold, in addition to the need to unlock the secret ending, will make FORECLOSED's platinum hunt quite complex.
► Foreclosed is a Shooter-RPG-Adventure-indie type game developed by Merge Games Antab Studio and published by Merge Games for PC, PlayStation 4, Xbox One, Nintendo Switch, PlayStation 5, Xbox Series X and Google Stadia, the video game is released on 12/08/2021
Foreclosed is a nice game that we recommend: we decided to evaluate it with a 70%, if you are interested in learning more you can read the Foreclosed Review.