GeForce Now is the cloud gaming service created by NVidia which is available to everyone since February. This platform promises to be a very good competitor to Google Stadia, since, among other advantages, its servers are the ones that process the game and it is possible to import titles that you have previously purchased in stores such as Steam or Epic Games.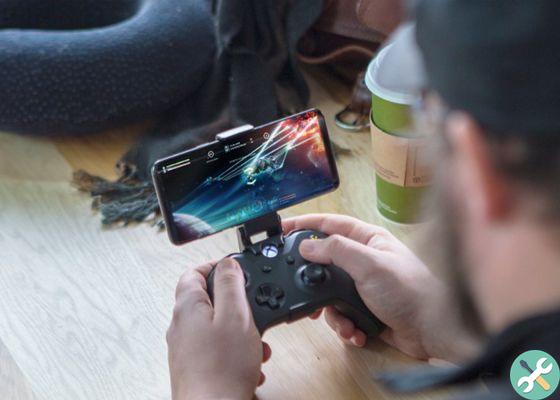 In addition to being able to play GeForce Now on your Windows or Mac computer and on your NVidia Shield device, can even play with it on your android mobile for free. In this guide we explain step by step what you need to do to play all GeForce Now games on your mobile at no cost.
We recommend: are you looking for a powerful mobile to play with? These 3 gaming smartphones might be the best option
GeForce Now on Android: how to play for free
From mid-October 2019, GeForce Now is available for download on Android. In order to enjoy this gaming platform in the cloud, the your mobile phone must meet a number of requirements: have 2GB of RAM and Android version 5.0 or later. In addition, NVidia recommends that you have an Internet connection with a speed of 15 Mbps available in upload and download at least.
To play GeForce Now games with your Android you will have also need a controller. NVidia itself recommends the controller launched in 2017, the Razer Raiju Mobile, the Razer Junglecat, or the Steelseries Stratus Duo, although PS4, Xbox 360 and Xbox One controllers are also compatible.
When you have all the equipment ready to play on your Android mobile, it's time to take action and start the installation process, account creation, etc. Next, we explain all of the steps you need to follow to use GeForce Now for free on your Android.
1º- Download and install the GeForce Now application on your Android phone from Google Play.
2º- Open the app and click on "Join today" if you don't have an account on the platform yet. If you are already registered, please login.
3º- After clicking on "Join today" you will access the GeForce Now website, where you will need to select the "Join today" button.
4th - On the new page, you will have to choose the free subscription method, which gives you standard access to the platform but will only allow you to play during 1 hour sessions. On the other hand, you should know that you can play for free with the Founders plan as well, which you offers a 90 day trial period (after this period, you will have to pay 5,49 euros per month).
5º- After selecting one of these two free methods, you will enter a login page. If you don't have an account yet, click on the "Create account" button, which appears under the «Login» button.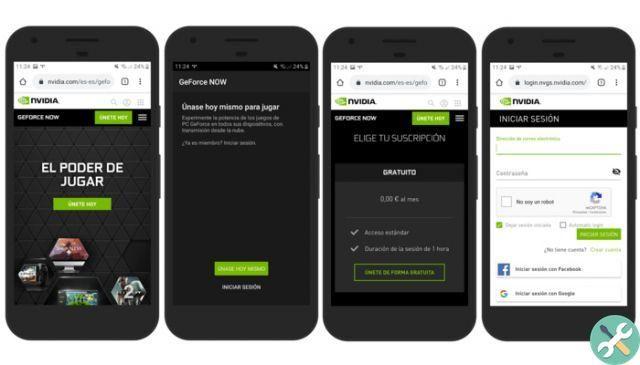 6º- In this way you will access the page where you will have to enter all account details you are about to create: email address, name, password and date of birth. When finished, click on «Create account».
7º- Next, it is necessary to select the permissions you want to grant to NVidia GeForce Now on the configuration of the recommendations and on the technical configuration.
8º- Enter your e-mail box to open the message you received from NVidia e confirm the newly created account. Once the email account is confirmed, you will be in GeForce Now.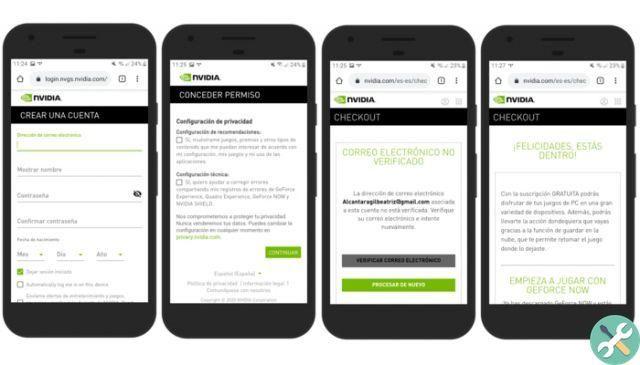 9º- Reopen the GeForce Now app on your Android and click on "Start session".
10º- Enter your email address and password to access. Then, you will log into your account and you can play GeForce Now games for free on your Android mobile.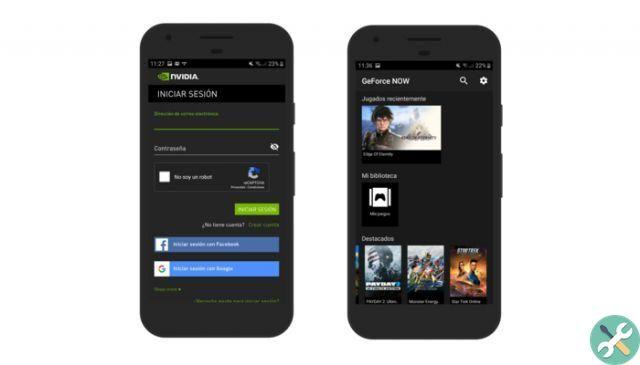 Remember that this cloud video game platform allows you to play your games from various devices. Making sure you have a strong internet connection and the right controller, there will be no barriers between you and the game using GeForce Now.